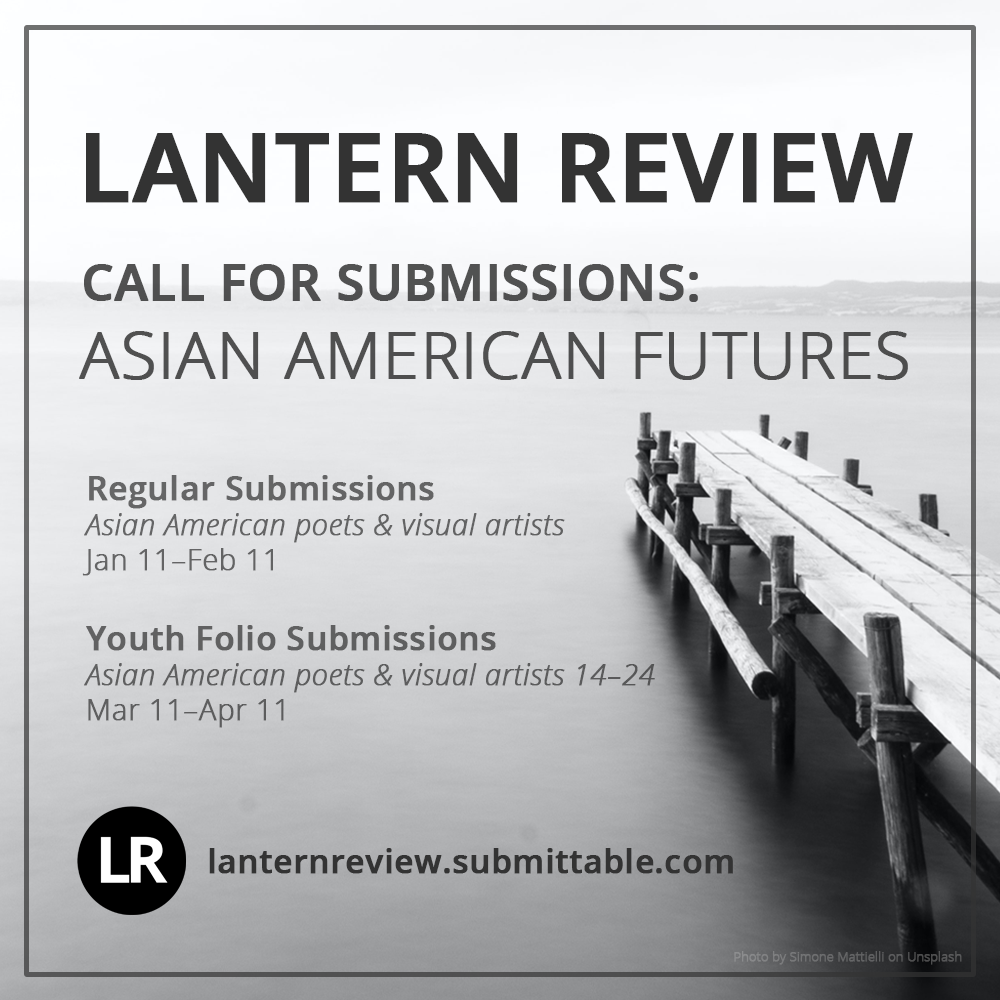 It's hard to believe that 2020 is nearing its end. (And what a year it's been!) As we look ahead to 2021, we're excited to announce that some changes are coming to LR's magazine in the new year.
To begin with, we're beyond delighted to announce that guest editor Eugenia Leigh will be joining our team for the duration of the 2021 season. Eugenia is an award-winning poet, the author of Blood, Sparrows and Sparrows, a seasoned teaching artist, and former poetry editor at both Kartika Review and Hyphen. She's also a past LR contributor and has written in the past for our blog. Eugenia will be helping to co-curate the magazine, and you also might hear from her via our social media from time to time. We're so excited to get to collaborate with her next year, and hope you'll join us in giving her a warm welcome!
Additionally, in 2021, our magazine will center around the theme of "Asian American Futures." For the first time, we'll also be having two separate reading periods: from Jan 11–Feb 11, we'll accept regular submissions, and from Mar 11–Apr 11, we'll be inviting young Asian American writers aged 14–24 to submit their work to a special youth folio.
We'll post again to remind you when the first submissions period goes live on the blog starting next month. But in the meantime, here is the official call. We hope you'll read it through, save the date, and consider sending something our way!
* * *
2021 Open Submissions (Jan 11–Feb 11): "Asian American Futures"
As we enter 2021, many of us face uncertainty or grief, but the new year gives us a chance to dare to hope. And there is so much to hope for in the Asian American community, from the leadership of young Asian American activists on the protest lines to the rising profiles of Asian American artists, writers, and scholars on the national and global stages. This season, we're hoping to publish poetry and visual art that embodies the spirit of a "love letter" to the future of Asian America. Maybe you have something to say to the young people in your life. Maybe you look at Kamala Harris and see a glimpse of your own childhood dreams or even the dreams you haven't yet dreamed. Or maybe you're thinking about the work we still need to do: about climate change, police brutality, anti-Asian racism, incarceration at the border, rising food insecurity, the model minority myth. Maybe you'll channel the prophetic, the visionary; maybe you'll see glimmers of hope in the ordinary. However you interpret this call, we look forward to hearing what you have to say. Please read our guidelines and tips carefully and send us your work by February 11th.
This call is open to all poets who identify as Asian American. We especially welcome submissions from poets who identify with marginalized groups within the Asian American community. If you are a young poet aged 14–24, we encourage you to send us your work during our Youth Folio submissions period (from March 11th–April 11th) instead.
* * *
Youth Folio Open Submissions (Mar 11–Apr 11): "Asian American Futures"
Young Asian American writers are the embodiment of our present and future. For the first time ever, we are actively seeking open submissions from you: Asian American poets and visual artists aged 14–24. We have grown increasingly in awe of the passion, conviction, and creativity of young people in our community, and we feel inspired to offer this space as our love letter to you. We hope to create a folio filled with your own "love letters" to the futures you will claim, embody, become. Send us your best work on any topic—past, present, or future. It can be about things political, or it can be an expression of where you are now, what makes you tick, your personal hopes and dreams. We can't wait to hear from you. Please read our guidelines and tips carefully and send us your poems or visual art by April 11th.
This call is for Asian American poets aged 14–24 only; if you are 25 or older, please submit during our open submissions period (from January 11th–February 11th) instead. We especially welcome submissions from poets who identify with marginalized groups within the Asian American community.
* * *
We're excited for the new things to come in 2021: for Eugenia's partnership, for our new youth folio, and to read what you have to say about the future of Asian America! Please stay tuned for more updates in early January. In the meantime, we're sending our warmest wishes to you and yours for a happy, healthy new year.
Peace and Light,
The Editors
* * *
ALSO RECOMMENDED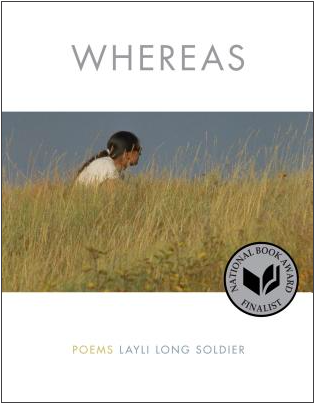 Layli Long Soldier, Whereas (Graywolf, 2017)
Please consider supporting an indie bookstore with your purchase.
As an Asian American–focused publication, Lantern Review stands for diversity within the literary world. In solidarity with other communities of color and in an effort to connect our readers with a wider range of voices, we recommend a different collection by a non-Asian-American-identified BIPOC poet in each blog post.