This morning, we're sharing a new poem and reflection from Issue 2 contributor Rajiv Mohabir. As our nation enters the fourth week after the murder of George Floyd, Mohabir sings a prayer over his sister's newborn child even as he wrestles with the ways in which legacies of colonial oppression have intersected with anti-Black racism in his family. "What new world will I help to create for my Saiya?" he writes. His words remind us that combating injustice is an urgent task that requires faith and sustained labor—and that we must not allow ourselves to weary as we continue the work of interrogating and uprooting systems of racial oppression within our nation, ourselves, and even, sometimes, our own cultures and families. Here is Mohabir—in his own words.
* * *
We are watching Black people die disproportionately in the United States. COVID-19 threatening Black communities, the police hunting Black bodies. It's time to become the ancestors who fought for Black liberation. My sister gave birth on February 20, 2020, to a Black child with eyes like moons. She gave birth to a Black child in the middle of a global pandemic. A moonrise in the middle of a global pandemic. What new world will I help to create for my Saiya? This poem came to me as a prayer while considering my extended family's anti-Black racism in the United States, Canada, and England. Being Guyanese immigrants for their generation meant fleeing oppressive regimes, only to vilify Black bodies.
What does it mean to be in a precarious body, to be brown, and to ally with family and friends despite the define and rule lingering in our psyches, gifted to us by our colonial masters? What about how Hinduism is mobilized against Black communities in Guyanese and Caribbean practice? What about how Hinduism is the machine of savarna oppression; mobilized into anti-Muslim and anti-Dalit violence? What if I am queer and have ancestors with unknown and Dalit histories? These are some questions I have been grappling with for years.
I do know that queerness disrupts colonizing logics. I do know that somewhere in my ancestry were casteless people who fought for their rights and the rights of the people around them. This poem is a prayer to a casteless goddess of rage and vengeance that lives inside of us all. She is the Lord that is you and me. I summon her to summon courage to act against these calculated deaths engineered by the United States government.
* * *
Rajiv Mohabir
Daughter of the Sea, Child of Mountain
In mornings of thick gravity
to see through tears and police
teargas, against the government's
buffalo head impervious to man,
make me queer and animal;
place in my hands your lotus
of creation, your trident of ruin,
that I may gallop on tiger-back, teeth
bared, loose haired, that I may
trample under red foot, injustice—
Hindus who raze Dalit and masjid;
America that smashes Black bodies
under knee. Here, I raise your sword;
Goddess, I am your conch.
* * *
Rajiv Mohabir is the author of The Cowherd's Son (Tupelo Press 2017, winner of the 2015 Kundiman Prize; Eric Hoffer Honorable Mention 2018) and The Taxidermist's Cut (Four Way Books 2016, winner of the Four Way Books Intro to Poetry Prize, Finalist for the Lambda Literary Award for Gay Poetry in 2017), and translator of I Even Regret Night: Holi Songs of Demerara (1916) (Kaya Press 2019), which received a PEN/Heim Translation Fund Grant Award. His memoir won 2019 Reckless Books' New Immigrant Writing Prize and is forthcoming 2021. Currently he is assistant professor of poetry in the MFA program at Emerson College and translations editor at Waxwing journal.
* * *
ALSO RECOMMENDED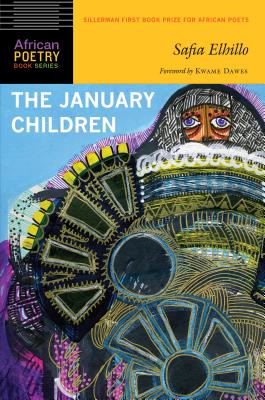 The January Children by Safia Elhillo (U of Nebraska Press, 2017)
Please consider supporting a Black-owned bookstore with your purchase.
As an Asian American–focused publication, Lantern Review is committed to promoting diverse voices within the literary world. In solidarity with the Black community and in an effort to amplify Black voices in poetry, we'll be sharing a different book by a Black poet in each of our blog posts this summer.