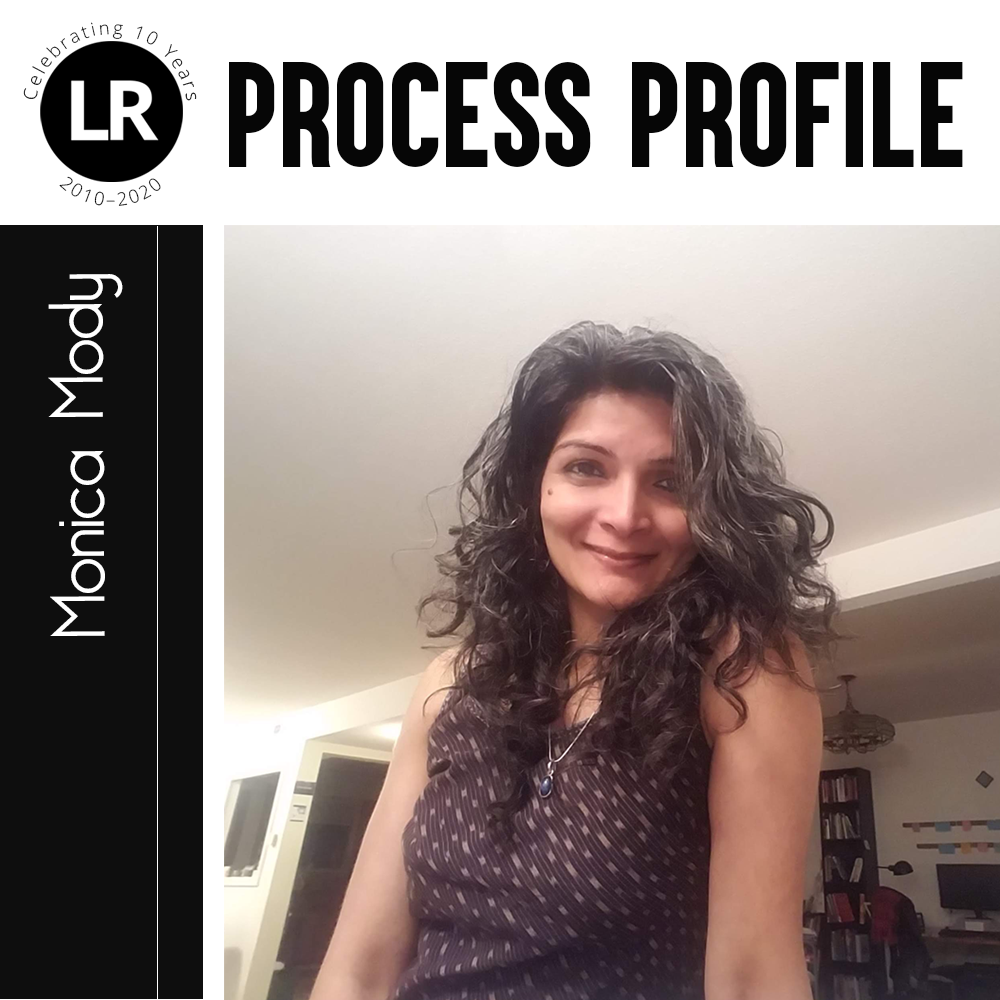 In anticipation of the ten-year anniversary of our first issue, we're excited to return to our process profile series. Over the course of the summer, we'll be catching up with past contributors as we ask them to reflect on their process for either a poem of theirs—whether one that appeared in LR or one that they've written more recently. Today, as we close out APA Heritage Month, we're excited to kick off the series with a profile from Issue 4 contributor and former blog staff writer Monica Mody, who reflects on parsing both Motherlines and borderlands as she wrote her recent poem "Nani's Letter" (first published in Kajal Magazine).
* * *
"Nani's Letter" was published in Kajal Magazine earlier this year. It appears, as well, in my 2019 PhD dissertation, "Claiming Voice, Vitality, and Authority in Post-Secular South Asian Borderlands: A Critical Hermeneutics and Autohistoria/teoría for Decolonial Feminist Consciousness." I maintain that cross-genre and multi-genre writing makes space for the insurgent epistemologies of the borderlands—in this, I am joined by Gloria Anzaldúa, whose theory of the borderlands continues to animate new decolonized pathways.
"Nani's Letter" is an epistolary poem, written as the letter that my grandmother might have sent to me across time—across the Partition of India—across the legacies of trauma and silencing. The violence my grandmother saw is not a matter of the past for the Indian subcontinent, which is yet to heal the national trauma of colonialism and of the Partition. What follows are synergistic excerpts that precede the poem in my dissertation.
* * *
Nani
In 1947, my two-year-old mother lost her mother. Grandmother—Nani—was killed by a rioting mob during the violence that spread in the wake of the Partition of India and Pakistan. She was killed by the mob in her own village, along with her sister-in-law and nephew.
In 1947, I lost my mother's mother. For a long time, I did not realize that this one loss imbricated multiple losses. Growing up, it was not only my grandmother who was absent from my life: entire lifeworlds she would have brought forth were absent too. Naomi Ruth Lowinsky writes, "Standing at the crossings of family history, generational change, and archetypal meanings, a grandmother locates her grandchild in the life stream of generations. She is the tie to the subterranean world of the ancestors; she plays a key role in helping a woman reclaim essential aspects of her feminine self. Standing close to death, she remembers the dead. She tells their stories, hands down their meanings and their possessions."[1]
Without a grandmother or grandmother figure around as a child, I did not have a guide into this wider circle of relationships. And yet, it was not a loss I fully comprehended. The silence around Ma's family and what they had gone through shrouded my ability to perceptually be aware of the contours or depth of the loss. In writing about my grandmother, then, I am reclaiming not only her, but also myself from silence.
Crossing the Border
Before the Partition, Ma's family lived in Dera Ghazi Khan, a district in the Punjab Province. The violence that erupted before the Partition took both Nani and the wife of Nana's younger brother. The exodus also tore the family from the land they had lived on—their embedded histories.
These losses are also mine. The shared border between "me" and "them" is where silence has collected around these losses.
One way to recover the stories in this silence is for me to cross the border, return to Dera Ghazi Khan. I must recreate the borderlands to return to Nani—to mourn these losses and find healing. "Nothing happens in the 'real' world unless it first happens in the images in our heads."[2] Heeding this guidance from Anzaldúa, I will perform the return first in memory and in imagination. As I articulate this journey in writing, I want it to light up the hauntings, relationships, narratives in my motherline. I want it to intervene in the improbability of an actual return to Dera Ghazi Khan.
Colonial Distance
For a while, I become a proto-colonial armchair traveller, travelling to Dera Ghazi Khan via W. W. Hunter's The Imperial Gazetteer of India. It takes me a moment to recognize the irony in this. The Imperial Gazetteer was among the projects undertaken after the 1857 Revolt to provide relevant and reliable information to the colonial administration so as to better map, measure, and control the native populace.[3] It is a prototype of systematized knowledge production based on an ethnological focus on race, caste, and religion. The ethnographic accounts provided in the gazetteer—along with census reports—reflected the nineteenth-century colonial policy of relying on racial science to justify British domination over India. India was the "laboratory of mankind"—and in this laboratory all kinds of cultural differences between different groups of people were naturalized under racial and ethnic categories.[4]
Unhappily, projects such as the gazetteer and the census also eclipsed all other forms of knowledge production.[5] The epistemologies behind such knowledge production are precisely what I am seeking to decolonize within myself.
The Imperial Gazetteer does not recount the dreams of the people living in Dera Ghazi Khan in 1885. It does not tell us the stories that were told to its young or the songs that were sung around the fire. It does not seek to see into their hearts or the soaring of their souls. It does not give any sense of what they cherished or valued, of who they really were. Being attentive to these would have meant giving the colonized interiority—and ascribing to them a fullness of humanity.
The gazetteer was not interested in Dera Ghazi Khan as a place, which in cultural geography is a social concept. Place designates that which is "created by people: it is lived experience; it is the ways in which people use and imagine space."[6] This is in contrast to space: the physical, three-dimensional expanse. Space is a configuration of geography that enables distance—rather than intimacy—to be an interpretive norm. Space exists within conventional awareness because distance can be identified as an interval between separating objects.[7] Distance, detachment, disinterest: these are the epistemological attitudes through which positivistic colonialist logic comes to articulate what it claims are universal organizing principles—and comes to disarticulate dignity, embeddedness, intimacy.
The gazetteer, with its claim of presenting empirical and statistical data, created sufficient distance between the people being studied and the "neutral" administrators undertaking the study to legitimize colonization. Colonial expropriation and subjugation depends upon articulating sufficient separateness between the colonizer and the colonized; the "data" in the gazetteer made this separateness possible.
This goes against my intended goals for performing a return—to come to a deeper, more soulful knowing of my grandmother and her affective life, to locate myself in the life stream of generations. There must, then, be a different way than a colonial tool to find my way back to my grandmother.
To Know: To Reconstruct
I was made by my grandmother, even if I never knew her. To know her, I turn to the relational hermeneutics of creative reconstruction, to imagination. It is not graspability I seek, but evocation. Without lived or inherited memories—amidst so many fragmentary narratives and silences—how may I rediscover my connection to this ancestress, to my motherline? How may I center my grandmother's voice and agency? How may I restore to myself a voice that knows its own falterings, silences, and cries as part of a stream of generations?
---
[1] Lowinsky, The Motherline, 115.
[2] Anzaldúa, Borderlands, 87.
[3] Marriott, The Other Empire, 208–13; Arondekar, For the Record, 12–13. In her monograph engaging with the colonial archive, feminist and queer/sexuality studies scholar Arondekar suggests that the massive archive of texts from this period relied on for imperial governance "literalized the distance between colonizer and colonized." Ibid., 13.
[4] Pinney, "Colonial Anthropology in the 'Laboratory of Mankind,'" 252–63. As I read historian John Marriott's research on the construction of caste and racial typologies in nineteenth-century India, I was nauseated to realize that these typologies continue to pervade the mindsets of contemporary Indians: that I, too, have unconsciously internalized the taxonomy of what Marriott phrases "physiognomy, colour, and physique." Marriott, The Other Empire, 211.
[5] Marriott, The Other Empire, 214.
[6] Van Schendel, "Spatial Moments," 99.
[7] Lawlor, Voices of the First Day, 41.
---
WORKS CITED
Anzaldúa, Gloria. Borderlands: La Frontera = The New Mestiza. San Francisco: Spinsters/Aunt Lute, 1987.
Arondekar, Anjali R. For the Record: On Sexuality and the Colonial Archive in India. Durham, NC: Duke University Press, 2010.
Lawlor, Robert. Voices of the First Day: Awakening in the Aboriginal Dreamtime. Rochester, VT: Inner Traditions, 1991.
Lowinsky, Naomi Ruth. The Motherline: Every Woman's Journey to Find Her Female Roots. Carmel, CA: Fisher King Press, 2009.
Marriott, John. The Other Empire: Metropolis, India and Progress in the Colonial Imagination. Manchester: Manchester University Press, 2009.
Mody, Monica. "Nani's Letter." Kajal Magazine, February 2020. https://www.kajalmag.com/poem-nanis-letter.
Pinney, Christopher. "Colonial Anthropology in the 'Laboratory of Mankind.'" In The Raj: India and the British, 1600–1947, edited by C. A. Bayly, 252–63. London: National Portrait Gallery Publications, 1990.
van Schendel, Willem. "Spatial Moments: Chittagong in Four Scenes." In Asia Inside Out: Connected Places, edited by Peter C Perdue, Helen F Siu, and Eric Tagliacozzo, 98–127. Cambridge, MA: Harvard University Press, 2015.
* * *
Monica Mody is the author of Kala Pani (1913 Press) and two cross-genre chapbooks. Her poetry also appears in Poetry International, Boston Review, Indian Quarterly, Eleven Eleven, and Immanence Journal, among other places. She holds a PhD in East West Psychology and an MFA in creative writing, along with a more rarely used degree in law. She was recently awarded the 2020 Kore Award for Best Dissertation in Women and Mythology for her multi-genre dissertation which utilized theory, memoir, and poetry. Her previous awards include the Nicholas Sparks Postgraduate Writer-in-Residence Prize from the University of Notre Dame, Naropa's Zora Neale Hurston Award, and the Toto Funds the Arts Award for Creative Writing. Monica was born in Ranchi, India. Additional work drawn from her dissertation can be found here and here.