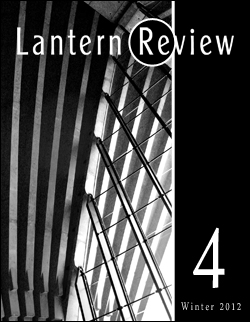 We are extremely pleased to announce—at long last—the release of Issue 4 of Lantern Review!
Tipping the scales at a hefty 81 pages (if virtual pages could be weighed), this issue is—we feel—our best yet.  We've done things slightly differently this time, updating the look of our cover and choosing to include at least three substantial excerpts of longer projects or series, as well as a new media piece by Margaret Rhee (for which we broke our "no scrolling" rule).  We've also decided to intersperse a series of  black-and-white images by a single artist (Darwin Cruz) amongst the poems to serve as a sort of "thread" that runs throughout the body of the text, and have chosen to incorporate not just poetry, but also photography, into our Community Voices feature on "Double Exposures: Documenting War at Home" (a youth writing workshop that was held at the AAWW last summer).
Issue 4's contributor list includes poets Neil Aitken, Bethany Carlson, Tarfia Faizullah, Janine Joseph, Monica Mody, Margaret Rhee, Purvi Shah, Sushil Sivaram, R.A. Villanueva, Bryan Thao Worra, and Timothy Yu, as well as photographer Darwin Cruz and teen artists Susan Li, Jenny Lu, and Kathy Tran.  "Double Exposures" teachers and administrators Anna Li Sian, Julie Jamora, Cathy Linh Che, and Solmaz Sharif also contributed the collaboratively-written introduction that begins the Community Voices section.
To enter the issue, click here, or on the cover image at the top left of this post.
We hope that you enjoy Issue 4, and would love to hear what you think of it—simply drop us a line at editors [at] lanternreview(dot) com to share your thoughts or to inform us of any technical issues that you might encounter while browsing.
Many thanks, as always, for your continued support of LR.
Peace and Light,
Iris & Mia
LR Editorial Board