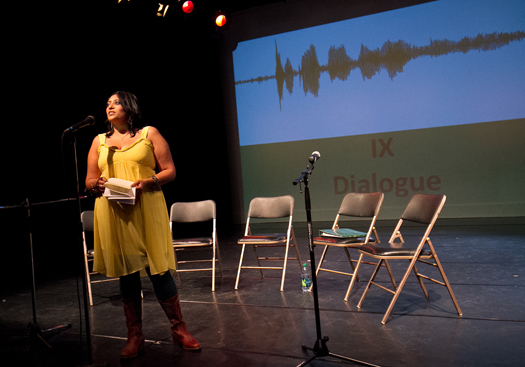 Purvi Shah's Terrain Tracks (New Rivers Press, 2006), which explores migration as potential and loss, won the Many Voices Project prize and was nominated for the Asian American Writers' Workshop Members' Choice Award. Her work fighting violence against women earned her the inaugural SONY South Asian Social Services Award in 2008. In 2011, she served as Artistic Director for Together We Are New York, a community-based poetry project to highlight the voices of Asian Americans during the 10th anniversary of 9/11. She believes in the miracle of poetry and the beauty of change. Check out more of her work at http://purvipoets.net or @PurviPoets on Twitter.
For APIA Heritage Month 2012, we are revisiting our Process Profile series, in which contemporary Asian American poets discuss their craft, focusing on their process for a poem (or group of poems) from inception to publication. As in the past, we've asked several Lantern Review contributors to discuss their process for composing a poem of theirs that we've published. In this installment, Purvi Shah discusses her poems, "'Some didn't make it. Some did.'" and "'This is MY NY.'", which appeared in Issue 4.
Some say this is woman's territory: to know what is unspoken in the midst of what is spoken.
It is also territory of the poet, who in lyric enacts what is said, what we fear to say, and yet what we must make known without it ever being said.
*
Conversation 6: Split This Rock
We were asked, when dialoguing after sharing excerpts of Together We Are New York—a community-based project with Kundiman poets honoring the voices of Asian Americans as part of the 10th anniversary of 9/11—whether it was difficult to write poems in response to conversations with community members. After all, to capture an individual's story or fullness of experience is a mighty task. Even many biographers fail. So how does a poet approach someone's horizon?
Zohra Saed, who had interviewed her charming father for the project, astutely responded how she realized in the process of this writing that her poems had always been in conversation—previously, she had just been talking to herself. As the audience chuckled, I marveled at the truth of Zohra's humor-filled revelation and thought about the layers of conversation embedded in my poems, including these I had written for Together We Are New York.
We often think about the buzz poems create but not the buzz that creates poems. Then again, flight—or fall—is rarely one way.
*
Conversation 5: Writers House, Poet Gathering
I see poetry as a gathering, as an anthology of observations, feelings, ideas, surprises.
As we nine poets worked to envision how we could connect our various interviewees and poetry pooled for Together We Are New York, we pondered tropes we could draw upon as a common reservoir, as themes iterated in our individual poems in response to our particular interviewees. Both a persistence of migration as well as a love of New York City—our migrant capital—resounded.
From our various phrases, some culled from our interviewees, "Some didn't make it. Some did." and "This is MY NY." emerged.
I now had planks for writing—ready to try for dive.
*
Conversation 4: Queens, Home of Rajinder Singh Khalsa
My interviewee for Together We Are New York, Rajinder Singh Khalsa, is a Sikh American who, in 2004, survived a hate crime for wearing a turban. He had left New Delhi, India after the communal violence Sikhs faced in 1984. His ancestors had previously left Bamiyan, Afghanistan for fear of violence.
As I spoke with Rajinderji of his various forced migrations, rivers erupted my mind. As boundaries of nations, as threads of life across a here & there. As provision of survival. As a longing for one home, gazing from the banks of another. As approaching infinity in each ocean. This Jhelum, that Atlantic, our own emotional rivers unferried.
Such stitchings of conversation—crossings between us—open "Some didn't make it. Some did." And from such, the journey flows.
*
Conversation 3: Counting the Missing
In the 9/11 ethos, part of what is present is what is missing. The black matter of conversation. The black matter of bodies.
When we poets began the planning process for Together We Are New York, we discussed the various vantage points we wanted the project to share: youth, survivors of the Towers or racist backlash, our own experiences refracted—descendant of a Hiroshima survivor, mixed-race progeny, activists, and so many more.
We found an amazing pool of interviewees who offered poignant, wide-ranging truths bursting beyond our wide categories. Yet missing, though, was the voice of workers from the Towers, including the primarily immigrant staff of Windows on the World, the restaurant on the 107th floor of the North Tower. With this view, I thread workers we have seen—bankers, lawyers, accountants—with the presence of these often faceless workers, contrasting the intimacy of a bedroom bereft with a building's absence, each loss alive & yet missing.
*
Conversation 2: Germ of Collaboration
NYC— like poetry, a place in conversation with itself.
One germ of Together We Are New York: a conversation amongst poets. Some call this collaboration, the joining of hands for a common result. It is this, and it is also an orchestra—various instruments tuning for a shared evocation.
In "This is MY NY.", I sought to capture the city landscape, the physicality of streets and parks with their openness, and the crossings we each make—crossings of time, space, migrations, history, literatures, love. How a city can be nation, world, universe, and poet's ground.
How sometimes we don't have to choose.
*
Conversation 1: Longing
"Some didn't make it. Some did." became the closing poem for Together We Are New York. As I voiced the poem, with poets surrounding me, we all evoked this line—a kind of chorus, a kind of haunting shared.
As I look back at the poem, it does not surprise me that it crosses conversations with Rajinderji, our poet team, the survivors of 9/11, the unsurvivors of 9/11—to end with "You." Indeed, the reader is often the unspoken part of the chorus: you are the one who takes it all forth—what is said, unsaid, or remains to be said through the next chart of day. In such conversation, you hold the space of longing & the next making.
* * *
Click here to see a video excerpt of Together We Are New York.