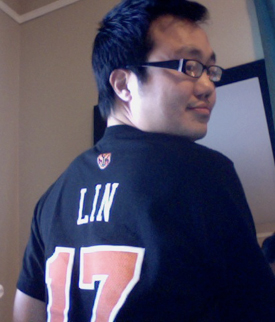 This May, in celebration of APIA Heritage Month, we have asked several respected teachers and writers of Asian American poetry to share writing exercises with us in lieu of our regular Friday Prompts. This week's installment was contributed by Timothy Yu.
travesty, n. A literary composition which aims at exciting laughter by burlesque and ludicrous treatment of a serious work; literary composition of this kind; hence, a grotesque or debased imitation or likeness; a caricature. (OED)
I'm currently writing a sequence of poems called 100 Chinese Silences. The series was inspired, so to speak, by a poem by Billy Collins called "Grave," which describes the "one hundred kinds of silence" that the Chinese believe in—only to admit that this idea is something the poet "just made up." This made me mad—those darn quiet Asians!—so I decided to get even. Rather than replying to Collins's poem, I rewrote it line by line and phrase by phrase.
I've decided to call this a travesty, a "ludicrous treatment of a serious work." It takes a poem that plays on stereotypes and rewrites it from the inside out. It tries to critique without falling into easy anger or mockery.
So here's your assignment:
Find a poem that really bugs you for some reason. Maybe, like Collins's, it contains an annoying stereotype about Asians. Maybe it's sexist or simply smug. Then rewrite it, line by line, preserving when possible the form of the original—the same number of lines, the same kinds of phrases, even the rhyme scheme if there is one—while filling it with content that reflects on, critiques, or undermines the original. The result should be a poem that could have been written by the original author but is "off" in some way. Don't be afraid to be silly, but do strive to echo the tone of the original. Hopefully you'll end up with something that can speak back to the original in its own voice.
Timothy Yu is the author of two chapbooks: 15 Chinese Silences, from Tinfish Press, and Journey to the West, winner of the Vincent Chin Memorial Chapbook Prize from Kundiman. He is also the author of a scholarly book, Race and the Avant-Garde: Experimental and Asian American Poetry since 1965 (Stanford University Press). He is an associate professor of English and Asian American studies at the University of Wisconsin-Madison.