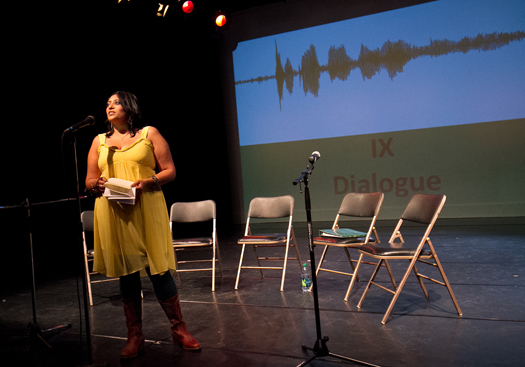 Purvi Shah's Terrain Tracks (New Rivers Press, 2006), which explores migration as potential and loss, won the Many Voices Project prize and was nominated for the Asian American Writers' Workshop Members' Choice Award. Her work fighting violence against women earned her the inaugural SONY South Asian Social Services Award in 2008. In 2011, she served as Artistic Director for Together We Are New York, a community-based poetry project to highlight the voices of Asian Americans during the 10th anniversary of 9/11. She believes in the miracle of poetry and the beauty of change. Check out more of her work at http://purvipoets.net or @PurviPoets on Twitter.
For APIA Heritage Month 2012, we are revisiting our Process Profile series, in which contemporary Asian American poets discuss their craft, focusing on their process for a poem (or group of poems) from inception to publication. As in the past, we've asked several Lantern Review contributors to discuss their process for composing a poem of theirs that we've published. In this installment, Purvi Shah discusses her poems, "'Some didn't make it. Some did.'" and "'This is MY NY.'", which appeared in Issue 4.
Some say this is woman's territory: to know what is unspoken in the midst of what is spoken.
It is also territory of the poet, who in lyric enacts what is said, what we fear to say, and yet what we must make known without it ever being said.
*
Conversation 6: Split This Rock
We were asked, when dialoguing after sharing excerpts of Together We Are New York—a community-based project with Kundiman poets honoring the voices of Asian Americans as part of the 10th anniversary of 9/11—whether it was difficult to write poems in response to conversations with community members. After all, to capture an individual's story or fullness of experience is a mighty task. Even many biographers fail. So how does a poet approach someone's horizon?
Zohra Saed, who had interviewed her charming father for the project, astutely responded how she realized in the process of this writing that her poems had always been in conversation—previously, she had just been talking to herself. As the audience chuckled, I marveled at the truth of Zohra's humor-filled revelation and thought about the layers of conversation embedded in my poems, including these I had written for Together We Are New York.
We often think about the buzz poems create but not the buzz that creates poems. Then again, flight—or fall—is rarely one way.
*
Continue reading "Process Profile: Purvi Shah Discusses "Some didn't make it. Some did." and "This is MY NY."" →