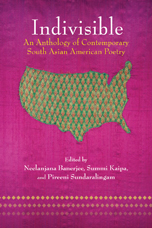 This is Part 2 of a two-part series about Indivisible: An Anthology of Contemporary South Asian American Poetry. You can find Part 1 here.
As the editors of Indivisible: An Anthology of South Asian American Poetry emphasize, there is no way to completely define or capture the South Asian American experience. Yet the politics of identity and language cannot be ignored. As Summi Kaipa, one of the editors, said, "Being South Asian and putting our voice out there is a very political act. What does it mean to do this anthology post-9/11 to get this chorus of voices out there to represent ourselves to defy the stereotypes that may be placed upon ourselves?" In the Introduction, the editors describe the ways in which language can be dangerous or misleading — the power of what is stated but also what is omitted.This suggests that what the contributers' choose to write (or not write) has weight simply in their decision to do so. The politicalizations are not always intentional or obvious, but subtle insights about the evolving South Asian American identity can be found throughout the anthology.
All three of Sasha Kamini Parmasad's pieces ("Burning", "Sugarcane Farmer", "The Old Man") reflect this understated social commentary via observation. She uses striking visual imagery to paint the scene, allowing the reader to see what she sees and to draw their own conclusions. In "Burning", the heat is almost tangible; Parmasad's repeated images beat down like the sun, as demonstrated by the opening lines, "The twelve o'clock sun sizzles / like onions and garlic the grandmother pitches / into a black iron pot rubbed with butter. / Trees are stingy with their shade. / Moth-winged morning flowers wither on stems." But we also see the people under that sun  — a young girl, her father, her grandmother — three generations all living in that heat. We see the grandmother cooking despite the heat, the father slaughtering a pig in the heat ("Drags it writhing / back to the slaughtery.— / Pig's blood staining the macadam road forever), and the young girl witnessing it all. Parmasad is able to humanize the difficult and unchanging living conditions of the working class by showing how daily experiences continue despite the unbearable heat.
Continue reading "Review: INDIVISIBLE: AN ANTHOLOGY OF CONTEMPORARY SOUTH ASIAN AMERICAN POETRY, Part 2" →