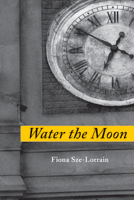 Water the Moon by Fiona Sze-Lorrain | Marick Press (forthcoming 2010) | $14.95

From the opening poem of her debut collection, Fiona Sze-Lorrain explores both her ancestral and adopted homes from many lenses, including poems that capture the simple moments of a meal or walk down the street as well as poems that embed those moments in the grandeur of history and tradition.  This juxtaposition of the personal with the past serves as a poignant reminder of the ways in which history informs individual identity, yet in "A Talk with Mao Tse-tung" she writes, "Clearly history has no last word" and ends the poem with unanswered questions.  She reminds the reader that the personal also goes beyond the past and that each person has to find her own answers. In "The Sun Temple", the speaker revisits the historic Sun Temple with her grandfather's map, ultimately ending with the lines, "I tremble to realize that I can no longer / remember my grandfather – I am merely a tourist."
Separation and distance resonate in the intimate moments she conveys. Her poems often begin with the specific and concrete, quietly expanding into a deeper reflections on what those moments represent. In "Breakfast, Rue Sainte-Anne", she begins by describing congee (porridge) with, "Transfixed, I watch how the chef / shreds dried pork / into fine linear strips, drops / half-quarter slices of century egg / into a bowl of steamed rice." The simple images soon turn into the speaker's own relationship with the meal ("Today, I still have no idea / how to eat porridge with chopsticks"), and then into an imagined conversation with her father, in which he complains that both the taste and price of the food are nothing compared to "the rickshaw streets of his old Shanghai." In this way, she goes beyond the initial preparation of congee to access memories and evoke longing.

Sze-Lorrain's speaker is not afraid to share her vulnerability, expressing her fears and uncertainties with dark images and sharp, precise language. The poem "Moon" opens with "symbolizes fear in my culture, / a dark force that hunts / until you cower." These lines launch directly off the title of the poem, immediately plunging the reader into the piece. The poem "Invisible Eye" opens with "Fog / chalks the skeletons / of houses. I pry / open / doors of dusk." The short lines propel the reader forward, paralleling the speaker's hurried walk home while being followed.
In the last section of Water the Moon, Sze-Lorrain responds to other artwork and artists. In "Larmes", she meditates on the tears of a photographed woman, and in "Steichen's Photographs" she opens with, "Souls inside them are probably speaking. / Are they listening? Are they waiting?" This curiosity about the power of art is also reflected in her pieces for or about famous artists.  In "Apologies to Dora", she writes to Dora Maar, a painter and writer who is usually remembered as a lover and muse of Picasso rather than as an artist in her own right. She writes pieces to Van Gogh, Celan, Beckett, and more. These epistolary poems meditate on the roles of art and fame, with the speaker simultaneously appreciating and marveling at the roles these figures played. Along with Chinese and French histories, these poems serve as an exploration of artistic ancestors and the speaker's continued desire to reconcile the personal with the past.
Sze-Lorrain intertwines French and Chinese cultural references with ease. In "China", the speaker visits a Parisian restaurant called Moon Palace, and includes distinct and unusual descriptions such as "Satre and mandarin ducks are the mural decor" and "Someone imitates Li Po, insisting vodka on a table." The depth and wealth of her experiences lead to great versatility and range in her work.  But Sze-Lorrain's greatest prowess lies in her ability to transform these daily experiences into grand conclusions. In "Rendez-vous at Pont des Arts", the poem begins with a specific encounter but ends in the unknown future: "Days connect years, years become places — / you travel over dreams or on bicycle. / Will I find you at Pont des Arts? / Moon crossing bridge in vanishing stars." Here, as in the rest of her collection, Sze-Lorrain displays the strength of her ability to transcend/transgress geographical borders: though her speaker's experiences may often seem far removed to the American reader, Sze-Lorrain always returns us to a place that feels universally resonant.
Find out more about Fiona Sze-Lorrain at her web site: www.fionasze.com.