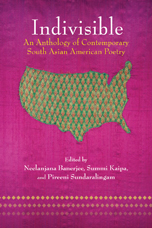 This is Part 2 of a two-part series about Indivisible: An Anthology of Contemporary South Asian American Poetry. You can find Part 1 here.
As the editors of Indivisible: An Anthology of South Asian American Poetry emphasize, there is no way to completely define or capture the South Asian American experience. Yet the politics of identity and language cannot be ignored. As Summi Kaipa, one of the editors, said, "Being South Asian and putting our voice out there is a very political act. What does it mean to do this anthology post-9/11 to get this chorus of voices out there to represent ourselves to defy the stereotypes that may be placed upon ourselves?" In the Introduction, the editors describe the ways in which language can be dangerous or misleading — the power of what is stated but also what is omitted.This suggests that what the contributers' choose to write (or not write) has weight simply in their decision to do so. The politicalizations are not always intentional or obvious, but subtle insights about the evolving South Asian American identity can be found throughout the anthology.
All three of Sasha Kamini Parmasad's pieces ("Burning", "Sugarcane Farmer", "The Old Man") reflect this understated social commentary via observation. She uses striking visual imagery to paint the scene, allowing the reader to see what she sees and to draw their own conclusions. In "Burning", the heat is almost tangible; Parmasad's repeated images beat down like the sun, as demonstrated by the opening lines, "The twelve o'clock sun sizzles / like onions and garlic the grandmother pitches / into a black iron pot rubbed with butter. / Trees are stingy with their shade. / Moth-winged morning flowers wither on stems." But we also see the people under that sun  — a young girl, her father, her grandmother — three generations all living in that heat. We see the grandmother cooking despite the heat, the father slaughtering a pig in the heat ("Drags it writhing / back to the slaughtery.— / Pig's blood staining the macadam road forever), and the young girl witnessing it all. Parmasad is able to humanize the difficult and unchanging living conditions of the working class by showing how daily experiences continue despite the unbearable heat.
In "Sugarcane Farmer", the speaker narrates the remarkable events of one woman's life in a completely ordinary tone. But her story becomes more powerful in its supposed commonness, as exemplified by her description of the two years when she was unable to sell any sugarcane until she did menial labor for someone more powerful than her:
" ( . . . )

Afterwards the consequences:

her cane refused

by the Company for two years.

Rotting, stinking sugar-stalks.

Nothing

like that smell.

'Give me a drake, come clean

my front step,' a big farmer said.

His yard was dark, reeking of drakes.

She scrubbed, he bought

her dying cane.

( . . . ) "
While these particular poems directly confront the impoverished conditions under which many people live in South Asia, many of the other contributors' expand beyond the motherland to explore the unique struggles and ideologies that are part of the South Asian American experience. Kaipa says, "Any time you're encapturing multiple generations [and] levels of acculturations, you're going to have people vary in what their experiences are."  The South Asian American identity, like the Asian American identity that subsumes it, is a complicated one. The question, as Kaipa puts it, is "how can we as South Asians think of ourselves as similar without erasing the differences?" This dilemma exists not only within South Asian American identity but also within Asian America and multicultural America. In "Cleanup on Aisle #3", Ravi Chandra writes a tongue-in-cheek piece about the ways in which we pre-judge people based on their skin color and the ways in which they do or do not live up to the stereotypes of their ethnicities. He opens the poem with the question, "Why is it that every kind of person out there / has their counterpart in food?" He describes oreos, bananas, and coconuts before getting to more complicated identities. The quick-paced and light-hearted lines propel forward but a slower reading reminds you of the heavier implications, forcing the reader to confront the preposterous ways in which we compare one's exterior to one's interior:
" ( . . . )

and wondered a time or two, if I wasn't

a Tea Egg (brown on the outside, golden on the inside) after all, or

a Sweet Potato (brown on the outside, buddhist on the inside)

or just a plain Reese's Peanut Butter Cup,

always in search of a Hershey's Hug (I'll settle for a Kiss),

a Mint Chocolate Drop (a sweet brown girl who joined the Greens),

a Juicy Peach (a soft and fuzzy Buddhist with a hard center)

(that could break your teeth)

(I would say a Mango, but that mongo seed kind of scares me)

or even an Avocado (an ecologist that could break your teeth),

Vegetarian Hot Pocket or Three Cheese Bagel Bite

(don't even ask)

( . . . ) "
In the end, some of the most significant observations are the ones we take for granted. Kaipa points to "Hair" by Vandana Khanna, in which we see how cultural practices and American beauty norms come into conflict. Told through the eyes of  young girl, the poem follows its subject as she watches her Sikh friend's nightly struggles with her hair: "She can't cut it—ever. / And so, every night is a tug of war / with her mother, whose brown fingers / pull and rub, spreading it out like a sheet / against her back." Yet the father's uncut hair sounds gentler and more beautiful: "He'd never felt / the edges of a scissor's blade—his full gray beard / and hair mixing in a wave of silver-black—". But the young girls worry about how they will be perceived by American boys, who they watched from their bedroom windows to see "their clean-skinned cheekbones, / smooth chests." Ultimately, the differences between them are heightened by these divergent but unsurprising expectations.
The increase in South Asian American poetry being published in the last few decades has created a space for more nuanced observations that go beyond obvious differences to identify and investigate the ways South Asian Americans see and portray themselves in a post-9/11 America. As a South Asian American reader and writer, this anthology is a crucial reminder to me of the rapid and vast strides being made in South Asian American poetry. While the esteemed Agha Shahid Ali's opening couplet from "Ghazal" rang true for me, "The only language of loss left in the world is Arabic— / These words were said to me in a language not Arabic", it was reassuring to see examples of the changing languages we use in small, familiar moments, such as in Dilruba Ahmed's "Learning" with, "the mist that rolls / through the Santa Cruz mountains". While not all of the poems resonated and a few felt inaccessible, I'm grateful for the anthology as a collected body of work that creates a space for and community of writers who can finally see themselves as part of a greater tradition.