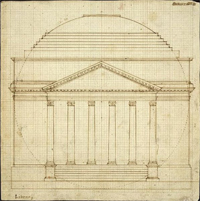 This week's prompt has a shorter explanation than usual.  I was simply very intrigued by Mei-Mei Berssenbrugge's use of a particular building's architecture to shape her poem "Permanent Home."  As Berssenbrugge engages with structural forms and technical language, the walls and beams of the house she's describing become transparent, windows through which we can peek in at the speaker's interior life while she peeks at us.
"The water tank sits on a frame of used wood, like a packing crate.

I look through it to an extinct volcano.

The panorama is true figuratively as space, and literally in a glass wall, where clouds appear like flowers, and the back-lit silhouette of a horse passes by.

A file of evergreens secures the cliff amid debris from a crew bilding, as at the edge of the sea.

Oranges, dumplings, boiled eggs take on the opaque energy of a stranger.
Knowledge as lintel, bond beam (model signs) holds the world at a distance."
I love that last line, in particular. Berssenbrugge evokes such space and light with it.  A home (even an imagined one) becomes a whole world, a place of origin and a vantage point from which one develops one's perspective.  And the lack of an actual physical structure to which to tie the speaker's longing transforms the poem itself into a kind of home in which imagination dwells.  A process that, I think, has particular resonance for me, not just as a child of diaspora, but as one such subject who writes.
Prompt: Write a poem that uses the architectural structure of a building as a frame or form by which to shape its content and imagery.