Becoming Realer: Identity, Craft and the MFA is a column that explores issues of poetry, theory and writing craft in relation to the personal experiences of Saint Mary's College of California Creative Writing MFA candidate and LR staff writer, Kelsay Myers.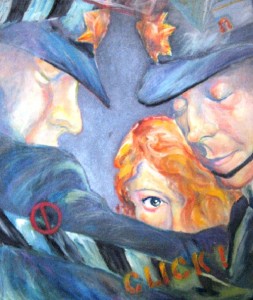 Shizue Seigel, an Asian American artist I know in the Bay Area, recently introduced herself to a group of women by saying that so many of the movies she sees don't speak to her life at all. As much fun as it is to watch Meryl Streep being chased around by Alec Baldwin and Steve Martin, she can't relate to Streep's movies because the experiences are so far from her own. I admit I was completely baffled by this statement because Meryl Streep is one of my favorite actresses. I could understand where Shizue was coming from since there was a time in my life, not too long ago in fact, when I complained about every book I read and every movie I saw because they failed to represent me, or any Asian American perspective—but never Meryl Streep's movies.
Dark Matter was the first film I saw at the San Francisco International Asian American Film Festival in 2007, and I gravitated towards the sympathy her character, Joanna, showed for the Asian gunman oppressed by the school's racism and department politics. When I went back to K College after the film fest, my Asian American studies mentor told me that after a similar shooting in the 1990s, militant students would hang pictures of their professors in crosshairs to protest oppression. At that particularly militant point in my life, Dark Matter, and Streep herself, became emblematic of me and my college experiences.
Continue reading "Becoming Realer: On Mixed Media Writing" →