Becoming Realer: Identity, Craft and the MFA is a column that explores issues of poetry, theory and writing craft in relation to the personal experiences of Saint Mary's College of California Creative Writing MFA candidate and LR staff writer, Kelsay Myers.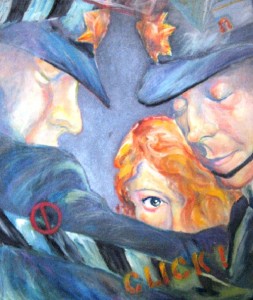 Shizue Seigel, an Asian American artist I know in the Bay Area, recently introduced herself to a group of women by saying that so many of the movies she sees don't speak to her life at all. As much fun as it is to watch Meryl Streep being chased around by Alec Baldwin and Steve Martin, she can't relate to Streep's movies because the experiences are so far from her own. I admit I was completely baffled by this statement because Meryl Streep is one of my favorite actresses. I could understand where Shizue was coming from since there was a time in my life, not too long ago in fact, when I complained about every book I read and every movie I saw because they failed to represent me, or any Asian American perspective—but never Meryl Streep's movies.
Dark Matter was the first film I saw at the San Francisco International Asian American Film Festival in 2007, and I gravitated towards the sympathy her character, Joanna, showed for the Asian gunman oppressed by the school's racism and department politics. When I went back to K College after the film fest, my Asian American studies mentor told me that after a similar shooting in the 1990s, militant students would hang pictures of their professors in crosshairs to protest oppression. At that particularly militant point in my life, Dark Matter, and Streep herself, became emblematic of me and my college experiences.
Streep studied music before studying acting at Vassar. She has said that it was because of her profound love of music that she knew she never would be a truly great singer. She has too much respect for the craft to call herself one, whereas many of her fans, myself included, extoll her singing voice in movies like Silkwood, A Prairie Home Companion and Mamma Mia! The more I learn about writing craft and genre, however, the more I've come to understand what Streep means. Back when I was writing "poetry," it didn't feel right because I wasn't writing poetry so much as disjunctive, and sometimes lyrical, essays. I might follow the rules of poetry, rather than prose in my writing, but I'm not a real poet, and I have too much respect for poets to call myself one.
Earlier this fall, my advisor had a breakthrough about the kind of writing I'm attempting. "You're a mixed media writer," she said, and it made sense instantly. The most fulfilling experience of my career so far was my reading last spring for the A Place of Her Own exhibition where I used found objects and created an art installation to interact with during the reading of my lyric essay, "The Red Frame." I can now see that my installation was a large-scale manifestation of how I write on the page. I borrow from personal experience, other texts, pop-culture, art and philosophy and use them in a variety of ways: to write large chunks of exposition, brief scenes, lots of litanies, ekphrasis and campy persona bits in the spirit of Ai and Walt Whitman. I like to use different forms and styles of essays: academic, braided, personal, disjunctive, spiral, lyric—whatever suits my fancy and is able to contain my thought process, which is perhaps why the lyric essay has become my home-base.
In "On the Lyric Essay," Ben Marcus describes the lyric essayist as "an artist of information not saddled by conventional readerly expectations." It's a wonderful label—an artist of information. Until moving to California, I'd never considered myself to be an artist of any kind, but it is a label that I'm beginning to embrace as the best way to describe my writing aesthetic, particularly after the last time I met with my Fall workshop leader, Wesley Gibson, a nonfiction writer whose novel, Personal Saviors, was just published this fall.
It's not uncommon for writers to cross or blur genres, but the "mixed media" label inhabits a certain blending of many different, and sometimes even opposing, genres, styles and techniques within one piece of writing—a blending that is always in service to the information being relayed and the tensions that exist within the work itself surrounding the very notion of genre, and the nature of perception, or being, in the world. Last month, Gibson asked why I'm so dead-set on writing a collection of essays for my thesis instead of a whole book if they don't actually stand alone as distinctive essays. As I was explaining my concept to him, he said that he understood it in the same way he understood an installation he'd seen years ago in New York, in which a visual artist had created hundreds of paintings that revolved around Germany in the mid-twentieth century. They were, in fact, separate paintings but viewed on their own didn't make much of a statement. Taken as a whole, however, they made perfect sense because the other paintings created the context for understanding each one as an individual.
And, that is how my mind works. Things might be distinct from one another, but they are always part of a larger framework that cannot be separated into individual parts. I make connections between subjects that my colleagues see as completely disparate, like a Meryl Streep movie and an Asian American woman's life, but there it is. Mixed media writing reminds me of something the poet, Richard Brown, says to Streep's character, Clarissa Vaughan, in The Hours: "I wanted to write about it all. Everything that happens in a moment… all our feelings—yours and mine—the history behind who we once were. Everything at all." I want to write about everything too—who I am, who I was, who I might have been if I'd grown up in Korea or gone down a different path in life, who I will become and all those who have influenced me along the way.