Special Issue: Commemorating the Tenth Anniversary of Sept. 11, guest edited by Rajini Srikanth and Parag Khandhar | The Asian American Literary Review, Volume 2, Issue 1.5: Fall 2011 | $12.00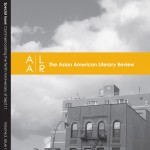 In the selective memory of America's pop tart psyche, 9/11 is a day—a montage of proud flag-waving, "God Bless!" and baseball. In this sense, 9/11 is a memorial that never meant anything to me. But a decade ago, before I had formulated my political consciousness as a queer person of color, I knew what it meant to live in fear, to be a "Transsexual Militant," as Amir Rabiyah writes, in the anxiety-inducing nightmare of airport security, to move through public spaces as suspect. The exclusive "land of the free" 9/11 did not remember people like me.
AALR's Special Issue attempts to rupture the dominant narrative of 9/11 by examining, as Rajini Srikanth states in the introduction, the not-so-innocent act of remembering. The voices and visual art in this book and the companion DVD—from youth, students, teachers, social workers, lawyers, DJs, community organizers, neuroscientists and poets in the South Asian, Asian, Arab and Muslim American communities—fight America's obsession with 9/11 as a fixed tragedy, as a single event after which everything changed.
Their remembrances counteract the ways we are being told to frame 9/11 by contextualizing it as a continuation of historical patterns systemic of broader structures of US imperialism. In these crucial and courageous testimonies, essays, interviews and discussions, 9/11 is framed as a non-event, as a decade of war, [1] as an "American Century," [2] as "homeland security" since 1492. Sunaina Maira writes, "9/11 was not a moment of exception but an ongoing state of emergency."
Continue reading "Review: AALR SPECIAL ISSUE: COMMEMORATING THE TENTH ANNIVERSARY OF SEPT. 11" →