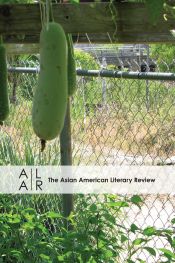 The Asian American Literary Review | Volume 2, Issue 1 | Winter/Spring 2011
In Gerald Maa's interview with Arthur Sze in this issue of the Asian American Literary Review, Maa quotes from Auden: "Many things can be said against anthologies, but for an adolescent to whom even the names of most of the poets are unknown, a good [anthology] can be an invaluable instructor." The same can be said of this 300-page journal, with its wide range of material including: a forum discussion with some of the editors about the "check all that apply" race option on the 2010 Census, an enclosed DVD of Kip Fulbeck's video short Mixed: Portraits of Multiracial Kids, and a complete bibliography of Carlos Bulosan provided by the Library of Congress's Asian American Pacific Islander Collection. This is all in addition to fiction, memoir, poetry, interviews with Arthur Sze (on editing Chinese Writers on Writing) and Chang-rae Lee (on his most recent novel, The Surrendered), book reviews, documentary photography, and a short graphic piece.
This issue's theme is "Counting Citizens" and begins with a discussion about the question of multiracial self-representation on the Census. Jeffrey Yang takes a stance against the very structures of any representation and rejects claims for a 'post-racial' present: "not representation but transmutation, alchemy. . . . Representation is the impossible ideal of our democracy, where influence rules." Srikanth Reddy uses the development of Walt Whitman's poetry as a model, charting his expansive ownership of multitudes to his subjective position as an individual: "This progression—from the poet as a vatic representative of everybody to the poet as a specimen capable only of registering her own experience—might in some ways be a natural progression, from the exuberance of youth to the epistemological modesty of old age." He suggests an alternative perspective: that of the Other. Yang riffs on this and together they broach the aesthetic of language arts and "the problem of form—the 'logic and order' of an artwork" which seems to find friction between the canon and the margin. A different take on Bloom's "anxiety of influence," perhaps, in which the artist is in constant tension between the codified mastery of forebears and the yet unnamed mystery of the present/future individual. Linguistic and cultural transplantation complicate loyalties, heritage, assumptions about audience, and formal considerations. Reddy writes:
To write a haiku or a ghazal in English does not bring us any closer to shifting the grounds of literary representation. In Yang's memorable formulation, such a literary gesture would fail to "reposition the frame structure." Rather, our formal labor [as Asian American writers] has to occur beyond the frame, in the abstract conceptual space where form is given particular shapes suited to the particular historical moment.