Special Issue: Commemorating the Tenth Anniversary of Sept. 11, guest edited by Rajini Srikanth and Parag Khandhar | The Asian American Literary Review, Volume 2, Issue 1.5: Fall 2011 | $12.00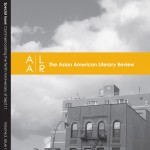 In the selective memory of America's pop tart psyche, 9/11 is a day—a montage of proud flag-waving, "God Bless!" and baseball. In this sense, 9/11 is a memorial that never meant anything to me. But a decade ago, before I had formulated my political consciousness as a queer person of color, I knew what it meant to live in fear, to be a "Transsexual Militant," as Amir Rabiyah writes, in the anxiety-inducing nightmare of airport security, to move through public spaces as suspect. The exclusive "land of the free" 9/11 did not remember people like me.
AALR's Special Issue attempts to rupture the dominant narrative of 9/11 by examining, as Rajini Srikanth states in the introduction, the not-so-innocent act of remembering. The voices and visual art in this book and the companion DVD—from youth, students, teachers, social workers, lawyers, DJs, community organizers, neuroscientists and poets in the South Asian, Asian, Arab and Muslim American communities—fight America's obsession with 9/11 as a fixed tragedy, as a single event after which everything changed.
Their remembrances counteract the ways we are being told to frame 9/11 by contextualizing it as a continuation of historical patterns systemic of broader structures of US imperialism. In these crucial and courageous testimonies, essays, interviews and discussions, 9/11 is framed as a non-event, as a decade of war, [1] as an "American Century," [2] as "homeland security" since 1492. Sunaina Maira writes, "9/11 was not a moment of exception but an ongoing state of emergency."
While America has mastered the practices of exerting its influence, of spreading democracy, of occupation and colonialism, it has also mastered the culture of amnesia and denial that seeks to erase the effects of that influence. Mary Husain, Rakhshanda Saleem, Sunaina Maira and Veena Dubal discuss the silencing and censorship of critical discourse and critique of US policy and the criminalization of political dissent, even within university systems.
Despite the horrific experiences of detention, deportation and murder, the violence exacted on individuals "mistaken for Muslim" as Anida Yoeu Ali embodies in the 1700% Project—despite this overwhelming evidence, the US provides an equally overwhelming amount of distractions. With smart phones, Facebook, Google, caffeine addictions and headphones, people actually don't have to look, don't have time to look it up, don't need to look up.
* * *
Absent/present in the skyline of US imperialism and state-sponsored denial are the tectonic shifts in South Asian experience in the US—apart, together, a part, to gather. The work in this issue highlights specific political barriers many faced in community organizing and coalition building before and since 9/11, including the conflation of different racial, ethnic and religious groups into the imagined and ambiguous race of "terrorist," the reactive distancing of Hindus from Muslims and the internal distrust, prejudice, surveillance and paranoia that increased within these communities.
But this issue also looks at the opportunities for connection these forced proximities facilitated, including the formation of a specifically "South Asian" identity and its incorporation within an Asian American framework; the push to include Arab, Muslim and Palestinian experiences in the discourse of Asian American studies; and alliances forged with other folks in the anti-immigration struggle.
Crucial connections are made between post-WWII Japanese American internment and the Special Registration program, which, as Theresa Thanjan explains, "required men from 25 countries, 24 of them Arab and Muslim nations, to be fingerprinted, photographed, and interrogated by INS federal agents." The program, instigated by John Ashcroft and finally terminated on April 27, 2011, focused mostly on undocumented immigrants, many of whom, "even though they had no ties to terrorism, were detained and deported due to visa violations."
Apart, together. A part, to gather. These tectonic shifts have ruptured the landscape of South Asian, Muslim and Arab American communities, who often inhabit what Mazen Naous describes as a place of "hyper-in-visibility," "a hyper awareness of presence both visible and invisible in a post-9/11 US." Visible victims, visible others. Hyper-invisible, vacant.
* * *
This collection maps the state and states we are in as immigrants, as people of color, as brown folks. It is an empire state, a war on terror state, a state of emergency, a security state, a state of detention and deportation, a state of internment and imprisonment, an interrogation state, a police state, a state of surveillance, what Subhash Kateel describes as an "immigrant apartheid state."
As the contributors to this issue realize, the American practice, language and grammar of war has ruptured our psyches, our modes of organizing and our chosen forms of artistic production. The psychological weight of fear, silence and denial affects both the targets and the perpetrators of violence. These "acts"—imperialistic acts, exclusion acts, removal acts, acts of slavery—have become common syntax for people on both sides of the power dynamic.
In Dangerous Border Crossers, performance artist Guillermo Gómez-Peña speaks to his collaborations with Roberto Sifuentes and the techniques they employ to embody America's deepest fears and desires regarding the racialized "other." In their performances, Gómez-Peña and Sifuentes often create living dioramas that can be manipulated by audience members, installing themselves as syncretic, cyborgian, savagely high-tech "Mexterminator" figures. In this way, the fears and sublimated desires of white middle-class America are made "hyper-in-visible" and projected back in indigenous technicolor.
In looking at the literatures of 9/11, Shailja Patel cites Styrofoam cups on which Guantánamo prisoners etched poems using pebbles, which the US Department of Defense confiscated and destroyed. These Styrofoam cup poems echo poems etched on walls by Chinese detainees at Angel Island, which were obscured by layers of paint.
When Hasan Elahi found himself on a terrorist watch list and subsequently investigated, he decided to collaborate with the FBI and meticulously track his own whereabouts in "The Orwell Project." Through the site's massive catalog of time-stamped images, Elahi incorporates, dis-identifies [3] with and re-figures surveillance as a technique.
Amitava Kumar cites the interrogation log of Guantánamo Detainee 063, Mohammed al-Qahtani, dated December 11, 2002:
"0100: Detainee began to cry during pride and ego down. Detainee was reminded that no one loved, cared or remembered him. He was reminded that he was less than human and that animals had more freedom and love than he does. He was taken outside to see a family of banana rats. The banana rats were moving around freely, playing, eating, showing concern for one another. Detainee was compared to the family of banana rats and reinforced that they had more love, freedom, and concern than he had. Detainee began to cry during this comparison."
It is the deep sadness and utter absurdity of these images—Mohammed al-Qahtani crying before banana rats; Styrofoam cup poems destroyed; Elahi tracking his meals and ATM withdrawals; "mosquito," "Spanish," "bagels" and "towels" all "Mistaken for Muslim" in Anida Yoeu Ali's powerful video on the companion DVD—that make "hyper-in-visible" the viciously surrealist poetic of war. As Poet/Prisoner Ali reiterates, "America mistaken for 'white people'?"
The US government has cut into and carved out certain people from the protection of the law. We are left to suture and fathom, as Kazim Ali writes. Dancer/Angel Prumsodon Ok, in "Mistaken for Muslim," moves, "hyper-in-visible," within the gap.
* * *
Within these gaps, Naeem Mohaiemen, Tamiko Beyer and Prerana Reddy raise the need to create spaces for reflection, contemplation, "continuity and movement memory." In the presence of the state of emergency and immediate action required by 9/11, folks from the coalition Visible Collective sought to facilitate long gestations and longevity in community building and worked to create more sustainable strategies and partnerships through art-making, museum exhibitions and events that engaged South Asian American communities within a longer time frame and broader context.
Such strategic interventions—Vivek Bald mixing samples from the McCarthy hearings in his DJ sets; Ash Hsie's stunning animation of Bao Phi's poem "No Question" on the companion DVD; the cadence of six syllables, chador au chadori and man to bau, man to bau, that helped Angie Chuang awake to the connections between Kabul, Afghanistan and Taoyuen, Taiwan—are sutures that attempt to build change and transformation in our collective cultural spaces over time.
Yet Parag Khandhar's afterword leaves me somber. I realize the magnitude of voices left out, of those not yet able to process their own experiences, of the remembering and documentation still needed. Kelly Zen-Yie Tsai cites a songwriter and NGO worker who "said that art is what draws the emotion out of people to allow information to live and pass on." I think this is why Khadijah's Caravan youth member Unais Ibrahim's photograph on the cover of this collection is so moving. The photograph asks us to look up—to encounter the vacancy, the disappeared, the ash, the echo—to look up to find. It wants us to ask, "What is my heart not seeing?"
Notes
[1] See the anthology Conversations at the Wartime Cafe: A Decade of War 2001 – 2011 edited by Sean Labrador y Manzano.
[2] Veena Dubal cites Henry R. Luce, the publisher of Life magazine, who coined the phrase "the American Century" in a February 17, 1941 article that advised the US "to exert upon the world the full impact of our influence, for such purposes as we see fit and by such means as we see fit."
[3] For more information about disidentification as a strategy, see Disidentifications: Queers of Color and the Performance of Politics by José Esteban Muñoz.