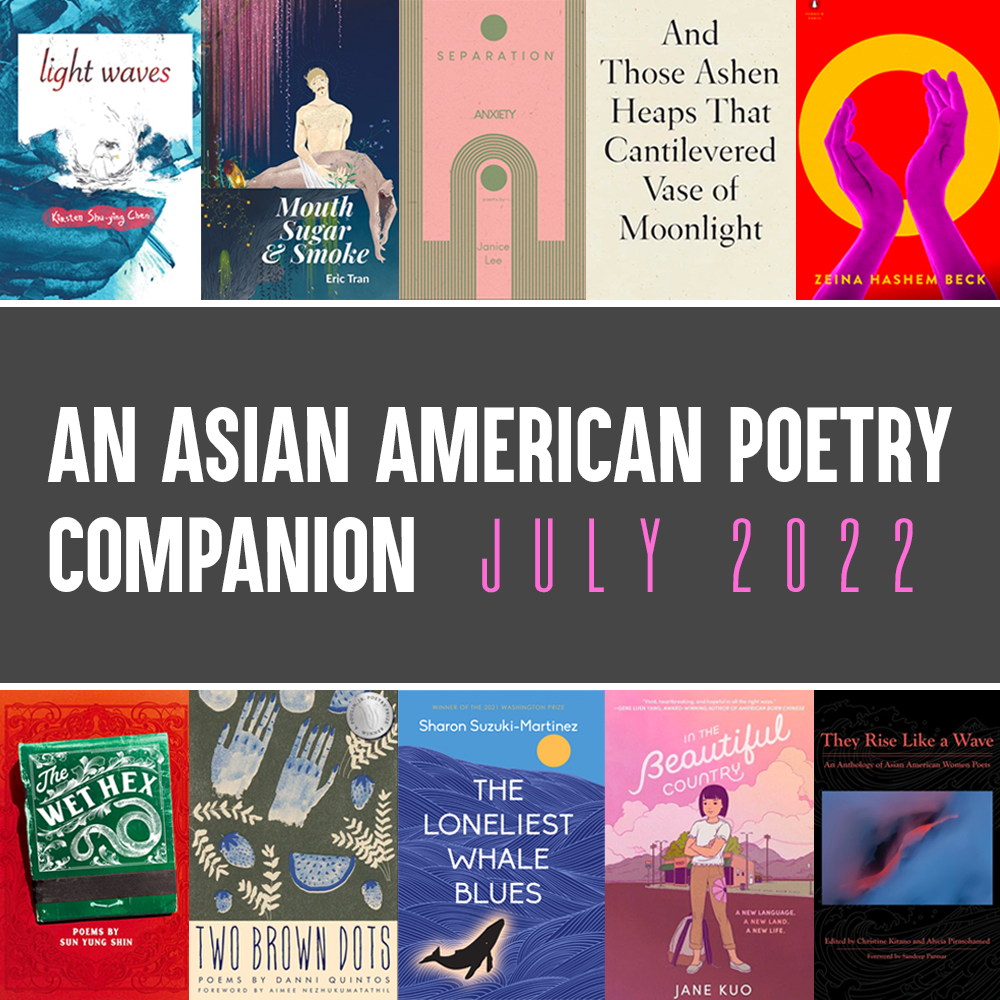 Summer just got even hotter with some exciting new works from Asian American poets. From a moving debut by a Lantern Review contributor to a middle-grade novel-in-verse, explore ten new and forthcoming works from the Asian American poetry community with us.
* * *
FROM THE LR COMMUNITY
Kirsten Shu-ying Chen, light waves (Terrapin, May 2022)
If you enjoyed Kirsten Shu-ying Chen's otherworldly portrait of her mother "Life on Mars" in Issue 9.1, get ready for her debut collection, light waves, which expands upon the world of the poem. As Omotara James writes, "light waves simultaneously reminds us of what we already know and what we too often forget: there just isn't enough time, and yet, an abundance of joy is everywhere, for each of us." A tender exploration of the loss of a mother, this powerful book is not one to miss.
Christine Kitano and Alycia Pirmohamed, editors, They Rise Like a Wave: An Anthology of Asian American Women Poets (Blue Oak, June 2022)
This landmark anthology is the first to feature exclusively poetry by Asian American women and nonbinary writers. The book includes eleven past Lantern Review contributors: Allison Albino, Franny Choi, Đỗ Nguyên Mai, Jenna Lê, Karen An-Hwei Lee, Michelle Peñaloza, Preeti Kaur Rajpal, Eileen R. Tabios, Annette Wong, Jane Wong, and Shelley Wong. (Lantern Review cofounders Iris A. Law and Mia Ayumi Malhotra are also included in the volume.)
MORE NEW & NOTEWORTHY PICKS
Zeina Hashem Beck, O, (Penguin Random House, July 2022)
Jane Kuo, In the Beautiful Country (Quill Tree, June 2022)
Janice Lee, Separation Anxiety (Clash, August 2022)
Danni Quintos, Two Brown Dots (BOA, April 2022)
Sun Yung Shin, The Wet Hex (Coffee House, June 2022)
Sharon Suzuki-Martinez, The Loneliest Whale Blues (The Word Works, May 2022)
Eric Tran, Mouth, Sugar, and Smoke (Diode, July 2022)
Lynn Xu, And Those Ashen Heaps That Cantilevered Vase of Moonlight (Wave, April 2022)
* * *
What's on your summer poetry reading list? Tell us what titles you've picked up in the comments or on Twitter, Facebook, or Instagram (@lanternreview).
---
ALSO RECOMMENDED
Digest by Gregory Pardlo (Four Way Books, 2014)
Please consider supporting a small press or independent bookstore with your purchase.
As an Asian American–focused publication, Lantern Review stands for diversity within the literary world. In solidarity with other communities of color and in an effort to connect our readers with a wider range of voices, we recommend a different collection by a non-Asian-American-identified BIPOC poet in each blog post.