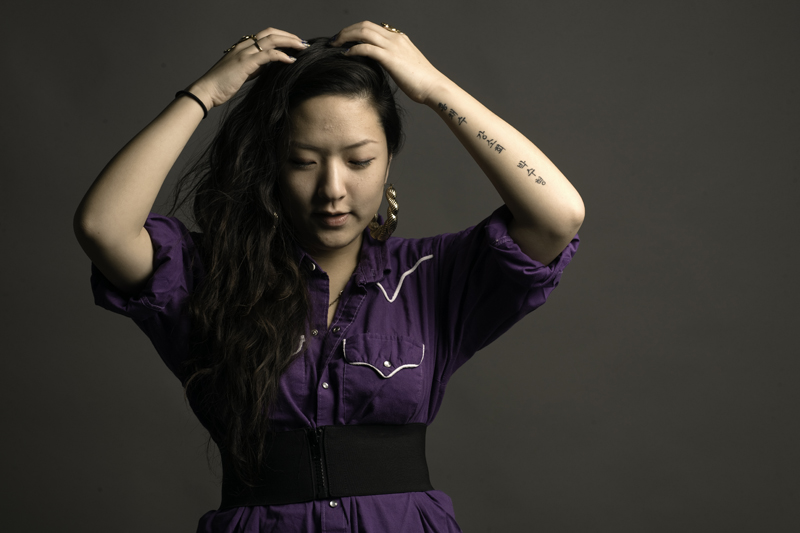 Robin Suhyung Park. All photos by Canh Solo.
On March 19th, Sulu DC, in collaboration with DC APA Film and NAPAWF-DC, paid tribute to Women's History Month with "Herstory: The Lives of Fierce AAPI Women." Hosted by Sri Lankan American poet, singer and lawyer, Gowri K., Herstory featured short films curated by DC APA Film, 17 year-old wondergirl Shaylyn on piano and vocals, Sui Lang Panoke hula'ing for Japan, my own experiment in character poems (in the voices of Aung San Suu Kyi and Jean-Michel Basquiat's father) and most explosively. . . Robin Suhyung Park.
What began as a "Sulu Star" with five committed performers in 2009 has expanded to form a "Sulu Galaxy," with over 18 individuals putting their love and energy into making a DC home where AAPI artists can thrive. This month's Sulu Spotlight shines bright on Robin Suhyung Park, a 21 year-old spoken word artist and organizer I first met in 2009 at the APIA Spoken Word & Poetry Summit in the Bay. I must admit, I was a bit intimidated by Robin's inner fire when I first heard her birth poems from deep within her knotted gut. She was part dragon and part b-girl, donning a basketball jersey, adorned in gold jewelry and swaying as though every word was a tiny piece of glass being dislodged from her throat–bittersweet relief. This young woman, as her debut chapbook diamonds & pearls suggests, knows from what raw earth precious stones emerge. Over several conversations and an e-mail exchange, Robin explained why she retired (early) from the slam circuit, what a "Macktivist" is and what self-care for the thankless organizer might look like.
* * *
LR: How do you identify?
RSP: I identify as a queer, second-generation, Corean American, able-bodied, middle class, formally educated, young, cisgendered, womyn, student, teaching artist, organizer, activist, poet, artist! Continue reading "Sulu Spotlight: A Conversation with Robin Park" →