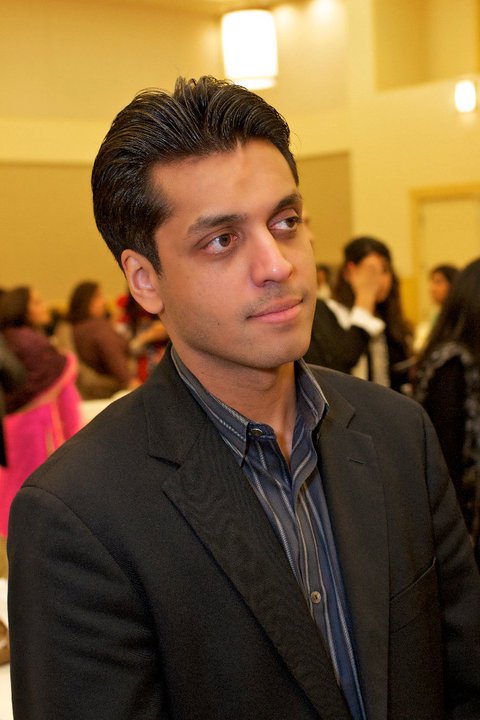 Wajahat Ali. Photo by Ayoob Syed.
After celebrating a year of presenting nearly 60 artists from the Asian and Pacific Islander Diaspora, Sulu DC rang in the new year with Christian folk rock band Saving Thomas, outspoken Indian comic Vijay Nathan, singer/songwriter Jay Legaspi, pop music trio conjen (who make "songs your girlfriend will enjoy"), and sounds by The Pinstriped Rebel. A new partnership between Sulu DC and DC APA Film launched with an on-stage chat between filmmaker Steven Mallorca and Franco Salvoza of DC APA Film to discuss Mallorca's work and what to expect from upcoming APA films.
In keeping with Sulu DC's vision to provide empowering and nurturing spaces for all Asian and Pacific Islander artists, each "Sulu Spotlight" aims to give LR readers insight into something unexpected, innovative and inspiring. This month's light shines on Wajahat Ali, a Muslim American playwright of Pakistani descent. In January 2011, Sulu DC presented several excerpts from The Domestic Crusaders, Ali's first full-length play, at the Artisphere. During the lively e-mail exchange that birthed this interview, Ali was honest and accessible, sharing with me his favorite poets, his creative education, and who's coming to dinner.
* * *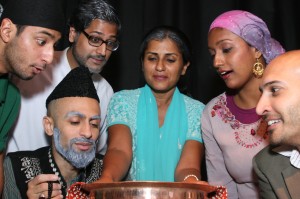 The cast of Domestic Crusaders gathers for some biryani.
LR: The Domestic Crusaders began as a means to an end—quite literally, an undergraduate writing assignment—but has taken on its own life. Can you talk a little bit about why you were encouraged and inspired to transform the short story into a full-length play?
WA: The play began as a short writing assignment for my "short fiction" writing program taught by Ishmael Reed. He told me stop writing short stories and instead concentrate on writing plays. So, I had to submit the first 20 pages of the play to pass the class.
But, the process of creation is inspiring, maddening and addictive. It consumes your mind and soul. The characters start growing; they evolve; they develop personalities and voices, and they never shut up—you ultimately have to release them to the world.  So, I began the play for my 21st birthday and finished it as a present to myself on my 23rd birthday.
LR: What type of internal shifts must occur for you to oscillate between your "journalist," "creative writer" and other types of writing selves? Why do you choose to express your views through so many different types of media? Is no one format alone satisfying enough?
WA: I think the unifying thread for all of them is a innate curiosity fueled by passion. The best journalists are usually the ones who are curious about the world around them—they seek out tough answers to the toughest questions. Creative writing also comes from a source of compulsion; a sense of urgency forces me to write. I don't know how else to explain it. Ideas, thoughts, characters overwhelm and inspire the mind to the point where you need to unleash them on paper. I always thought the pen was one of the most valuable weapons and tools. It can be used as a sword, a shield, a guide, a compass, a teacher, and a healer. And, I've always hated categories. I remember when I was nine I rebelled against the question, "What will you be when you grow up?" Why did I have to limit it to my profession? Why couldn't I do and/or be a great many things? Hell, I'm a 30 year old man and I still don't know what I'll be when I grow up.
So, I've always wanted to mix things up, keep it diverse, keep it fresh, fun, exciting. The best way for me is to always stay two steps ahead and keep my jab sharp and my portfolio diverse. You turn on your journalistic hat for some projects and make sure you're thorough, do your research, are ethical, and tackle issues with dedication and sincerity. Creative writing allows me to unleash the inner crazy. And so forth. One medium or one genre or one profession by itself is not fulfilling or satisfying for me.
LR: As a child, what was your first creative act?
WA: Believe it or not, my first creative passion was drawing. I used to read and draw all day. My art teachers said I had talent and I was known in my family, friends and community as being a very good illustrator. I loved creating characters, especially comic book characters. I just used to sit for hours and take the pencil to the page.  My second passion was movies. My friend and I were/are losers who didn't have a social life or girlfriends, so we used to spend the summers creating home made movies. We had the big-ass, 15-lb. cameras back in the those days that you had to hold on your shoulders. We used 2 VHS decks to edit and we created a blueprint of the plot and improvised the dialogue. We used my friend's little brother as our token extra and schlep and violated many copyright laws with our flagrant use/misuse of protected music. We then showed the films to our family members who used to convulse with laughter. Most of my friends and teachers growing up thought I'd become known as a  filmmaker or stand up comedian. Nobody, and I mean nobody, would have predicted playwright. But, upon reflection, all of these experiences, which came from a pure place of joy and creativity, were simply "training grounds" for my current career. These were the fundamental building blocks of my creative education—this is where I learned how to tell stories.  I also had a goal of trying to make at least one friend spit his food out due to laughter during our high school lunches. So, I got good at telling stories to make my friends laugh. Who woulda thought?
LR: In her new book, The Creative Habit, choreographer Twyla Tharp writes, "Creativity is a habit, and the best creativity is a result of good work habits." She also emphasizes the necessity of ritual. Would you share some of your "good work habits" and rituals? What is the first thing you do every morning when you wake up?
WA: Ah, yes. The magic ritual formula. I wish I had it, honestly. I keep hearing you need to read and write every day in order to be a success. Perhaps that's true. I will say that talent and creativity is not enough. You need to hone it until it becomes a skill. That only happens after time and effort. Then, you have to know how to market that talent so people can learn about your work.
I have "no fixed ritual" except a healthy dose of insanity, lack of sleep, and workaholic tendencies. I get up every day lamenting that I need more sleep. I attempt push-ups only to fail due to my pathetic lack of physical dopeness. And, of course, I check my Blackberry and cry upon seeing all the fresh e-mails.  I read a lot, and I also try to keep my jab sharp by penning something regularly, if it's even an e-mail, a blog post, or an op-ed. It's like a workout. You just have to keep at it so your muscles don't get tight and your belly doesn't get flabby. But, I've noticed that the process of creativity and creation exists "inside" the heart and mind. Mostly, I sit there and stew on ideas and characters and scenes for days, weeks, months and sometimes even years. It grows and grows and evolves and finally it comes to a point where it needs to be delivered on to the page.
LR: You've been honored as an "An Influential Muslim American Artist" by the State Department and invited to their 2008 and 2010 Annual Ramadan dinners, named a "Muslim Leader of Tomorrow" for your journalism work and invited to participate in the 2009 "Muslim Leaders of Tomorrow" conference in Doha, Qatar. Additionally, you are the recipient of Muslim Public Affairs Council's prestigious "Emerging Muslim American Artist" recognition of 2009. Which Muslim Americans (writers, artists or otherwise) inspire and provoke you, for better or for worse?
WA: I believe in the power of networking and helping build coalitions and cross wires of information. If one of us succeeds, it simply helps expand the pie for everyone else. So, I've been lucky to befriend many up and coming Muslim American writers who I think are really on the cusp of greatness. My friend Willow Wilson is a graphic novelist and writer for DC comics—she also happens to be a white convert to Islam. Dave Chapelle uses incisive humor to comment on race and hypocrisy. I respect Preacher Moss, Azhar Usman and Hasan Minhaj for being mainstream comedians who proudly identify with their religious identity, even though it might be profitable to jettison the outward religious aspects. I give Michael Muhammad Knight props for shaking shit up and pissing people off. Omar Mullick is a fantastic, mainstream photographer. Zarqa Nawaz created the hit sitcom, "Little Mosque on the Prairie," that was embraced by Canada and is in its 5th season. The protagonists are mostly Muslim Canadians in a small Canadian town, and the show has enjoyed tremendous success. The Hijabi Monologues by Sahar Ullah is a great compilation of monologues giving voice to Muslim American women who cover themselves.  Amir Sulaiman, Suheir Hammad and Mark Gonzalez are doing wonders with their spoken word poetry – all three were featured on HBO's Def Jam Poetry. Mos Def and Lupe keep their hip-hop fresh, creative and conscientious. The list goes on. This is an exciting time—a creative renaissance for the Muslim American community.
LR: Who would you invite if you were hosting an annual Ramadan dinner of your own?
WA: Ah, great question. First, I'd have to invite my family and friends, or else I wouldn't hear the end of it.  In fact, after i invited them, I'd probably have no space to invite anyone else.
LR: At Sulu DC's January show, you mentioned that there were some initial concerns about non-Brown, non-Muslim audiences "crossing the bridge" of understanding and connecting to the characters and their narrative. With record-breaking attendance for Domestic Crusaders at sold-out shows in New York, San Francisco and in other cities, you clearly proved the naysayers wrong. What gives? Why do you think the show was so successful?
WA: I think it resonates with a global audience. It taps into universal themes and ideas about family, relationships and identity. It's first and foremost an entertaining play with interesting, unique characters whom the audience invests in and is willing to care about. Ultimately, that's what makes a play work  and gives it long-term success and sustainability.
I also think there's a general curiosity and fascination with "Muslims" and "Pakistanis" in the 21st century. We're like the modern day Boo Radleys—people are somewhat terrified of us but acknowledge they don't really know us. So, there's a topical novelty aspect of this play. How often do you get to hear brown characters who happen to be Muslim and aren't terrorists or cab drivers? Rare, right?  But, again, the play has survived and thrived for so long because audiences look beyond the skin color, the religion, the language, the ethnic food, and recognize people, stories, and dialogues that remind them of their own lives.
LR: For LR's literary-minded readers, who are your favorite poets?
WA: I don't have a specific "favorite" poet or book of poetry. But, I've been inspired by South Asian poets Allamah Iqbal and Faiz Ahmed Faiz. The Quran is very poetic and beautiful with its use of Arabic. I've begun dabbling again with some Neruda and regret not learning Spanish in college—I'm sure its beauty cannot be matched in translation. I hate to be cliché but, honestly, how can you go wrong with Rumi? And, perhaps it's the high school honors student in me, but a little bit of T.S. Elliot and e.e. cummings never hurt along the way.
LR: What's next for Domestic Crusaders? What's next for Wajahat Ali?
WA: I think we're finally at the tipping point for "DC." After six years, I think mainstream America and the cultural gatekeepers are finally ready to embrace the play. I've always had faith in the play's success and knew audiences would embrace it. That's been our experience since 2004 but we also acknowledged it would take time.
The burden was on me to prove to people that diverse audiences would care about a family, even if it was brown-skinned, Muslim and with multisyllabic names. So, the play is finally published and now the next step is to get [it] read as by many people as possible. I'm proud that several college[s and] universities have begun teaching the play in their courses. I've also received emails from High Schools saying they will be teaching it in 2012.  We are also working on getting the play staged at professional theater houses in U.S. and abroad. That is tremendously exciting. Dubai, England and Germany are in negotiations. Also, I'll start approaching houses in NYC, Chicago and the Bay Area next month.
Currently, I'm working on an HBO pilot with Dave Eggers about a Muslim American cop in the Bay Area. Two long term projects include a novel and a graphic novel for a major comic book company. I will also start a screenplay in a few weeks—we are in final negotiations. So, these are definitely exciting times. Who knows? I might be able to actually eat food as a writer. If I fail, at least I can tell my kids I tried and had 15 minutes on the Sulu DC stage.
LR: In the words of The Last Poets, "Who will survive in America?"
WA: Those who stick their heads out of the sand, bust out of their culturally isolated cocoon, take a deep breath, and inhale the diversity of voices and experiences around them without fear or prejudice. There's no other way.