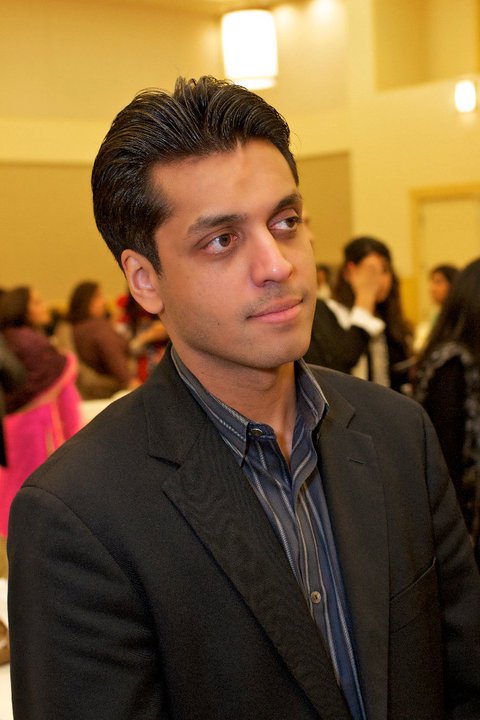 Wajahat Ali. Photo by Ayoob Syed.
After celebrating a year of presenting nearly 60 artists from the Asian and Pacific Islander Diaspora, Sulu DC rang in the new year with Christian folk rock band Saving Thomas, outspoken Indian comic Vijay Nathan, singer/songwriter Jay Legaspi, pop music trio conjen (who make "songs your girlfriend will enjoy"), and sounds by The Pinstriped Rebel. A new partnership between Sulu DC and DC APA Film launched with an on-stage chat between filmmaker Steven Mallorca and Franco Salvoza of DC APA Film to discuss Mallorca's work and what to expect from upcoming APA films.
In keeping with Sulu DC's vision to provide empowering and nurturing spaces for all Asian and Pacific Islander artists, each "Sulu Spotlight" aims to give LR readers insight into something unexpected, innovative and inspiring. This month's light shines on Wajahat Ali, a Muslim American playwright of Pakistani descent. In January 2011, Sulu DC presented several excerpts from The Domestic Crusaders, Ali's first full-length play, at the Artisphere. During the lively e-mail exchange that birthed this interview, Ali was honest and accessible, sharing with me his favorite poets, his creative education, and who's coming to dinner.
* * *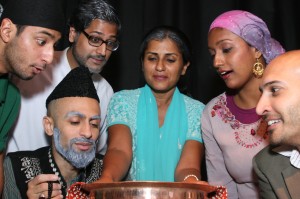 The cast of Domestic Crusaders gathers for some biryani.
LR: The Domestic Crusaders began as a means to an end—quite literally, an undergraduate writing assignment—but has taken on its own life. Can you talk a little bit about why you were encouraged and inspired to transform the short story into a full-length play?
WA: The play began as a short writing assignment for my "short fiction" writing program taught by Ishmael Reed. He told me stop writing short stories and instead concentrate on writing plays. So, I had to submit the first 20 pages of the play to pass the class.
But, the process of creation is inspiring, maddening and addictive. It consumes your mind and soul. The characters start growing; they evolve; they develop personalities and voices, and they never shut up—you ultimately have to release them to the world.  So, I began the play for my 21st birthday and finished it as a present to myself on my 23rd birthday.
Continue reading "Sulu Spotlight: A Conversation with Wajahat Ali" →