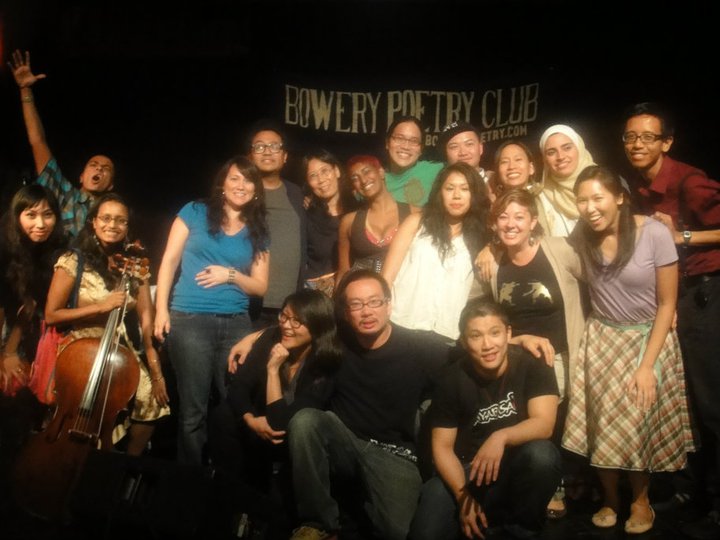 "Pretense is not allowed here."
~ Taiyo Na, Artistic Director, The Sulu Series
To call The Last Sulu Series at the Bowery Poetry Club in New York City (which took place on September 19, 2010) anything other than an electric family reunion would be a grave understatement. A quick scan of the packed house revealed shaved heads, piercings and tattoos, women with hijabs, children, hip-hop/funk-and-punked out rockers and tastemakers, not to mention classy nerds, aunties and students. We were at the basement art gathering of the century. The Sulu Series' Artistic Director, Taiyo Na, began with a brief history of the event, fighting back tears welling up his eyes (a common occurrence throughout the evening). He shared the story of Sulu's loyal photographer, Derek Srisaranard, whose first words after a near-fatal accident were something to the effect of: "Sulu. I need to be there and see it again. I have to capture it."
Derek's images have constituted an unparalleled photo archival project documenting AAPI artists who have traversed the Sulu Series stage. Through cycles of tears and joy, the reverence for spoken word poetry legend—or "community celebrity" as my Sulu DC co-director, Jenny C. Lares, and I like to call him—Regie Cabico and his life's work was palpable.
The artists, who exposed their most vulnerable selves on stage, paid homage to Taiyo Na, DJ Boo and the many other forces who've kept The Sulu Series vibrant throughout its five-year history. What began as a benefit that raised $10,000 for the forgotten AAPIs affected by Hurricane Katrina emerged as a legacy that will be remembered fondly by all who were fortunate enough to perform there or attend. But artistic director, Taiyo Na, says the New York Sulu Series has "graduated."
Among the performers at The Last Sulu Series, emcee Koba launched the show with a vocal quality much improved since the last time I saw him perform. His style now reminds me of Aesop Rock, a white, Jewish rapper from New York whose narratives walk the line between the abstract and the intensely personal, much like Koba's. Next up was Vinh Hua, a poet who confessed to having "grown up with Sulu Series," and lamented:
"24 million people [in New York City] and still you can feel horribly lonely."
The intensity rose with Michelle Myers, one-half of the well-known spoken word duo, Yellow Rage, as she read a new poem called "Take it Back," a charged love letter to South Philly High School students whose race relations deteriorated into violence and alienation. She called on the listener to "take back" the hurtful words and deeds, and stop fighting an "Oppression Olympics." A bit more light-hearted, although equally political, was John-Flor Sisante's "A Love Song During the Third Term of the Palin Presidency," a surreal fabricated universe in which the ukelele-playing, violently stomping singer freely belted out:
"You looked at me like a cigarette that burns through my skin."
This quintessential geek with his suspenders and thick, rectangular black frames was also reflecting a new Asian cool. A cool that says, "You don't have to like it, but I dare you to tell me I don't rock on this little wooden instrument."
At Sulu DC I've seen a few artists masterfully integrate the ukelele into their stage acts (Lilian Bui and Jen Kwok, to name a few) and am starting to think it's a real staple of contemporary AAPI artistry. It is a tool we've come to use for comedy, song, and melodic accentuation. It's a part of our Pacific Islander heritage that acts as a complement to a variety of artistic styles. Also continuing this trend is comedienne Jen Kwok, who sang a satirical tune asking, "why no one looked like me on TV who wasn't a whore or doing karate?" Her charming "Sulu is" tune and school girl dress made her brand of humor impossible not to love.
As always, Sham-e Ali El-Jamil was strong, calm, confident, feminine and gentle on stage. Justin Woo's letter to Nikki Haley shattered the air with disdain and anger, but also drew attention to the dangers of self-loathing and attempts to "other" oneself. Former ILL-Literacy member, Rudy Verdiano Ching, offered a soft, sweet touch to the evening, expressing that her move to New York to pursue a career in media was due to her wanting to "show your [AAPI] beauty off to the world and share it with everybody!" SNRG, two Virginia brothers who not only are rappers but also clothing entrepreneurs, performed a brief medley of hip-hop tracks from their recent album and, in a uniquely hip-hop fashion, did a little bit of shameless self-promo.
Catzie Vilayphonh performed an amazingly witty piece with prize-winning Minnesota poet, Saymoukda Duangphouxay Vongsay a.k.a. "Mooks," about "EngLaos" or Laotian-English translations and misunderstandings. For the first time ever, Kelly Zen-Yie Tsai performed a lovely, tender rendition of a Fleetwood Mac song in a brave act of experimentation, proving that we are never too far along in our careers to try something new. The queer poet D'Lo gave an intimate portrait of how straight girls can mistreat queer girls and the intensely confusing roller coaster of just being. She asserted:
"Every day I face my Sri Lankan family is a revolutionary act."
The young poet Elijah Kuan Wong's inquiry into what it means to outlive your soul mate (his own partner battling the HIV/AIDS virus) swept me into a teary reflection about mortality, love and loss. Yallini Dream was accompanied by Stone Forest Ensemble's cellist in a dance-poetry hybrid performance illustrating the metaphor of mismatched lovers through the butterfly and the firefly. The night was left memorably by Bao Phi's "Nguyen" series, a fictional portrayal of contemporary Vietnamese life through imagined characters. In one poem, the Prince-impersonating youngster, Quince, acknowledges the beauty of "young boys who are weird, but destined for future sexy," and celebrated the bravery of this character:
"When it seems no one will let you live at your own volume, you sing."
And as we expected, with that, Bao brought the house down. Or, in Bao's words, he brought out the Vietnamese in all of us.
* * *
Can't get enough Sulu Series? Listen to a piece from our friends at the Asia Pacific Forum here.