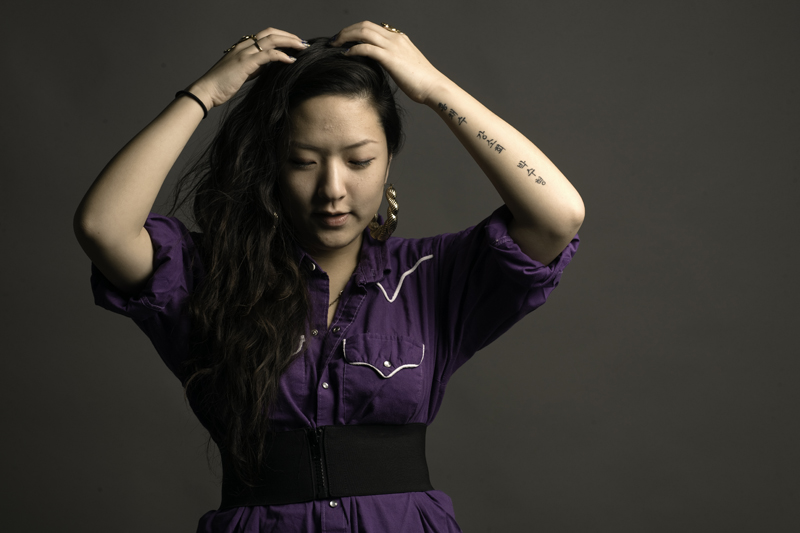 Robin Suhyung Park. All photos by Canh Solo.
On March 19th, Sulu DC, in collaboration with DC APA Film and NAPAWF-DC, paid tribute to Women's History Month with "Herstory: The Lives of Fierce AAPI Women." Hosted by Sri Lankan American poet, singer and lawyer, Gowri K., Herstory featured short films curated by DC APA Film, 17 year-old wondergirl Shaylyn on piano and vocals, Sui Lang Panoke hula'ing for Japan, my own experiment in character poems (in the voices of Aung San Suu Kyi and Jean-Michel Basquiat's father) and most explosively. . . Robin Suhyung Park.
What began as a "Sulu Star" with five committed performers in 2009 has expanded to form a "Sulu Galaxy," with over 18 individuals putting their love and energy into making a DC home where AAPI artists can thrive. This month's Sulu Spotlight shines bright on Robin Suhyung Park, a 21 year-old spoken word artist and organizer I first met in 2009 at the APIA Spoken Word & Poetry Summit in the Bay. I must admit, I was a bit intimidated by Robin's inner fire when I first heard her birth poems from deep within her knotted gut. She was part dragon and part b-girl, donning a basketball jersey, adorned in gold jewelry and swaying as though every word was a tiny piece of glass being dislodged from her throat–bittersweet relief. This young woman, as her debut chapbook diamonds & pearls suggests, knows from what raw earth precious stones emerge. Over several conversations and an e-mail exchange, Robin explained why she retired (early) from the slam circuit, what a "Macktivist" is and what self-care for the thankless organizer might look like.
* * *
LR: How do you identify?
RSP: I identify as a queer, second-generation, Corean American, able-bodied, middle class, formally educated, young, cisgendered, womyn, student, teaching artist, organizer, activist, poet, artist!
LR: Whoa! [Swallows. Contemplates.] Okay, so the March 19th performance marked your first time in Washington, DC. What did it mean for you to be at Sulu DC? How did it compare to your expectations?
RSP: I wasn't sure of what to expect. Since I had never been to DC before, I wasn't too familiar with the arts scene there, but I was absolutely blown away. Sulu DC is an incredibly well-organized, intentional, OPERATION. It was an honor to be a part of the monthly showcase and to share the space with others.
LR: The show celebrated the lives of fierce AAPI women. Who are some of your sheroes?
RSP: My mother, my grandmother, Yu Gwansun, Audre Lorde, bell hooks, Yuri Kochiyama, Suheir Hammad, and last but not least, my sisters across the globe!
LR: At the ripe age of 21 you have been a member of the 2009 Seattle Slam Team at Brave New Voices International Poetry Slam Festival and shared stages with Staceyann Chin, among many others, but you're now a slam retiree. You once told me that you never entered the slam poetry circuit to win. Some 'Tiger Moms' would frown upon that [insert sarcastically scolding voice here], but what's the point of participating in a competitive activity if you don't care about winning?
RSP: Slams have a massive amount of appeal. Competition draws crowds, crowds bring in funding, media attention, etc. Slam offered me, and many other youth, a platform to say what I wanted to say. I had three minutes to say exactly what was on my mind. In an insanely ageist world, it served as an outlet and a place of validation.  Since it is a competition, it's easy to associate self-worth and the value of your words with what five random people (judges) think. At times, I would get caught up in the scores, but I had a lot of great mentors that reminded me what I was there for, and it wasn't to win. It was to speak myself into existence and to keep my story alive. While slam served me well in the past, I want to explore other avenues of performance art.  While I no longer slam either in the collegiate or adult scene, the slam community is where I cultivated many of the amazing relationships I still have today.
LR: You performed an incredibly funny poem at Sulu DC about "macktivitsts." What's a macktivist, and why do they piss you off?
RSP: A macktivist is someone who uses social justice causes to pick up dates. They talk the talk, but don't walk the walk. They piss me off because there are those of us who are genuinely invested in social justice organizing and acknowledge how macktivists dismantle communities. In other words, we take our work very seriously, and we don't need self-serving people to disrupt a greater movement for the sake of one individual's superficial self-worth.
LR: Are there female macktivists? Is there a difference in how they behave?
RSP: Macktivists come in all forms. My poem zeroed in on my experiences, which have mostly been with men. Of course there are womyn identified macktivists, and they're wack!  But we can't examine a womyn's idea of self-worth without acknowledging the capitalist and heteropatriarchal values that dominate our society and condition womyn to find validation through their bodies and how attractive they are to other people.
LR: In response to a Tweet of mine, you replied, "There's no such thing as good health or sleep for the organizer." A fellow, fierce AAPI poet, Sahra "Nash" Nguyen, commented, "Organizers need to dispel the sacrificial mentality . . . community's only as strong/healthy as its members loveselflove." What do you think artists and organizers need in order to thrive instead of just survive?
RSP: There is very little in our society that tells us to take care of our minds and bodies. For the past year or so, I've been working on my own self-care doctrine. A few months ago, I was going to school full-time, working 30 hours a week at two different formal jobs, organizing five different things and was in three different leadership positions in different organizations. Needless to say, while I was accomplishing a lot, my mind was on fire.  I had to scale back on a lot of my commitments for the sake of my mental and physical health.  The way I saw it, either I burn out now and lose myself in the future, or I take care of myself now and save myself for the future. If I can't take care of myself properly, there is no way I can be a positive force in our communities. Transformation of greater systems begins with transformation of ourselves.
LR: Who should read diamonds & pearls?
RSP: diamonds & pearls was my first chapbook.  It is a culmination of a year's worth of poems exploring love, self-love, sexual trauma, intimate partner violence, survival, intergenerational trauma, ancestors, etc.  I don't "favorite" poems; I believe all voices are worth engaging with. Anyone should read them! I didn't write the poems or assemble the chapbook with a target audience in mind.
LR: What do you see as the state of AAPI poetry?
RSP: I think it's really interesting because in the youth scene, I was often one of the only APIA identified poets. Whenever I met another APIA poet, it'd be like this great reunion with a long-lost relative! I often forget that there is an entire lineage of APIA poets that cultivated a national scene I am still discovering.
LR: Who are some of your favorite AAPI poets & writers?
RSP: I try not to "favorite" poets and writers based on their ethnicity, but I will share some whose work I really love that happen to be APIA: Leah Lakshmi Piepzna-Samarasinha, Angela Martinez Dy, Beau Sia, Li-Young Lee, Regie Cabico, Denizen Kane, Mush, Troy Osaki, Jacqe Whang . . . the list goes on.
LR: Tell me more about your own body of work. Are there themes that keep you up at night? Unwritten stories you're dying to tell?
RSP: I write to keep ancestors, communities, and myself written out of existence. Whatever tugs at my soul, I write it.  Anything else is inauthentic and that ain't my style.
* * *
P.S. Sulu DC's on Twitter, y'all! Follow us @SuluDC