Panax Ginseng is a monthly column by Henry W. Leung exploring the transgressions of linguistic and geographic borders in Asian American literature, especially those which result in hybrid genres, forms, vernaculars, and visions. The column title suggests the congenital borrowings of the English language, deriving from the Greek panax, meaning "all-heal," and the Cantonese jansam, meaning "man-root." The troubling image of one's roots as a panacea will inform the column's readings of new texts.
*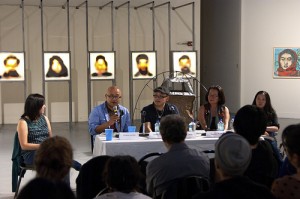 *
For APIA Heritage Month, the SOMArts Gallery in San Francisco ran an exhibit from May 3-25 curated by Jennifer Banta: "The Future Is NOW: Asian America On Its Own Terms." I parsed the exhibit's title as a reconception of time ("future," "now") through geopolitical space ("Asian America") and voice ("its own terms"). There were two art installments in the exhibit which I regarded as conceptual centerpieces. The first was "Are we there yet?" by Truong Tran: a small, woven boat suspended over a blue panel with "Are we there yet?" repeated across it in a splash of font sizes. The woven boat here is a ruralized image of the refugee immigrant (i.e. "boat people") juxtaposed to the refrain of the suburban child in a car's backseat—two generations of passengers condensed into one locus of space and voice. Across from this piece was another, "Red Lips" by Su-Chen Hung: a pool of water gurgling from a covered and endless source, rippling outward from beneath red tasseled "lips." In this post, I'd like to show the engagement with "now" to be a convergence of past, present, and future all at once by looking at a literary panel held in the gallery space, and by considering the work of two poets recently featured on the LR blog, Garrett Hongo and Andre Yang.
The panel was titled Literasians and took place on May 24th. Kartika Review editor-at-large Christine Lee Zilka moderated a discussion between Sandra Park, Aimee Phan, Lysley Tenorio, and Andre Yang. Though the art fixtures were not commented upon directly, they were very present as the event's backdrop. The panel's description, "writers converging on the APIA literary continuum," was in line with the thematic use of spatialized time, with "continuum" referring at once to a linear series and a dimensional whole. The panelists spoke on one end of the gallery while the water bubbled from "Red Lips" on the other end. Lined up behind the writers was "Most Wanted" by Taraneh Hemami, a series of face portraits elevated and blurred. And even farther back was a timeline chronicling APIA art exhibits shown at this site since 2002. All this contributed to making the space one of historical synchronicity.
When Zilka asked the panelists about writing history or historically grounded fiction, Aimee Phan commented on the necessity of understanding the past (whether the past of an individual or a community) in order to understand a character's motivations. Andre Yang, the only poet of the group, picked up on this comment with an insightful response: that perhaps he writes poetry because his people, the Hmong, have no history, and had no written language until recently; he exists, therefore, in the "lyric moment," a voice-driven space in which past, present, and future happen all at once. History is collapsed into the present, into the constant, gurgling reconfigurations of itself in oral history.
As I sat in the audience, I thought about Garrett Hongo, who in his recent interview with LR called his work comparatively traditional in its formal approach. "Fresh," he said, "isn't a value for me so much as depth, yearning, and a vision backwards glancing through history." It's a refreshing perspective, especially in a generation of avant-garde, post-modern poetics. I thought about the beginning of Hongo's prose memoir of family and place, Volcano, in which he writes: "I wanted to know the place and I wanted to tie my name to it, to deliver out of the contact a kind of sacred book—a book of origins." And I thought about the premise of this column's title—that for the Asian American writer, there is the necessary and at times unsettling relationship to linguistic pasts, to origins and the definitions they impose.
I want to contribute to the panel's conversation by using Hongo's most recent book of poems, Coral Road, as an example in which the unabashed engagement with tradition is not a betrayal to the post-modern present, but instead a way of honoring the synchronicity of human connection. The prologue poem, "An Oral History of Blind-Boy Liliko`i," sets the tone of the book by combining several traditions: the speaker speaks in Hawaiian Pidgin, tells his story of discovering the dobro blues from a New Orleans guitarist, and serves as a Greek chorus to begin Coral Road. The five sections of the book are perhaps a theatrical conceit, imitating five acts and including long verse soliloquies from the figures of Fresco and Hideo Kubota. The latter reaches across continents and realities to write to such figures as Nâzim Hikmet, Pablo Neruda, the Angel Island poets, and even the fictional José Arcadio Buendía. And in the title poem, "Coral Road," Hongo presents himself as a Dante of Hawai`i: "Where is the Virgil who might lead me through the shallow underworld of this history?"
Hongo situates himself in the midst of these traditions by inhabiting them in both their past and in their reinvention as his present. His motifs—such as coral road and cane fires, among others—recur across many of the poems regardless of their time period or location. In "Bugle Boys," he writes: "As I am Kubota's voice in this life, / chanting broken hymns to the sea, / So also am I my father's hearing . . ." The title of section four, "A Map of Kahuku in Oregon," bounds across the boundary of place with syntactic ambiguity; when the speaker looks out his window in Oregon, he can also be in Kahuku in another time.
In one of Andre Yang's poems, "Pastoral," he writes:
. . . . . . . . . . . . . . . . . . I wait
& wait for hours for the sky to turn
from blue to red, orange, then black,
for constellations to rebuild themselves,
the North Star to show me how
my ancestors used it to guide them . . .
Yang invokes tradition in the title, and looks skyward in these lines for something timeless, grander than history. There is a circularity to the waiting, a mixture of passivity and wonder in which I recognize some of Sherman Alexie's influence (whom Yang cites in his Process Profile as having drawn an explicit connection between the Native American and Hmong experiences). One of Alexie's stories ends, if I remember correctly: "I lean against the jamb, waiting for something to change."
Are we there yet? The writers on the Literasians panel had different relationships to different histories. The ordering and codifying nature of a prose narrative certainly exerts pressure, but does a fiction writer bear the past with a different onus than a poet does? Lysley Tenorio commented that he cannot be expected to represent all of Filipino American culture in the handful of stories in Monstress, though his cultural experiences informed the material. Aimee Phan said she couldn't help going back in time for her second novel, The Reeducation of Cherry Truong, that her family history had a lot to do with who she is not just as a writer but as a person. Sandra Park's If You Live In A Small House: A Story of 1950s Hawai`i is full of ghosts and isolation connected through history, longing, and memory.
I'm grateful for the recognition of a continuum in which past and future do not mean merely backward and forward. It is not the responsibility but also the privilege of writers to inhabit more than one time or place, more than one allegiance, more than one narrative worldview. As poets, we collapse the boundaries of identity politics into tonal repositories, into lyric moments. We make the telling of history not a transmission of information, but a shared act of passion, a celebration. We sit as writers in a room full of time, with the sound of water ever in motion, while the blurred faces of those "Most Wanted" are there for us to clarify and imbue. The future is now; whatever our medium, are we here yet?