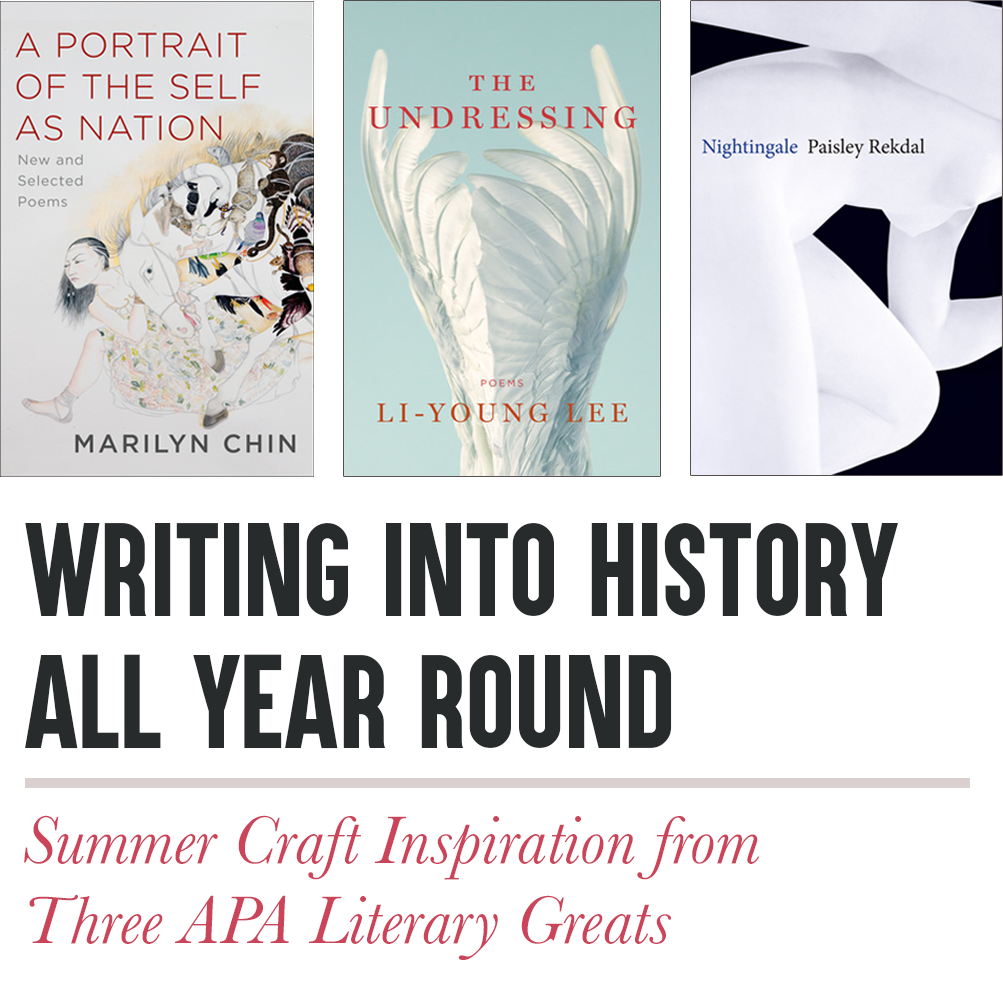 Though APA Heritage Month officially concluded a couple of weeks ago, for so many of us, the necessity of engaging with lineage in our craft is a continual process that doesn't just end on May 31st. Summer is finally here—a season that is often a time of great output, especially for writers who live on an academic calendar. Hence, this month's post looks to some of the "greats" from within the APA literary community for inspiration on writing into history. Drawing from recent works by Marilyn Chin, Li-Young Lee, and Paisley Rekdal, we've gathered three writing prompts to energize your own writing practice this summer.
* * *
1. Write into a manifesto (Marilyn Chin, A Portrait of the Self as Nation, W. W. Norton & Company, 2018).
In Marilyn Chin's most recent collection of poetry, A Portrait of the Self as Nation, Chin's feminist manifestos serve as sharp reminders of how poetry is deeply intertwined with the body. In "Brown Girl Manifesto (Too)," for instance, Chin mocks and subverts the literary lineage of Orientalism:
"I am your parlor rug your chamber bauble
Love me stone me I am all yours
Pound Pound my father's Ezra"
Through the use of wit and wordplay, "Brown Girl Manifesto (Too)" exposes how modernist poets like Pound chose to uphold their own fantasies and projections rather than engage seriously with existing Asian literary traditions. By summoning sense and sensation in her criticism, Chin evokes the body in all its glorious volatility, asserting fantasy on her own terms and in her own tone.
For this exercise, reflect on the history, lineage, and intentions that guide your poetics. What events inform your poetic style and themes? What circumstances have made possible the lines you write? For, after, or against whom do you write? List these out, gathering them into a lyrical statement—whether in paragraphs, as with "Postcript: Brown Girl Manifesto, One of Many (2010)," or in clusters of key words, as with "Brown Girl Manifesto (Too)." Write several versions of your manifesto—what happens when you experiment with the tone and the form? Allow your manifesto(s) to guide your future writing.
2. Build shelter in the moment before (Li-Young Lee, The Undressing, W. W. Norton & Company, 2018).
The second section of "Our Secret Share," a poem from Li-Young Lee's most recent collection The Undressing, takes Indonesia's social unrest of the 1950s and 60s as its backdrop—but Lee's focus is not on "the killing," which "has already started / and will go on into the night / and the next day, night and day, day and night" (42).
Rather, the speaker conjures the moment before the violence, recalling an image of his sister being ferried across the Solo River by a boatman—she stands "still and straight beside her bicycle" as the reflections "slide along beneath them in the water" (42). By centering a fleeting moment of stillness, Lee underscores the permanent and unspeakable loss that lies just beyond the poem's frame—but he also creates a safe harbor from which the speaker can safely reflect.
Consider a key moment of dramatic tension or revelation. Write about this conflict through the lens of the moment before, developing the image or scene over at least fifteen lines. What happens to the "moment after" when the events that lead up to it have been slowed down and expanded upon through poetry?
3. Stage a critical intervention (Paisley Rekdal, Nightingale, Copper Canyon, 2019).
At the center of Paisley Rekdal's most recent collection Nightingale is a lyric essay, "Nightingale: A Gloss," that begins with the Greek myth of Philomela. Questioning Ovid's retelling of the myth in Metamorphoses, in which Philomela is raped and mutilated by her sister's husband, weaves a tapestry to communicate her assault, and is transformed into a nightingale, Rekdal asks, "Why should Philomela sing, when our presence only increases her suffering?" (50).
By drawing from research on subsequent retellings of Philomela, Rekdal stages a critical intervention in the literary history of sexual violence. Bringing the speaker's experiences and Rekdal's own poetry into the conversation, "Nightingale: A Gloss" ultimately engages with the decision to put language to trauma, returning voice to the survivor: "I stand in the field. I whistle back" (54).
Consider with your own relationship with a character from myth or legend. How have others engaged with this narrative in the past? How do your own experiences resonate or diverge? Write a poem in which you bring these different approaches and intentions into conversation.
* * *
What works by APA literary greats or moments from history have affected or inspired your own craft? Share them with us in the comments or let us know on Twitter, Facebook, or Instagram (@LanternReview).