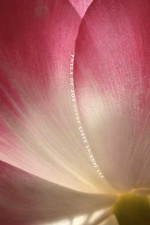 A Guest Post by Eugenia Leigh
Phyla of Joy by Karen An-Hwei Lee | Tupelo Press 2012 | $16.95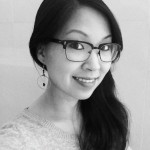 When entering Karen An-hwei Lee's mysterious world of silver eucalyptus groves and Holy Spirits, the temptation is to dissociate. To keep that ethereal realm separate from the mud-and-waste Earth most of us know. But Lee's power lies in her ability to unite both worlds. Instead of distancing the Divine from cigarettes and kitchen fires, Lee welcomes the one into the other. But the startling result isn't a third world tangled with dichotomies. The result is Phyla of Joy, a portrait of the world we live in, but reclaimed through gracious eyes that somehow inject light into everything from famine to girls born with cleft palates.
Lee prepares her reader for this new world with her epigraphs, the first of which comes from a Davidic psalm: "For with You is the fountain of life; / in Your light we see light." Immediately, the following formula is established: to find light on Earth, Lee's poems—and we readers—will need to rely on the light of the divine "You."
This "formula" seems simple enough, but how much effort does it really take for our generally afflicted human selves to seek out that otherworldly light? Lee addresses that tension between being human and craving something beyond-human in the book's first poem, "Yingri." In the Tupelo Press reader's companion to Phyla of Joy, she notes that yingri is a Chinese word composed of two characters. While Lee tells us that the second character translates to "sun," she allows the meaning of the first character to remain ambiguous in its multiple possible translations: "shadow," "eagle," "to reflect."
The poem's two stanzas add to our understanding of yingri's duality. The first stanza, representative of earth and ying with its many meanings, reads:
Inside me is a bridge, or the beams of a house,
and an old ground swell beneath a garden boat.
The speaker's observations in this stanza reflect the multiple meanings of ying with the word "or," which reveals both the speaker's uncertain sense of her human self and also the possibility of additional manmade constructions buried within her.
The second stanza constitutes ri—the sun and its associations with divinity:
Outside, on an acre of snow,
a winter sun, blinding.
What appears to be a small, four-line opening poem speaks volumes when pitted against the rest of the collection. We asked earlier how people can invite supernatural light into a worldly existence. And here is the answer: by blinding.
Continue reading "Review: Karen An-Hwei Lee's PHYLA OF JOY" →