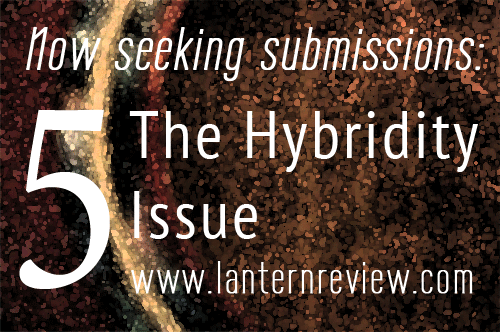 Since we're approaching the end of our Issue 5 reading period, today's prompt will be our final discussion on the critical notion of hybridity.  Click here for previous posts, which discuss a number of ways we've seen contemporary practitioners experiment with hybrid forms, media and language.  Today's prompt focuses on subject matter derived from hybrid sources, which I'd like to approach through a consideration of Quan Barry's poetry.
In an interview for Perihelion, Barry says:
I listen to a lot of NPR, mostly FRESH AIR, and quite a few of the poems [in Asylum] are from segments I'd heard either there or on ALL THINGS CONSIDERED. Because I'm the kind of person who's really interested in making connections, in getting really into topics, for ASYLUM, I researched a lot of the poems (for example, the poems about syphilis).
One of these "poems about syphilis," which appears in the sequence "Plague," begins:
After three weeks a chancre forms–an ulceration
with a hard edge, springy center–the way a button
feels through a layer of cloth.  Also, the lymph nodes

in the groin begin distorting, swell like vulcanized rubber,
painless though immunologically ineffectual.
What grounds the poem, along with its striking rendering of the disease's manifestations as material objects ("the way a button / feels," "like vulcanized rubber"), are details about the illness' progression: the ulceration, the lymph nodes, the groin…  Words like "chancre" (and later: "pustules" and "tabes dorsalis"), as if imported from a foreign vernacular, introduce a voice that originates from outside the world of the poem, broadening the subject matter into more than just the poet's "take" on sexually transmitted diseases.
Barry's second book, Controvertibles, presents us with another compelling way to think about hybridized subject matter.  (A number of the poems that appear in Controvertibles can also be found online in Volume VI, Issue 6 of  Perihelion.)  The book, a sequence of poems both lyrical and discursive, posit a range of subjects in relation to their unlikely corollaries.  Each title places a disparate cultural icon, historic moment or philosophical idea in conversation with another, causing us to meditate upon "the seahorse as transubstantiation," "Rage Against the Machine as Plate Tectonics" and "the final scene in Akira Kurosawa's Ran as condition," to name only a few.  One can't help but think of the Metaphysical poets of the seventeenth century, who with their wildly heterogeneous ideas, "yoked" unlike things "with violence together."  T.S. Eliot applauded these poets for their "devouring all kinds of experiences" and, I suspect, might have recognized a similar impulse in Barry's poems.
Prompt: Write a poem that derives information from an outside source (like NPR or Gray's Anatomy of the Human Body) — or one that equates two heterogeneous subjects.  Consider how subject matter, rather than originating from a single source (like memory, or one's immediate surroundings), can emerge from a number of sources in order to evolve into a carefully grounded, impactful poem.
 * * *
The submissions period for Issue 5, "The Hybridity Issue," will close on July 15th. Has this prompt inspired you to experiment with subject matter, or do you have other previously unpublished work that explores the concept of "hybridity"?  Click here to submit.