Becoming Realer: Identity, Craft and the MFA is a column that explores issues of poetry, theory and writing craft in relation to the personal experiences of Saint Mary's College of California Creative Writing MFA candidate and LR staff writer, Kelsay Myers.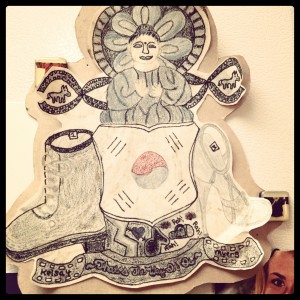 "We tell ourselves stories in order to live," Joan Didion began "The White Album." Her words have been on repeat in my head during the months that I have been neglecting this column while putting the finishing touches on my thesis for Saint Mary's MFA in Creative Nonfiction. As I prepared to walk for graduation, I found myself returning to the beginning and wondering: Is that why I decided to tell stories? What exactly is the nature of telling stories?
This past January, I took a class that explored fairy tales from a comparative and cross-cultural perspective. I thought it would help me learn how to write stories since folk tales have both expository and narrative elements and follow set structural patterns. There is a hero or heroine who goes on a journey. There is a donor who helps the hero or heroine. There is a conflict, separation and ultimately a reunion. Things tend to happen in threes. In order to find the narrative arc in my own story, I decided to go back to the very beginning.
Some folklorists believe that the first stories told were tales of giant-slayers. In a Norwegian tale, seven brothers go off in search of seven brides, and the oldest six are turned to stone by a giant's hand. Only the youngest prince and princess are able to trick the giant and destroy his heart. Or in the Portuguese version, three sisters go out into a field to pick flowers, then disappear. When the youngest brother comes of age, he goes off in search of his lost sisters and finds the first two married to the King of the Birds and the King of the Fishes respectively. But his youngest sister is being held prisoner by an evil giant that wants to force her hand in marriage, and the brother must destroy the giant's heart. Then there's the Cyclops in Homer's Odyssey or David and Goliath. Were these stories told in order for ancient people to live or were they just stories the peasants liked to tell to pass the time?
Maybe Joan Didion was only talking about her own stories. Or maybe her saying only holds true in contemporary society. Then again, with shows like Once Upon A Time and Grimm on the air and a steady stream of films that re-imagine fairy tales from "Little Red Riding Hood" to "Puss in Boots" and "Snow White," contemporary culture seems just as fascinated with telling and hearing these stories as the ancients were. Maybe it's the stories that do the living.
After taking the fairy tale class, I started to write folk tales based on my own life, bringing a sense of mythology and surrealism back into my writing (a process that I began last fall and addressed in "A Conversation with the Surreal"). In my college poetry classes, I had often used the surreal to make sense of my life. I wrote persona poems based on Ai's poetry from the perspectives of my adoptive parents, my birth parents and Clark Kent, that alien superman who was adopted after his spaceship landed on a small farm in Kansas. I also attempted to write a contemporary Asian American epic, casting myself as the heroine who goes on a Nietzschean journey and battles different versions of herself through a cacophony of poetic forms and structures.
Narrative is not my first concern in telling stories as most people who know me would agree. Recently, I had a conversation with my advisor, Marilyn Abildskov, and a friend, Vanessa Stewart. Vanessa said that in writing, she is always drawn first to the story, then to the people involved, and then to the larger idea. I begin with an idea. "And you drag people in kicking and screaming," Vanessa said. "First there's a frame and on the periphery are the people, and the writer slowly drags them in kicking and screaming," Marilyn then conceded, using her two thumbs and pointer fingers to illustrate the frame and the people moving closer and closer to the center. And I wonder if maybe Joan Didion was right after all. Maybe this is my way of surviving too.
Perhaps I find a certain comfort in artifice, an idea I explored in "Growing Sideways." Sharing the deepest and most painful parts of myself seems more interesting, if not more safe, when distilled through a lens: the litany, abstraction, lyricism, word play, anaphora, circular thinking, fragmentation. Perhaps that's why I am returning to Saint Mary's next year for the MFA in Poetry.
For me, the art of storytelling lies not in the stories we tell, but in how we tell them, and it is the art that I need in order to live.
When I was nineteen, I contemplated suicide for the first time. I was not necessarily suicidal, but I was consumed by the idea that life was not worth living. There were a number of factors that contributed to my condition. It was my first year of college, the ground was covered with snow, and I had two hundred pages of reading every single night. Some days I couldn't even will myself to get out of bed. I felt like my mother did not understand me, and we had always seen things the same way before then. Even though I had my own bedroom, I lived in a suite with five other girls, and I had grown up an only child.
One of the mornings when I couldn't physically get out of bed, I rolled over and stared at my CD player. Its whiteness stood out in the dark shadows of my small dorm room. I sat up, grabbed Sarah McLachlan's Mirrorball from my purple Levenger disc holder and put it in the player, all without getting out of bed. I took the remote control, laid back down and rolled over again after hitting the PLAY button. I was convinced that there was no beauty left in the world, and I wanted no part of a world devoid of beauty. I decided the only answer was to die, but as the live version of "Hold On" began to play, I heard Sarah sing:
So now you're sleeping peaceful
I lie awake and pray
That you'll be strong tomorrow
And will see another day
And we will praise it
And love the light that brings a smile
Across your face.
And I thought it was the most beautiful thing I had ever heard. If beauty like that still existed, then I could too.
Sarah McLachlan has said that she wrote "Hold On" after reading an article about a woman who died of cancer, or AIDS, or some other terminal disease. She imagined what it would be like to be that woman, to be in her position, in her condition. So I guess it was that story, twice removed, that made me decide to live.
I began this blog and this writing program two years ago with Eve Kosofsky Sedgwick's words: "If I can fit the pieces of this self back together at all, I don't want them to be the way they were. Not because I thought I could be better defended either: what I wanted was to be realer" ("Becoming Realer: A Writer's Life"). Sedgwick's quote brought me to my own writing project, founded on the question: What is my story?
As I near the end of the MFA, I have only more questions. What is the nature of telling stories? What are the ways that we tell them? I have Joan Didion's words, that we tell ourselves stories in order to live. And I think that's possibly the most beautiful thing that I have read. And that, yes, I am realer now.