Our friends and contributors have been busy this summer!  Here are a few bits of exciting news that have floated our way these past few months:
* * *
Kuwento for Lost Things [ed. Rachelle Cruz and Melissa Sipin]
is accepting submissions

LR Contributors Melissa Sipin (whose work is forthcoming in Issue 3) and Rachelle Cruz (whose work appeared in Issue 1 and who has a postcard poem forthcoming in Issue 3), are co-editing an anthology of phillipine mythology called Kuwento for Lost Things, and are accepting submissions of poetry, prose, and visual art through January 15, 2012.  Submissions guidelines are available here. Please help their project get off the ground by liking or following them on Facebook or Twitter, respectively, and by sending some work their way! Visit their web site here: http://kuwentoforlostthings.wordpress.com/
* * *
Angela Veronica Wong wins a Poetry Society of America NY Chapbook Fellowship
Many congratulations to Issue 1 contributor Angela Veronica Wong, whose chapbook Dear Johnny, In Your Last Letter, was selected by Bob Hicok for a 2011 PSA New York Chapbook Fellowship! A short writeup about Veronica and the other Kundiman fellow who won this year (Alison Roh Park) that appeared on Poets & Writers ' contest blog  last week featured a short video clip of Veronica reading at LR's joint AWP reading with Boxcar Poetry Review this past February. (Read the article here).
* * *
Craig Santos Perez's poetry CD, Undercurrent, now available on iTunes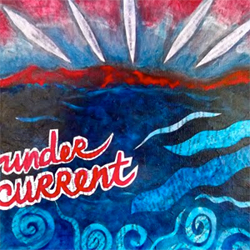 Issue 1 contributor Craig Santos Perez and Brandy Nalani McDougall have released a poetry CD called Undercurrent that features audio recordings of both artists reading their own poems.  Craig's contributions are taken from his two collections, from unincorporated territory [hacha] (2008) and [saina] (2010).  Undercurrent is available for download on iTunes, or for purchase through Amazon.  An electronic version of the liner notes can be found on Craig's blog.
* * *

Jai Arun Ravine's first book available for order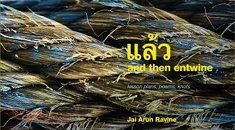 Congratulations to Issue 1 contributor Jai Arun Ravine, whose first poetry collection, แล้ว and then entwine has been published by Tinfish! Doveglion has printed Jai's reflections on the process of writing the book and its guest editor, Craig Santos Perez, has written about editing it on his own blog.  More information about ordering แ ล้ ว and then entwine can be found on Tinfish's web site.
* * *
Cha releases "The China Issue"
Our friends at Cha have released their long-awaited China Issue, which features poetry, creative and nonfiction prose, translations, reviews, an interview, art, and art criticism that explore questions about China in the contemporary era.  The editors and contributors share a strong concern for both aesthetic and social issues (such as freedom of expression and human rights violations)—but the purpose of the issue is not so much to engage in protest as it is to delve into curative exploration: a grappling with the complexities of China's national condition through a collection of voices from both inside and outside its borders. Writes Tammy Ho-Lai Ming in her editorial introduction:
"I still have hope for a freer, more democratic, more just China, one that if it does not quite embody the totality of the 'could be,' at least manages to be better than it currently is. And I hope it gets there soon. I want to see it, breathe it, live it, be proud of it. In the meantime, China is what it is or perhaps more accurately it is a near infinity of realities and possibilities. This issue of Cha is devoted to capturing a sense of this complexity, to provide a view of what a few people, both Chinese and non-Chinese, think of this remarkable country at this fascinating juncture in history. In these works, you will see a handful of microscope slides, cross-sections of the contemporary Middle Kingdom, which when read together will hopefully provide a glimpse of the whole."
The issue is populated with the voices of contemporary Chinese who are living in China,  Chinese expatriots who are studying or teaching abroad, members of the Chinese diaspora in the West, and a sprinkling of Westerners.  Names of particular interest to LR readers include internationally-known artist and dissident Ai Wei Wei and respected Asian American poet and literary scholar Russell C. Leong.  Read the issue here.
* * *
AALR gears up for release of a special issue about 9-11.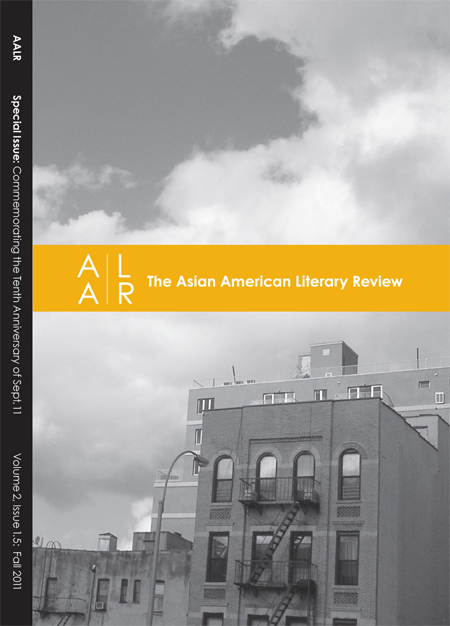 The editors of the Asian American Literary Review have announced that they will be releasing a special issue in response to the 10th anniversary of 9-11. Write the editors:
"On the ten-year anniversary of September 11th, experts of every camp and affiliation will compete to dictate its legacies for our collective memory. The danger isn't simply that the loudest voices will dominate—it's that only a limited range of voices will make it into the conversation at all. So many of our communities have borne witness to so much over the past 10 years; it behooves us to critically consider the moment and its aftermath—the various political, legal, and civil rights repercussions, particularly for the communities most directly affected, South Asian, Arab, Middle Eastern, and Muslim American. But how can we do so, when so many of the voices of affected communities remain unheard? How do we remember and reflect on this moment as Asian Americans when the public conversation is so circumscribed?

In the interest of broadening that conversation, The Asian American Literary Review (AALR) is publishing a special commemorative issue."
The issue will feature prose, poetry, dialogue, photography, and video by and about South Asian American activists, students, scholars, and community members, and is now available for pre-order on the AALR web site.
AALR is also currently accepting submissions for its regular magazine through September 1st.  (Guidelines here).
* * *
Kundiman introduces "Together We Are New York" in remembrance of 9-11

Also in response to the anniversary of 9-11, Kundiman is preparing "Together We Are New York: Asian Americans Remember and Re-envision 9-11," a remembrance arts project that seeks to bring "the poet's ear and vision" to the conversation surrounding the event, in order to "ensure that this historic anniversary includes public remembrances and the vital voices of a key marginalized community fundamentally transformed by the tragedy."  The opening performance and dialogue of this series will be held on September 13, 2011 from 7-9 PM in Fordham University Lincoln Center, and will feature poets Hossannah Asuncion, Tamiko Beyer, Marlon Esguerra, April Heck, Eugenia Leigh, Bushra Rehman, Zohra Saed, Purvi Shah, and R.A. Villanueva.  More information about "Together We Are New York" is available on Kundiman's web site.
* * *
Drunken Boat accepting submissions for its Open the City folio
(in collaboration with the AAWW)
Drunken Boat is now accepting submissions for a special folio in collaboration with the AAWW "that respond[s] to the question of Asian and Middle Eastern-American populations in urban spaces."  The theme is flexible and can be interpreted in many different ways. Write the editors, "These can take a particular city as point of departure, can verge to cities around the world, engaging with the notion of how the forces of displacement and accretion intersect to create identity in a particular environment. We envision Chinatown, Little India, mosques in metropolitan areas, ethnic groceries, foreign film theaters, etc. all as possible sites for investigation."  Submit via the Drunken Boat submissions manager by October 1st.
* * *
That's all for now, but please be on the lookout for our own Issue 3, which is set to launch bright and early tomorrow!