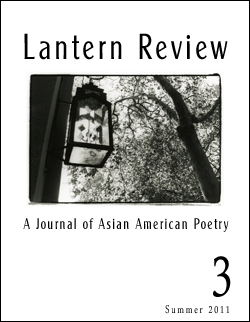 It is with great pleasure that we announce the arrival of Issue Three of Lantern Review!
This stunning new volume, which features Julie Kim's haunting black and white photograph "Still" on its cover, contains 52 pages of poetry and visual art as well as a powerful "Community Voices" section featuring work by poets from the Hmong American Writers' Circle.  The issue also includes two selections (contributed by Rachelle Cruz and Kathleen Hellen, respectively) from our 2011 post-AWP Postcard Project, as well as a beautiful visual poem by digital artist and Kundiman poet Monica Ong. For the first time, we've also incorporated a tool that allows you to explore these visual poems more closely by clicking and zooming in on them. (This tool requires that Javascript be enabled in order to work, so if necessary, please take a moment to turn it on before entering the issue. Details about how to navigate the "zoom" tool are provided on the issue's masthead).
Our stellar lineup of contributors also includes: poets Jen Y. Cheng, Wendy Chin-Tanner, Shayok (Misha) Chowdhury, Oliver de la Paz, Clara Changxin Fang, Kim Koga, Eugenia Leigh, Kim-An Lieberman, Vikas K. Menon, Pos L. Moua, Hong-Thao Nguyen, Melissa R. Sipin, Mai Der Vang, Andre Yang, and Sandra M. Yee, as well as visual artists Joseph Marconi Calindas, Michelle Chandra, and Natalia Ricotta.
To enter the issue, click here, or on the cover image at the top of this post.
We hope that you enjoy the issue, and would love to hear your feedback on both its content and its technical navigability—simply send us an email at editors [at] lanternreview(dot) com.  In the meantime, we are heading off on a late-summer Blog Hiatus (during which time we'll be taking a break from posting to the blog, but will still be contactable via other means, like email and Facebook), and wish you all the best until we return on October 3rd.
Many thanks, as always, for your continued support of LR,
Iris & Mia
LR Editorial Board