Our friends and contributors have been busy this summer!  Here are a few bits of exciting news that have floated our way these past few months:
* * *
Kuwento for Lost Things [ed. Rachelle Cruz and Melissa Sipin]
is accepting submissions

LR Contributors Melissa Sipin (whose work is forthcoming in Issue 3) and Rachelle Cruz (whose work appeared in Issue 1 and who has a postcard poem forthcoming in Issue 3), are co-editing an anthology of phillipine mythology called Kuwento for Lost Things, and are accepting submissions of poetry, prose, and visual art through January 15, 2012.  Submissions guidelines are available here. Please help their project get off the ground by liking or following them on Facebook or Twitter, respectively, and by sending some work their way! Visit their web site here: http://kuwentoforlostthings.wordpress.com/
* * *
Angela Veronica Wong wins a Poetry Society of America NY Chapbook Fellowship
Many congratulations to Issue 1 contributor Angela Veronica Wong, whose chapbook Dear Johnny, In Your Last Letter, was selected by Bob Hicok for a 2011 PSA New York Chapbook Fellowship! A short writeup about Veronica and the other Kundiman fellow who won this year (Alison Roh Park) that appeared on Poets & Writers ' contest blog  last week featured a short video clip of Veronica reading at LR's joint AWP reading with Boxcar Poetry Review this past February. (Read the article here).
* * *
Craig Santos Perez's poetry CD, Undercurrent, now available on iTunes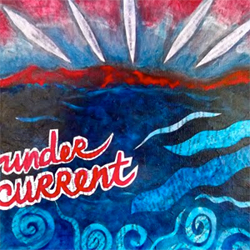 Issue 1 contributor Craig Santos Perez and Brandy Nalani McDougall have released a poetry CD called Undercurrent that features audio recordings of both artists reading their own poems.  Craig's contributions are taken from his two collections, from unincorporated territory [hacha] (2008) and [saina] (2010).  Undercurrent is available for download on iTunes, or for purchase through Amazon.  An electronic version of the liner notes can be found on Craig's blog.
* * *

Jai Arun Ravine's first book available for order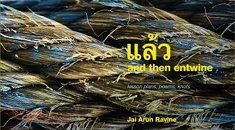 Congratulations to Issue 1 contributor Jai Arun Ravine, whose first poetry collection, แล้ว and then entwine has been published by Tinfish! Doveglion has printed Jai's reflections on the process of writing the book and its guest editor, Craig Santos Perez, has written about editing it on his own blog.  More information about ordering แ ล้ ว and then entwine can be found on Tinfish's web site.
Continue reading "Friends & Neighbors: Rounding Out the Summer" →