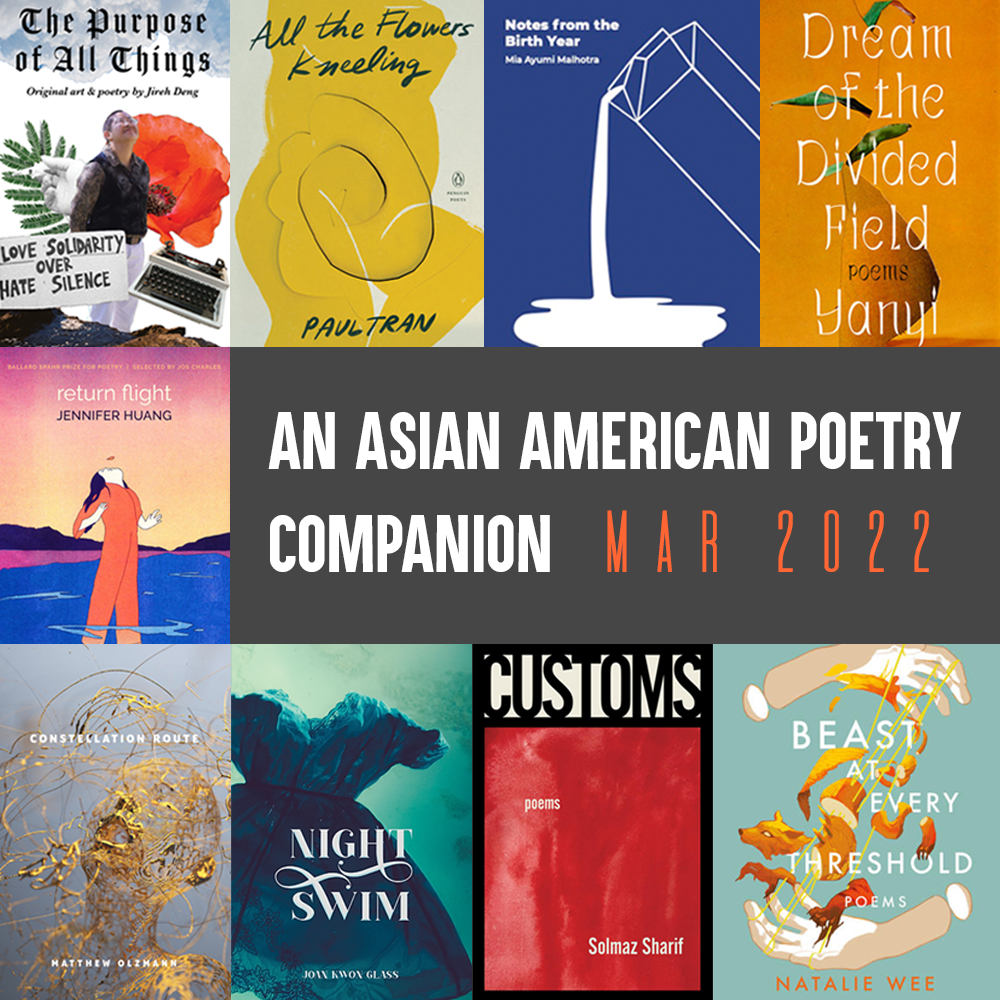 Our Asian American Poetry Companion series is back with more exciting reads to pick up—perfect for a warm spring day. Today, we're thrilled to be bringing our readers nine fresh recommendations of new and forthcoming works from the Asian American poets that we know and love.
* * *
Jireh Deng, The Purpose of All Things, (Self-Published, December 2021)
Jireh Deng's The Purpose of All Things may be the perfect thing for you to pick up this spring if you enjoyed their piece "Towards Fidelity" in Issue 9.2. Poems from Deng's debut chapbook have been featured by the Human Rights Campaign, CSU Long Beach, and more. The Purpose of All Things features both poetry and artwork throughout the collection; available now.
Joan Kwon Glass, Night Swim, (Diode, March 2022)
Joan Kwon Glass continues the exploration of mourning and reconciliation she began in her January chapbook, How to Make Pancakes for a Dead Boy (Small Harbor, 2022), with her full-length poetry collection, Night Swim. If you've already read and enjoyed her work in Issue 9.1, look forward to more in this collection, out from Diode this month.
Mia Ayumi Malhotra, Notes from the Birth Year, (Bateau, March 2022)
Our associate editor and cofounder, Mia Ayumi Malhotra, provides a tender new lens on motherhood in her new chapbook with Bateau, Notes from the Birth Year. You'll definitely want to pick up this collection of exploration and reflection this month.
Matthew Olzmann, Constellation Route, (Alice James, January 2022)
Matthew Olzmann's work has been on our readers' radars from the very beginning, his first contribution having been in Issue 1. If you enjoyed either of his previous collections (Mezzanines or Contradictions in the Design) or the vivid imagery and haunting musicality of his poems in Issue 6, Constellation Route may be your new favorite; out now from Alice James.
MORE NEW & NOTEWORTHY PICKS
Jennifer Huang, Return Flight, (Milkweed, January 2022)
Solmaz Sharif, Customs, (Graywolf, March 2022)
Paul Tran, All the Flowers Kneeling, (Penguin Poets, February 2022)
Natalie Wee, Beast at Every Threshold, (Arsenal Pulp, March 2022)
Yanyi, Dream of the Divided Field, (One World, March 2022)
* * *
What titles are you looking to pick up this season? We hope to hear more about what you're diving into this spring! Share your recommendations with us in the comments or on Twitter, Facebook, or Instagram (@lanternreview).
---
ALSO RECOMMENDED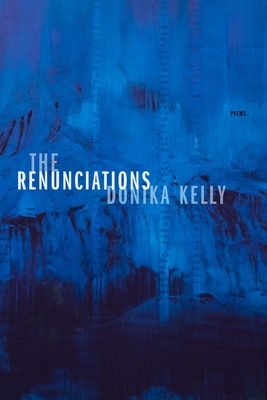 The Renunciations by Donika Kelly (Graywolf Press, 2021)
Please consider supporting a small press or independent bookstore with your purchase.
As an Asian American–focused publication, Lantern Review stands for diversity within the literary world. In solidarity with other communities of color and in an effort to connect our readers with a wider range of voices, we recommend a different collection by a non-Asian-American-identified BIPOC poet in each blog post.