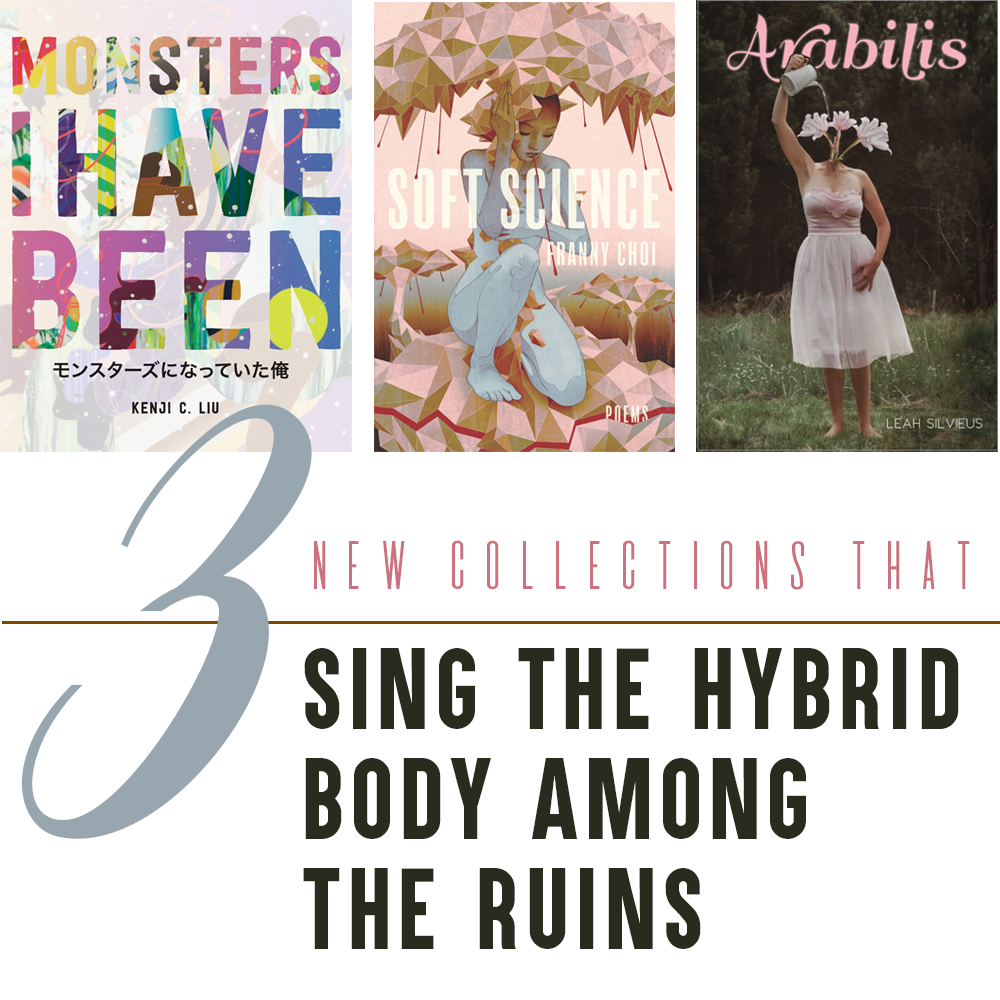 Happy National Poetry Month! For our April roundup, we've selected three recent APA poetry collections that reflect upon the labor of vulnerability. These ambitious projects employ footnotes, coding syntax, Google Translate, and elegaic and pastoral forms to mine tenderness from the desert, tracing how tendrils may grow where no sun has touched, how hybrid bodies might emerge from our ruins. If you're aching for sustenance in the midst of a barren season this month, we hope you'll consider checking out one or more of these gutsy titles.
* * *
Monsters I Have Been by Kenji C. Liu (Alice James Books, 2019)
Monsters I Have Been, Kenji C. Liu's second collection, meditates on the wreckage left by histories of violence and domination. Fittingly, Liu deploys an original form in this book that he has dubbed "frankenpo": juxtapositions of footnotes, musical scores, and lines in translation that can divine "new meanings often at odds with the original texts" (1). As Liu writes in "The Monstrosity: Notes Towards a Frankenpo," the collection's concluding essay, the frankenpo responds to the idea that "A monstrous presence is needed to respond to monstrous times" (82).
The resulting poems are both playful and rife with pain as they dismantle the bloody logic of imperialism and take apart the brutal performance of heteropatriarchal masculinity. Take "Footnotes to a Murder in the Third Degree," a poem for Michael Chun Hsien Deng, who was beaten to death in 2015 while being hazed by brothers from his Asian American fraternity. Masculine identity defined by violence leaves the body of the poem, the mourned boy, absent. What remains are numbered fragments—"We broken brothers, tackling each other with belonging," reads one footnote (22)—that gesture at the legacies of racism and cultural alienation that motivate cruelty as a mode of kinship. Monsters I Have Been calls for ownership, rather than abandonment, of history's "indefensible monstrosities" as close as our blood relations: "What new bodies do we need in order to survive and live?" (90). Liu sows lines for new manifestos, for future modes of kaleidoscopic, intimate becoming; his monsters are "Not an attempt to create a new kind of man, but to grow a monster of compassion and ferocity" (88).
Soft Science by Franny Choi (Alice James Books, 2019)
Fears of AI domination revolve around the questions: Can machines think? Can robots become sentient? With glittering poetics, Franny Choi reminds us these are trick questions—the histories of machines and cyborgs have always been inseparable from histories of sentience. In her new collection Soft Science, Choi lends radical softness to ash, coral, cyborg, imaginary girl alike. All are just as vulnerable as we are to the specter of another animal's rise, an animal that points to us and names us "animal / alien / bitch / stone" (15). Language, then, becomes the double-edged sword that Choi uses to probe moments of violence. In "Jaebal," for instance, language manipulates and assaults; its failures give way to necessary quiet, a precious harbor and a parallel universe where the speaker is "hardening and bright and filling / my own room" (31), where language can be rediscovered as a tool for making sense and healing. In "The Cyborg Wants to Make Sure She Hears You Right," Twitter harassment Choi received is run several times through Google Translate, resulting in lines like "flat face fetus," "uppity, filthy immigrant girl," and "I go back to my mudhole" (26)—so that the imperfections of layered automatic translation render hate speech as nothing more than a performance of power that falls flat. Just as language can inflict pain, Choi's poems assert language's ability to strengthen, to protect, to play.
It is fitting that the cover of Soft Science is a reprint of James Jean's "Parasola," a fantastical homage to photographer Ren Hang. When Ren took his life in 2017, he left behind his haunting photographs—of his friends' nude bodies entwined with birds, pressed up against leaves—that articulated the messy, mutating, and mutilating world of embodied desire in a suppressive society. If Jean's homage extends Ren's world to create refuge in a pastel dimension, then Soft Science, too, enacts a process of returning from shelter to scenes of violence, reacquainting world with cyborg self—only this time, with a kinder yet more ferocious touch.
Arabilis by Leah Silvieus, (Sundress Publications, 2019)
In her first full-length collection, Arabilis, Leah Silvieus guides us through life and last breaths, allowing cycles of absence and abundance to unfold in lush lines. In "Field Dressing," a father shoots a doe; his daughter holds its gutted heart "until it cool[s], then cast[s] it to the dogs." In "Maryland Route 210 Elegy, Dusk," the speaker reflects on animals struck by car, bodies curled "as if just borne / into the world" (34). And in an early poem, "So Blonde," the speaker, a transracial adoptee, fails to will her hair into gold—and out of that failure, finds instead that her hair comes alive, "my horde of snarled darlings, so dark, so generous" (13).
Arabilis, sectioned by the turn of each season, is—as it must be—an exceptionally patient collection, one that observes how "abandoned long enough . . . a place becomes an elsewhere," as Silvieus writes in "Parousia" (43). Through close observations of street debris, of wasp nests, of the strangling roots of a white swamp oak, Silvieus allows connective tissue to form between the reader and an always brutal, yet always tender, poetic world.
* * *
What recent poetry collections have created new spaces for vulnerability in your emotional life? Share them with us in the comments or let us know on Twitter, Facebook, or Instagram (@LanternReview).