For the past two years, we've been bringing you quarterly book roundups through our Asian American Poetry Companion posts. Today, in the series' final entry, we thought we'd look beyond the current season to give you a glimpse of the literary riches to come in 2023. Today's list reaches far and wide, encompassing everything from books that are due out next month to titles that don't yet have a release month or cover image—and even a handful of internationally published collections that are not yet available in the US (but that we hope might come here soon!). We hope this last companion will serve you well in the new year. Thank you for loving—and sharing your enthusiasm for—this series over the years. It's been a pleasure to curate each quarter, and we're excited to end on a celebratory note. Here's to Asian American poetry and to all the many books that our community will be putting into the world next year—and beyond!
NOTABLE BOOKS BY ASIAN AMERICAN POETS TO ANTICIPATE IN 2023
Books are listed first by US release month (if known), and then alphabetically by author. Asterisks denote titles by former Lantern Review contributors and/or staff members. For titles that do not yet have purchase information available online, we've linked to the author's website instead.
Janine Joseph, Decade of the Brain (Alice James, Jan 2023)*
C. E. Shue, Bridge of Knots (Gold Line, Jan 2023)
W. Todd Kaneko, The Dead Wrestler Elegies [New Edition] (New Michigan, Jan/Feb 2023)*
Sarah Audsley, Landlock X (Texas A&M UP, Feb 2023)
Ina Cariño, Feast (Alice James, Mar 2023)*
MICHAEL CHANG, Synthetic Jungle (Curbstone, Mar 2023)*
Eugenia Leigh, Bianca (Four Way, Mar 2023)*
Monica Youn, From From (Graywolf, Mar 2023)
Craig Santos Perez, from unincorporated territory: [åmot] (Omnidawn, Apr 2023)*
Paisley Rekdal, West: A Translation (Copper Canyon, May 2023)
Oliver de la Paz, The Diaspora Sonnets (Liveright, Jul 2023)*
Sally Wen Mao, The Kingdom of Surfaces (Graywolf, Aug 2023)*
Karan Madhok, A Beautiful Decay (Aleph Book Company, released in India in fall 2022—not yet available in the US)*
Shikha Malaviya, In Her Own Voice: Poems of Anandibai Joshee (HarperCollins India, TBA 2023—not yet available in the US)
Monica Mody, Bright Parallel (Copper Coin, TBA 2023—not yet available in the US)*
Preeti Kaur Rajpal, Membery (Tupelo, TBA/late 2023)*
Eileen R. Tabios, Because I Love You, I Became War (Marsh Hawk Press, TBA 2023)*
* * *
What forthcoming books are you excited about reading in the new year? Let us know in the comments or on Twitter, Facebook, or Instagram (@lanternreview).
---
ALSO RECOMMENDED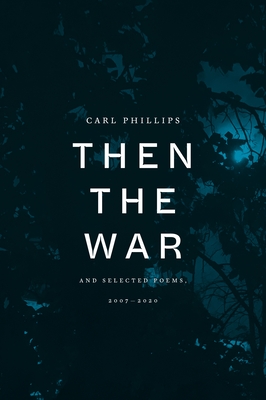 Then the War: And Selected Poems, 2007–2020 by Carl Phillips (Farrar, Straus and Giroux, 2022)
Please consider supporting a small press or independent bookstore with your purchase.
As an Asian American–focused publication, Lantern Review stands for diversity within the literary world. In solidarity with other communities of color and in an effort to connect our readers with a wider range of voices, we recommend a different collection by a non-Asian-American-identified BIPOC poet in each blog post.