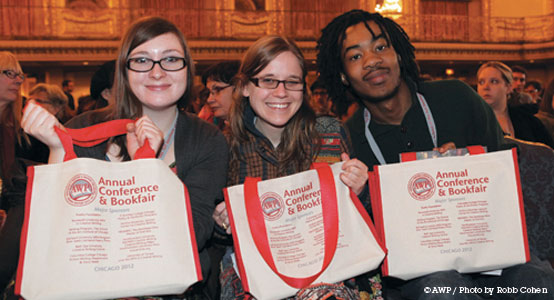 Here's a preview of what Lantern Review will be up to at this year's AWP conference… which is coming up in just a few days! You'll find us listed in the bookfair catalogue as Lantern Review / Kartika Review, located at Table Y2 in Exhibit Hall D, Level 2. For the second year in a row, we'll be tabling with Kartika Review — this time, with the wonderful support of our friends at TAYO Literary Magazine and Hyphen.
We'll have chapbooks, magazines, and lots of other information about what's happening in the Asian American literary world… not to mention an interactive display that will allow you to "put yourself on the map," so to speak, of Asian American literature. See you next week!

Some Panels of Interest:
R131. Baring/Bearing Race in the Creative Writing Classroom. (Aimee Suzara, Kwame Dawes, Debra Busman, Diana Garcia, Lee Herrick)
F150. Intersecting Lineages: Poets of Color on Cross-Community Collaboration. (Ching-In Chen, Sherwin Bitsui, Celeste Guzman Mendoza, Hayan Charara, Kevin Simmonds)
F162. The New Workshop: Literary Community through Pedagogical Innovation, Sponsored by Kundiman. (Sarah Gambito, Regie Cabico, Paisley Rekdal, Myung Mi Kim)
F251. The Divided Heart: Writing Far From Home. (Sandra Yee, Eduardo C. Corral, Ishion Hutchinson, Valzhyna Mort, Jane Wong)
F279. Visible Shores: Writers of Color Listening Across Waters. (Patrick Rosal, Tiphanie Yanique, Roger Bonair-Agard, Christian Campbell, Rachelle Cruz)
S122. Biracial Women Poets. (Brenda Shaughnessy, Monica Ferrell, Paisley Rekdal, Aimee Nezhukumatathil, Monica McClure)
S203. Inside Asian American Editing: How Aesthetics and Advocacy Affect Five Editors' Publishing Decisions. (Allen Gee, Phong Nguyen, Sunyoung Lee, Jennifer Derilo, Tarfia Faizullah)
BF39. Kundiman:10-Year Celebration of Lovesongs, Verses, and Books. (Joseph O. Legaspi, Cathy Linh Che, Mathew Olzmann, Brynn Saito, Sharon Suzuki-Martinez)
*   *   *
For a complete listing of panels and readings, browse the official conference schedule on the AWP website.