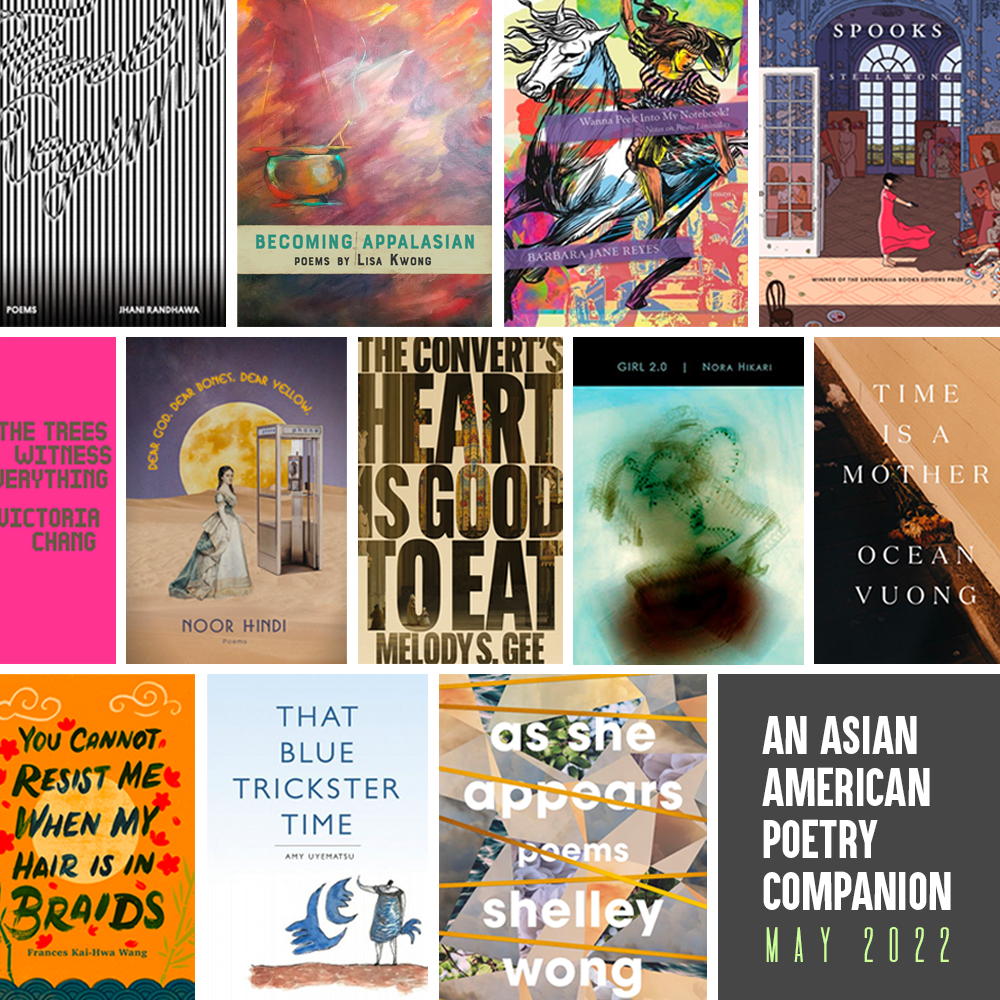 Our Asian American Poetry Companion series is back, bringing you new titles that you won't want to miss this May! Get ready to celebrate APA Heritage Month with a deep dive into some mesmerizing new books from Asian American poets. 
* * *
FROM THE LR COMMUNITY
Melody S. Gee, The Convert's Heart Is Good to Eat, (Driftwood, May 2022)
Melody S. Gee returns with her latest collection, The Convert's Heart Is Good to Eat. If you enjoyed her poem "And So More" in Issue 7.3, The Convert's Heart Is Good to Eat may be the perfect thing for you to pick up this month. Out now from Driftwood Press.
Barbara Jane Reyes, Wanna Peek into My Notebook? Notes on Pinay Liminality, (Paloma, March 2022)
Issue 1 contributor Barbara Jane Reyes reclaims Pinay spaces through her exploration of diasporic Pinay poetics in this collection of lyric essays. If you enjoyed her two most recent collections, Letters to a Young Brown Girl and Invocation to Daughters, you'll definitely want to pick this new volume up as well. Out now from Paloma Press.
Amy Uyematsu, That Blue Trickster Time, (Bateau, March 2022)
Amy Uyematsu's newest collection affirms Asian American identity in the context of the COVID-19 pandemic, reaching back into her own family's experience of incarceration during World War II and lifting up strong female elders from across time. If you enjoyed her poems "Thriftstore Haiku" in Issue 5 or "The Bachi-Bachi Buddhahead Blues" in Issue 7.2, be sure to put this collection down on your reading list for the spring. Out now with What Books Press. 
Ocean Vuong, Time Is A Mother, (Penguin Random House, April 2022) 
Ocean Vuong's much-anticipated second collection, Time Is A Mother, is finally out from Penguin Random House! LR readers have been enjoying Vuong's work since Issue 1, long before his novel, On Earth We're Briefly Gorgeous, catapulted him into the national spotlight. If you enjoyed his previous collection, Night Sky With Exit Wounds, you'll be sure to enjoy diving into his powerful return to poetry this spring.
Shelley Wong, As She Appears, (YesYes, May 2022)
If you enjoyed Shelley Wong's poem "Rivets and Cables" in Issue 6, get ready for her debut collection, As She Appears. Wong writes for queer women of color, rethinking the many different ways in which women take up space, and inviting them to appear as they are. As She Appears is available now from YesYes Books.
* * *
MORE NEW & NOTEWORTHY PICKS
Victoria Chang, The Trees Witness Everything, (Copper Canyon, April 2022)
Nora Hikari, Girl 2.0, (Seven Kitchens, March 2022)
Noor Hindi, Dear God, Dear Bones, Dear Yellow, (Haymarket, May 2022)
Lisa Kwong, Becoming AppalAsian, (Glass Lyre, April 2022)
Jhani Randhawa, Time Regime, (Gaudy Boy, April 2022)
Frances Kai-Hwa Wang, You Cannot Resist Me When My Hair Is in Braids, (Wayne State UP, March 2022)
Stella Wong, Spooks, (Saturnalia, March 2022)
* * *
What titles are you putting on your reading list for APA Heritage Month? We'd love to hear more about what you're starting the summer off with! Share your recommendations with us in the comments or on Twitter, Facebook, or Instagram (@lanternreview).
---
ALSO RECOMMENDED
Broken Halves of a Milky Sun by Aaiún Nin (Astra House, 2022)
Please consider supporting a small press or independent bookstore with your purchase.
As an Asian American–focused publication, Lantern Review stands for diversity within the literary world. In solidarity with other communities of color and in an effort to connect our readers with a wider range of voices, we recommend a different collection by a non-Asian-American-identified BIPOC poet in each blog post.