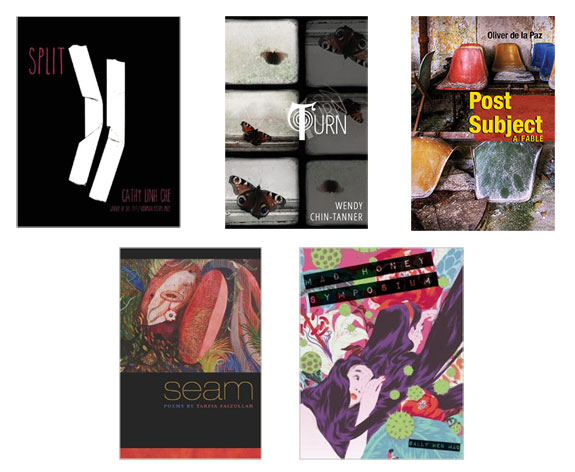 Today, just in time for the start of the year of the lunar new year, we're finishing off our two-part roundup of books that we're looking forward to in 2014.  Last week's post (part 1) focused on recently published titles, while today's (part 2) focuses on forthcoming books that are due out later this year.
Note: the books discussed below are divided by category according to whether they are currently available for pre-order, or whether specific details of their release have, as of this posting, yet to be announced. For each category, books are listed alphabetically by author.
* * *
Available for Pre-order

Split by Cathy Linh Che (forthcoming from Alice James Books in April 2014)
Split is the latest winner of the Kundiman Prize (the previous years' awards having gone to Mezzanines by Matthew Olzmann and Pier by Janine Oshiro). Cathy Linh Che is a poet who writes with clarity and shattering vulnerability. I heard her read from portions of Split, which intertwines histories of personal trauma with the inherited trauma of war and displacement, at last year's AWP, and watched the crowd be visibly moved as she began to cry on the podium. Che said recently, in a feature on the Blood-Jet Radio Hour's blog: "at a reading, a young woman called me 'the crying poet.' She'd witnessed me bawling my eyes out at not one, but two of my own readings. I was a bit embarrassed by the nickname, but now it is a moniker I am proud of! If a book or reading is moving, I tear up. It is how I determine whether or not a work is good. Does it move me? And after I put down the work, does it endure?" I very much respect this: here is a poet who is willing to own the porousness between her work and herself, who is willing to allow herself to be moved by both the process and the "read" experience of her own writing. I can't wait to read Split. 
* * *
Turn by Wendy Chin-Tanner (forthcoming from Sibling Rivalry Press in March 2014)
This is a special one for us here at LR. Wendy has been our staff interviewer for the past three seasons (she's the one who's been responsible for bringing you the insights of everyone from Garrett Hongo to Don Mee Choi), and we are so very ecstatic that she has a book forthcoming! We first got to know Wendy through her sonically rich, smart, politically-attuned poetry—we published a piece of hers in Issue 3 and enjoyed it so much that we made it the "closer" for the main body of the issue. Since joining the blog staff, she's been a huge asset to the team, contributing colorful and extremely thoughtful interviews each month.  We were thrilled when we learned that Sibling Rivalry had picked up her book, and are very much looking forward to reading it in a couple of months' time.
* * *
Post Subject by Oliver de la Paz (forthcoming from U of Akron Press in August 2014)
This is a project that we're proud to say we had the opportunity to publish portions of before it became a book. The bones of Post Subject emerged from a series of epistolary poems composed in postcard (or postcard-like) form and addressed to "Empire," three of which we were privileged to publish in Issue 3. De la Paz's "Dear Empire" poems are short and notational, but haunting. Their speaker excavates the ruins of imperialism, determinedly wading through to catalog the wreckage. Thus far, I've only seen the bits and pieces of the series that have appeared in various literary journals, but I look forward to reading the body of the project as a whole when Post Subject comes out in August.
More of the "Dear Empire" series can be read at Painted Bride Quarterly, at Drunken Boat, and at Verse Daily (republished from the Asian American Literary Review).
* * *
Seam by Tarfia Faizullah (forthcoming from SIU Press in March 2014)
Speaking of much-talked-about books and projects that I've been waiting to read in book form for years (or so it seems), Tarfia Faizullah's first book, for which she won the Crab Orchard Review first book prize, is finally coming out this spring, and I am just about dying of anticipation. Tarfia spent a year on a Fulbright scholarship in Bangladesh, where she interviewed women who had been raped by Pakistani soldiers during the 1971 Liberation War. The powerful poems that she wrote in and around the experience of hearing and receiving these women's stories (see some of them, accompanied by beautiful portraits taken by photographer Elizabeth Herman, here) are woven into the heart of Seam. Tarfia's poetry is truly gorgeous–tender, full of light, and filled with rich, striking imagery (we published one of her poems in Issue 4). She speaks at length about her work in this interview we did with her last year.
* * *
Mad Honey Symposium by Sally Wen Mao (forthcoming from Alice James Books in May 2014)
We love Sally Wen Mao. We love her poems, of course, of which we published two in Issue 5 (1, 2), but we also love her spunk and quirky creative spirit: she is, after all, the woman who came up with Kundiman's unofficial mascot, the honey badger (an animal that, according to the poet, is also of central importance in her book). Sally's poetry waltzes headily with the surreal and at times the grotesque, drawing the reader into its imaginative web of fresh, sublimely strange, song-like voicings. Mad Honey Symposium won the 2012 Kinereth Gensler Award, and it will no doubt be a treat.
* * *
Forthcoming (Specific Details to Come)

Picture Dictionary by Kristen Eliason (forthcoming from Flaming Giblet in 2014)
We had the honor of getting to publish an excerpt of Kristen's Picture Dictionary manuscript in Issue 5. In the project, she writes with exceptionally beautiful transparency of loss and mourning, alienation and exile, of silence and lack thereof—all through the conceit of a Japanese Katakana syllabary table from which the speaker is learning as she grapples with her fresh grief while abroad. Kristen writes with a quiet, but firm, touch that belies, and indeed, makes more poignant, the powerful interior narrative that underscores the project. We are so very excited to hear that Picture Dictionary is going to be published as a full-length book, and are waiting for its release with much anticipation.
* * *
Blood, Sparrows and Sparrows by Eugenia Leigh (forthcoming from Four Way Books in fall 2014)
Eugenia Leigh is a poet whose courage I deeply admire. She writes fearlessly and with finely-tuned grace of family history, of experiences of violence and of joy—all with an eye to the divine and to the fingerprints of a higher force of mercy in this world. Her writing is lush and unabashed, suffused with streaks of light that pierce through histories of trauma and grief: blood against snow. I first became acquainted with her work through Kundiman (where I got to hear her read the title poem from her forthcoming collection), and we have since not only had the opportunity to publish some of her writing (both in Issue 3 of the magazine, and on the blog, to which she contributed a guest review), but also to collaborate with her in her position as poetry editor at Kartika Review. Eugenia and her writing are a force to be reckoned with; no doubt Blood, Sparrows, and Sparrows—her first book—will be, as well.
* * *
The Dead Wrestler Elegies by W. Todd Kaneko (forthcoming from Curbside Splendor in 2014)
We've been huge fans of W. Todd Kaneko's work since we first published his "Northwest Poem" in Issue 2. Perhaps one of the most versatile poets we know (at least, in terms of subject matter), Kaneko has written about dinosaurs and the undead, of witches and of his family's experience of internment during WWII, and now, his series of poems about dead wrestlers is being published by Curbside Splendor. Todd's work charms by means of its subject matter, but also (always) by means of its stellar craft, its strong music and beautiful imagery. We look forward to more of the same strong work in his first collection.
* * *
Reliquaria by R. A. Villanueva (forthcoming from U of Nebraska Press in fall 2014)
Ever since I first heard R. A. Villanueva read at AWP in 2009, I've been looking forward to the day when his first book would come out. In the interim, we've gone on to publish a couple of his poems in Issue 4 of LR, and he's become the editor of the gorgeous literary journal Tongue. And now his first full-length book is finally on its way! Much like the painters from whose work he frequently draws inspiration, Villanueva writes with searing clarity and with beautifully measured strokes. Reliquaria, which won the 2013 Prairie Schooner Prize, is filled with ekphrastic investigations of art and meditations on the body—as symbol, in life, in death, in afterlife. I particularly look forward to reading the final version of his poem about the controversial "Bodies" exhibit, which he briefly wrote about for us in this blog post. Select poems from the book can be found at Ninth Letter, Diagram, Painted Bride Quarterly (1, 2), and the Collagist (1, 2, 3)
 * * *
A very happy and healthy lunar new year to all! What's on your reading list for the year of the horse?
Editor's note: an earlier version of this post mistakenly credited this set of portraits to Tarfia Faizullah. The wording above has since been changed to reflect that the photographs in question were actually taken by Elizabeth D. Herman. The editors regret this error and thank Ms. Herman for clarifying!
Update (2/23/14): The original version of the post also mistakenly named Eugenia Leigh's book as Blood, Blood and Sparrows (the correct title is Blood, Sparrows and Sparrows). Our apologies to Eugenia; the title has since been corrected.