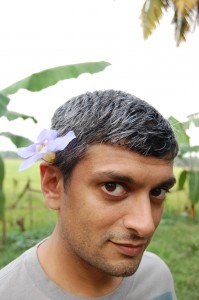 Kazim Ali is a poet, essayist, fiction writer and translator.
His books include several volumes of poetry, including Sky Ward (Wesleyan University Press, 2013), The Far Mosque, winner of Alice James Books' New England/New York Award, The Fortieth Day (BOA Editions, 2008), and the cross-genre text Bright Felon: Autobiography and Cities (Wesleyan University Press, 2009). He has also published a translation of Water's Footfall by Sohrab Sepehri (Omnidawn Press, 2011). His novels include Quinn's Passage (blazeVox books), named one of "The Best Books of 2005" by Chronogram magazine and The Disappearance of Seth (Etruscan Press, 2009), and his books of essays include Orange Alert: Essays on Poetry, Art and the Architecture of Silence (University of Michigan Press, 2010), and Fasting for Ramadan (Tupelo Press, 2011).
In addition to co-editing Jean Valentine: This-World Company (University of Michigan Press, 2012), he is a contributing editor for AWP Writers Chronicle and associate editor of the literary magazine FIELD and founding editor of the small press Nightboat Books.
He is an associate professor of Creative Writing and Comparative Literature at Oberlin College.
* * *
LR: As a writer, you have the unusual ability to move seamlessly between genres—poetry, fiction, and essays. Can you describe what it's like to make those transitions? Does your creative process change between genres and if so, how?
KA: I always liked a musical, lyrical, rhythmic kind of prose. Anais Nin's book The House of Incest was one of my favorite books growing up. I found myself attracted to brief prose forms, ones that could be taken in at a single setting, that acted nearly as music. I like transporting the shape of a lyric poem into prose, whether an essay or fiction.
The form of the "prose poem" per se has never been very interesting to me. First of all because I love the sentence more than the paragraph. And secondly because what prose—the novel or the essay—really offered was time. So I am not interested in brief prose forms, flash fiction or whatever.
There are times when the question of genre doesn't matter. My book Bright Felon: Autobiography and Cities, for example—does it matter if it is prose-poetry or lyric memoir or whatever? I've often thought it should be taught in Urban Studies classes. It is about "cities" after all!
Does the category matter? Only if you are trying to sell the book, not for the reader or for the writer. It was written as a "book;" that's pretty much what I have to say about it. Of course it's prefigured by texts like "Event," "Train Ride," "The Journey," and "Travel," all published as poems in my first collection The Far Mosque.
I am not sure I think about genre as I am writing, but many times as I work on poems (I have been working on one about Varanasi for a long time) I will think: this needs to be in prose because I need more time.
Poems happen in a moment, like music, while prose creates an architecture of experience, like dance? Is that it?
LR: Your prose is often infused with poetry, and you sometimes work with prose poetry. What inspires you about crossing genres?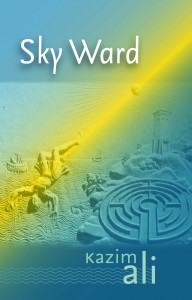 KA: Well, language is itself, queer, revelatory and unsettling. So it's the "poetry" or the non-normative, the performative and oral, that I privilege always. Bringing the resources of poetry in the novel or the essay is my path. I barely write traditional narrative poetry, though some comes in here and there (for example, in my recent book Sky Ward there are many narrative poems, including "Fairy Tale," but this is a new development! Who knows how long it will last).
LR: How has your background in music and dance informed your poetry?
KA: Sound and silence have always been critical to me in constructing a poem, often times coming before sense or leading me to some kind of sense. (Though I am still suspicious of nonsense, I confess). Dance (and yoga) helped me to learned the physical capabilities of the body and the length of a breath. Choreographing on a stage gives you lots to think about in terms of the shape of a poem and the shape of the page.
Do you know that reading series "Page Meets Stage"? I have never (yet) been invited to participate but I think I am both Page and Stage. In fact the page is a stage, isn't it? I feel a lot of kinship with writers who work in both senses.
LR: You have mentioned that voice, the act of speaking words aloud, has been an important consideration in your work. How do you view the relationship between your poems as they appear on the page and as they might be spoken or performed?
KA: I always speak them as I write or [while] in the process of writing. I never simply write without speaking aloud, except in Bright Felon and in my other prose books. Furthermore, all of my prose books except Bright Felon and the first half of Fasting for Ramadan were written longhand first and typed up later. Bright Felon I had to type, because it was too hard emotionally, and I wanted to write it quickly and even switch off my conscious brain and type while I was doing something else, like reading a magazine or watching a TV or sitting at a café near the County Building and Courthouse (in Carlisle, PA, where I wrote most of it) while the workers came in the morning to get their sandwiches and coffee or on their lunch breaks.
Recitation is really important to me—the music of the line, the sound of the vowels.
LR: Couplets feature heavily in the poems of both The Far Mosque and The Fortieth Day. What were some of your motivations for working with the couplet form?
KA: January through March of 2003, I was taking a workshop with Jean Valentine at the 92nd Street Y in New York. Another poet, Kythe Heller, used to get on the 6 train with me and ride downtown and into Brooklyn. At Atlantic/Pacific Street, I would get off and switch to the N/R. Kythe and I would talk about all kinds of things on the way down and she would say some really remarkable stuff. One thing she told me about was a seminar that Olga Broumas gave at Sarah Lawrence—I wrote about it in a poem called "Rhyme."
Another time, Kythe told me about the Delphic oracles and how she would speak in disjunctive couplets, the second line reflecting the first in some way, speaking back to it. So I got really interested in that qualities of the couplet. It became a little bit of an obsession. It's still the tidiest form in the world and the one I often find myself going back to. It holds a thing and its opposite, which is a kind of poetry.
LR: Another theme that recurs in many of your poems, such as "Double Reed," is ambivalence—wanting, and then not wanting once the object of desire is obtained. Could you tell us about how the formal strategies for conveying ambivalence evolved in that poem?
KA: "Double Reed" is a classic example of the couplet whose second line refutes or refracts the first line. It was also the story of a relationship—two people trying to live together and make a unified life though they were each very different. Students at my old high school, Williamsville East, wrote a piece called "Double Reed" after the poem, a piece for oboe and bassoon.
Many years later, Robert Walters, the principle oboist and English horn player of the Cleveland Symphony Orchestra, gifted me with a double reed that he had used in playing Franck's Symphony in D, one of my favorite pieces ever, which also figures in one of my favorite novels by Nin, Children of the Albatross.
LR: Your poem "Autobiography" begins with the line, "we didn't really speak," and ends with the question, "is there a self." How do you envision the significance of silence and the self as it relates to questions of culture and identity?
KA: I wrote a lot about this in my essay "Faith and Silence," which appears at the end of my book Orange Alert. You can't write an "autobiography" unless you know who the "I" is? Is it "you?" Who do you mean when you say "Kazim?" There's a lot to sort out. People want answers about why you make the decisions you make in your life, why you have become the person you have become. And I don't find the explanations to be very easy.
LR: What has your experience been with Kundiman, having previously served as faculty and as an advisory board member for the past several years? How have you seen the organization change over time?
KA: I came to one of the first retreats. (Maybe it was the second one?) That was in the summer of 2007. It was a wonderful and very emotional space. I'd hurt my wrist and couldn't practice yoga at the time. It was very hot in Charleston, but Jon Pineda (my faculty colleague) and I always found respite in the air conditioned coffee shops. I mostly wanted to know if Sarah Gambito had been in the secret society when she was an undergrad at UVA, but she just laughed and changed the subject. Jon and I had a bromance and wrote poems for each other. Mine turned into "The Escape," which is in Sky Ward. I don't know what he did with his. Sarah gave us a chakra writing exercise that was amazing. I taught so many amazing writers that summer and many of them have gone on to publish books, including Ching-In Chen, Tamiko Beyer, Soham Patel, Cindy Arrieu-King and Janine Oshiro. I'm sure there were others, in fact.
Something else significant happened. Between the Kundiman retreat, a family wedding, and a trip to Maine, I somehow lost a folder of about 40 pages of poetry I had been working on all the previous year. The last place I remember having it was at Kundiman. I showed [the poems] to Arthur Sze. He's the last person who saw them. I've never found the folder but I kept writing through it. Years and years after that, at a different conference, I showed Alex Dimitrov a folder of poems that I also hadn't saved anywhere. When I was on the plane home from that conference I thought how if I disappeared in the sky no one would ever know about those new poems (most of them are in Sky Ward now) but I comforted myself by thinking "At least Alex saw them once."
At the beginning of the retreat, Kundiman gives out folders, and each folder has a totem-poet inside. That summer mine was Adrienne Su, who was also my neighbor in Carlisle at the time. So it was kind of funny. It was an amazing summer, though I haven't been invited back yet!
Later, a poet named Andre Yang wrote me an email and said I was his totem-poet in his folder. And I told him, "you're my totem poet." And he still his. Whenever I hear about him publishing something, I go and look. I secretly wait to see when his book will come out and what he will do next.
LR: What projects are you working on now?
KA: I have a whole set of new poems in [a] manuscript that I am working on. I am also working on a cross-genre poetry-prose manuscript that is kind of a sequel to Bright Felon. And [at] the moment, its working title is Autobiography and Cities Volume 2. I've been translating a lot recently—two translations are out this year, L'Amour, a novel by Marguerite Duras and Oasis of Now, selected poems by Sohrab Sepehri. I've been working on translating a book by Ananda Devi and may do another Duras at some point.