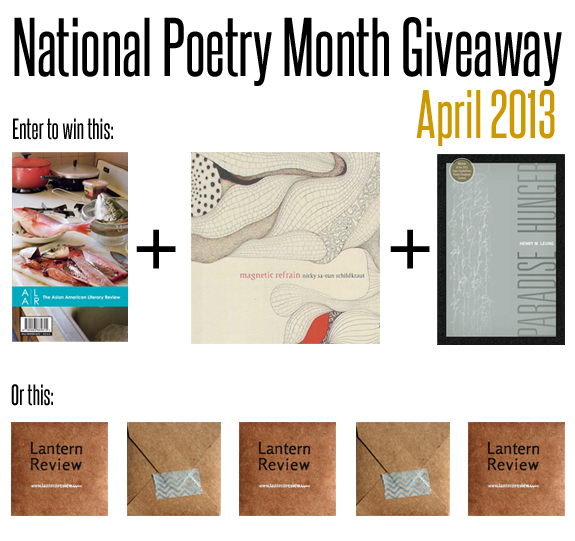 Happy April! It's national poetry month, and as usual, we're celebrating both this month and next (APIA heritage month) on the LR blog with lots of Asian American poetry goodness. This year, for April, we'll be running an installment of our annual Process Profiles series, and we've also teamed up with our friends at the Asian American Literary Review and Kaya Press to offer a giveaway that includes some truly awesome prizes.
First, though, we want to hear from you: what Asian American poets are on your reading list for this April, or what's one poet whom you'd recommend to people who want to read more Asian American poetry this month? Leave a comment on this post by April 22nd with the name of at least one Asian American poet whose work you love, and you'll be entered in a random drawing to win a 1-year subscription to AALR, a copy of Nicky Sa-eun Schildkraut's Magnetic Refrain (reviewed on our blog here), and a copy of our very own Henry W. Leung's chapbook, Paradise Hunger.
But the APIA poetry love doesn't stop there! Those of you who follow us on Facebook might remember seeing pictures of the "Poetry Starter Packs" from our AWP display this year—little envelopes containing prompts and ekphrastic/found inspiration that we handed out to passers-by in the bookfair. Well, if you weren't able to make AWP (or even if you picked up a starter pack there, but want more to share), here is your chance: we'll be giving away bundles of 5 poetry starter packs—some to keep, and some to share—to each of the first ten (10) people to enter!
To help get you thinking, we thought we'd ask some of our Issue 5 contributors what Asian American poets they've been reading or whose work they'd recommend to others this month. Here's what a couple of them said.
From Ching-In Chen:
 I adore Larissa Lai's

 Eggs in the Basement

because she generated/mutated the whole body of language/the story from the actual language that she is playing with: "I generated a body of source text in a ten-minute automatic exercise, separated it as neatly as possible into subjects and predicates and wrote the poem by repeating first all the subjects and and cycling through the predicates in the first half, and then reversing the procedure for the second. Strangely, the result is loosely the story of Freud's 

Moses and Monotheism, 

in which two murders are committed by a collective: an initial one, which traumatizes the collective, and a second, which covers over the first and consolidates an violent and violated melancholy from which the group cannot escape."  Next on my reading list is Paolo Javier's 

The Feeling is Actual.  

I witnessed Paolo's live film narration of "Monty and Turtle," on the Feminism Meets Neo-Benshi: Movietelling Talks Back panel at AWP recently, which explores the story of an Asian American artist couple, and loved what I saw!  After some discussion about the question about appropriation within neo/benshi practice, Paolo said that he dealt with this question by creating his own film clips to narrate to.  Though the film clips aren't part of the book, his script is published in this book.
From Desmond Kon:
For a lecture I'm giving, I'm rereading

Word of Mouth: An Anthology of Gay American Poetry

, edited by Timothy Liu and published by Talisman House in 2000. In my research, I discovered Liu's lovely essay titled, "Making the Case for Asian-American Poetry", on

Poets.org

. I also just received Iris A. Law's chapbook of wildly intelligent poems:

Periodicity

. These are lyric gems, some persona poems, that thread the imagined voices of great women scientists like Marie Curie, Rachel Carson and Anna Atkins. Finally, to throw in some fiction, I'm reading Tash Aw's newest novel,

Five Star Billionaire

. The book intertwines the lives of migrant Malaysian workers, trying to eke out a living in Shanghai – this "Paris of the East" is at once bright lights and dog-eat-dog. In fact, Tash Aw is doing a reading at this awesome and intimate bookstore

BooksActually

, and I'm really looking forward to hearing him talk about the writing of his novel.
Our National Poetry Month giveaway will end at 11:59 PM EST on Monday, April 22nd. Winners will be announced the following week. Many thanks to our partners, Kaya Press and AALR, for their generous sponsorship, as well as to LR staff writer Henry Leung for donating a copy of his chapbook. We look forward to hearing from you, and hope that the comments that others leave in this thread will inspire you to read more Asian American poetry this April!
Best,
Iris & Mia