In his review of Bao Phi's book, which we posted yesterday, guest contributor Greg Choy made some particularly intriguing observations about shifting trends in Asian American poetry, especially with regards to its relationship with community-based activism.  The discussion about how best to engage with politics (and specifically, about whether to engage with identitarian politics) in our work is broad and ongoing, and in light of that, I thought I would follow up on Prof. Choy's thoughts by pointing you towards a few insightful write-ups that provide additional perspectives on the matter.
* * *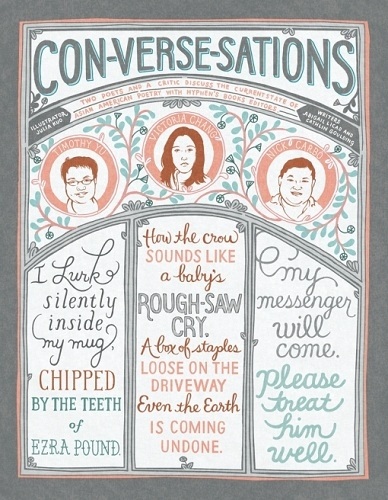 1. "CON-VERSE-SATIONS"
(Hyphen Magazine Roundtable with Timothy Yu, Victoria Chang, and Nick Carbo)
I appreciate the thoughtful dialogue to be had in this article with regard to Asian American poetry's stylistic diversity, its audiences, its status both inside and outside of academia, and its current relationship to its activist roots. In particular, I think Tim Yu makes a spot-on observation that while, in the wave that immediately followed the 70's, poets were more interested in the confessional mode than in political rhetoric, poets are now coming back towards the political, some through the overt expression of activist "creeds," as is true in the spoken word scene, and others more quietly, by infusing their approaches to craft and subject matter with strong political undertones (Yu points to Ken Chen as an example of one such poet). "We've had two decades of Li-Young Lee and Marilyn Chin and these writers who really risk prominence writing about their own personal experience," he says, but "that's not where we are anymore."  His claim is exemplified by the list of recommended titles the editors provide at the end of the article: from Cathy Park Hong to Barbara Jane Reyes to Ronaldo V. Wilson, the body of contemporary Asian American poets who are again engaging with the political (particularly through experimental forms) is strong, and seems to be growing.
* * *
2. "Lyricism, Political Poetry, Social Realism, and Responsibility"
(Reflection from Barbara Jane Reyes's blog)
Reyes poses a lot of questions here regarding the relationship between lyricism and political agency. As a result, this particular blog post serves as an excellent illustration of the complex nature of the inquiries about craft and politics that contemporary Asian American poets must negotiate in their work. Reyes's thoughts also provide a useful first-hand perspective on what it is like to be a poet of deep political convictions whose practice of craft simultaneously engages with and resists certain established literary traditions.
* * *
3. Forum with David Mura, Ru Freeman, & Alexander Chee
(from The Asian American Literary Review's first issue)
If you have access to a print copy of AALR's first issue, this particular discussion is very much worth checking out. Of specific interest is the debate initiated by Alexander Chee about the degree to which Asian American writers need (or ought to) "perform" their ethnic identity in their work, given the context of today's world. Both Mura's and Freeman's responses, and Chee's subsequent reply, illustrate the fraught nature of the Asian American poet's dilemma: do we do our communities a disservice when we write from the space of the personal, without regard for the macro scope of our position as minority voices in America? Or conversely, are we untrue to ourselves if we sacrifice the personal in our craft in order to either meet outside expectations or embody the voice of a particular political cause? (Surely, there must be an equilibrium somewhere between the two, but is there, and can there ever be, one?) It's a valid set of questions, and one that reflects a very real internal conflict that all Asian American poets must wrestle with at some point in their career.
* * *
4. Open City: Blogging Urban Change
(Produced by the Asian American Writers' Workshop)
While the Open City project and blog is not specifically about poetry, its genesis and mission very much speak to the kind of geographical migration (away from fixed urban centers) that Greg Choy says has complicated contemporary Asian American poets' relationship to the idea of community.  Open City seeks to document changing communities in New York—and does so in a really unique way, by bringing artists and writers into conversation with activists and academics.  Even more interesting to me is the fact that Open City, although based out of and about New York,  locates its own center in a geographically ambiguous way by enacting its documentation exclusively online. In a way, it speaks to the impulse towards transience, the shifting that Choy says is reflected in contemporary Asian American work, but in so doing, it also demonstrates that Bao Phi is far from alone in the immediacy of his approach to community-based politics. Of particular interest is Cristiana Balk's recent post on the archives of the Basement Workshop Collective (the writing group, first formed in the 70's, that eventually birthed the AAWW), in which she reflects on the significance of the AAWW's historical role within NYC's Asian American community, and the ways in which that role has evolved since then.  (As Balk astutely points out, although the AAWW is still deeply engaged in community-based work, the political and social context in which it operates today is very different from the one in which it began).
* * *
5. Our thoughts, and yours
Finally, here's our own editorial take (from Issue 2) on the relationship between identity and critical inquiry in terms of Asian American poetry.  We'd love to hear your thoughts, as well. Have you written about, or can you recommend additional resources that engage with this question? If so, please let us know in the comments!