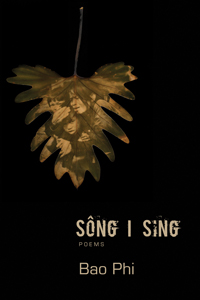 A Guest Post by Greg Choy
Sông I Sing by Bao Phi | Coffee House Press 2011 | $16

After reading Bao Phi's remarkable collection of poems, Sông I Sing, I was reminded of an incident that occurred about ten years ago when I was an assistant professor at the University of Minnesota. I was attending a panel discussion at UMinn entitled, simply, "Asian American Poetry," sponsored in large part by Minnesota Poets Society, and was greatly looking forward to listening to two acclaimed Asian American poets speak on the topic. Disappointingly, the only thing the Society members, through their persistent questions about it, seemed interested in was the "poetic process"—and more particularly a process devoid of those nattering issues about race, identity, or politics. Toward the end of the discussion, an elderly white woman, clearly a senior member of the eminent Society, raised her hand and said, "Well, after listening to you both talk about your poetry, I'm wondering why we need to apply the name 'Asian American' to your poetry at all." To my astonishment, at the time, both poets—both award-winning Asian American poets—agreed that the term "Asian American" as it's applied to their poetry or to them as poets, felt limiting if not downright debilitating.
Such a response has its precedent. It's reflective of the conundrum of the ethnic writer: how to keep from falling into the binary of either writing to a prescribed aesthetic steeped in a history of political ideology or writing as a fully realized individual shaped by an accumulation of discrete, personal experiences. It 's a false binary, of course, as a number of Asian American poetry anthologies have already shown, from The Open Boat: Poems From Asian America, edited by Garrett Hongo, to Premonition:The Kaya Anthology of New Asian North American Poetry, edited by Walter Lew, and Asian American Poetry: The Next Generation edited by Victoria Chang. All three anthologies rally around the diversity of themes and poets as opposed to a unifying call to some singular identity and community. Though anchored from a historical perspective to linear coordinates such as identity construction and political ideology, Asian American poetry is not bound to those coordinates. It is a fluid, changing body of work in time and space.
For me, what stung in the discussion panel with the two Asian American poets was not just the reluctance of either poet to engage the theme of the panel. It was more the shrugging of the shoulders, the all too quick surrender when confronted with the very raison d'être of the term "Asian American" in the little time they actually did spend in reluctant engagement with it. "It's not for me to say," seemed the consensus response. For that, too, there is a historical explanation, if not a rationale. Those two Asian American poets from the "Asian American Poetry" panel a decade ago were exemplary of Asian American poets who were moved toward more traditional and complex (i.e., Euro American) poetics reflective of what literary critic George Uba, in a seminal essay, describes as a "loss in faith in the efficacy of language as an agent of social reform or reliable tool of representation." The cutting edge of contemporary Asian American poetry, according to Uba, had become "Post-activist." As in the three Asian American poetry anthologies I mentioned earlier, Post-activist Asian American poetry is no longer so easily categorized or defined by theme or by audience. Today, the notion of "the Asian American community" out of which earlier Asian American poetry was generated, and to which it refers is considered antiquated, imaginable only from past exceptions like the haiku clubs of early Japanese America, the senryu poetry of issei internees, Chinese language poems published in early San Francisco Chinatown newspapers, even the poems written on the walls at Angel Island—that is, when geographic centers of Asian America were easily locatable, if not entirely legislated. With the growth and diversity of Asian American poetry have come varied centers, multiple margins, mixed race identities, and a nostalgia that focuses as much outside the US as anyplace within the nation state.
Conversely, Bao Phi's poetry is unabashedly and unwaveringly all about being Asian American in the old activist sense of the term. In Sông I Sing, Bao Phi has something to say about being Asian American and an Asian American poet, and he says it in one astonishing poem after another. Phi was raised and educated in Minnesota, in the Twin Cities, and during the time of that Asian American Poetry panel was, for the most part, unknown in the world of Asian American Poetry even as he was rising strong and fast in national Slam competitions. In its manifesto-like tone and its uncompromising declarations of identity, Phi's poetry is highly reminiscent of early Asian American movement writing—think Janice Mirikitani and Nellie Wong, Wing Tek Lum, the writings from Roots: An Asian American Reader, and the seminal Preface and Introduction to Aiiieeeee! An Anthology of Asian-American Writers, edited by Frank Chin, Jeffery Paul Chan, Lawson Fusao Inada, and Shawn Wong—that tradition of ethnic coalition writing from which, presumably, many contemporary Asian American poets have either grown away or cannot relate to. By the crude yardstick of "Asian American literary sensibility" employed by the Aiiieeeee! editors, Phi's poetry measures up and then some. The very dedication of Sông I Sing, "for my Asian American people," evokes nostalgia for that bygone era as much as it is an homage to his audience.
The sense of urgency and immediacy in Phi's poetry, the fluid flux and street cadences of his measures, carry over from his years as a seasoned and acclaimed Slam poet and his innumerable spoken word performances. At his performances, Phi's audience is always present, their reactions palpable. They are his "tribe," to coin a term from Russell Leong in his reference to the reading audience for Asian American poetry from the movement era—in community and in sync with him as he speaks to their sensibilities in his own inimitable style. It's the physical presence of an audience that sets a performance poet apart from a purely discursive poet, and it is against that backdrop that Phi spent his formative years practicing poetry. His tribe(s) ("my Asian American people") are always there, must always be there, for the final draft. George Uba reads the tribalism, in discursive Asian American poetry, as an ethnographic signifier of resistance to an oppressive and dominant culture, as anti-assimilationist, as privileging the oral over the written, and as more embracing of the polemic than the poetic—all descriptors that resonate through Bao Phi's poetry and from which many contemporary Asian American poets were in retreat by the time Uba's essay appeared in the early nineties.
However, the very first poem in Sông I Sing makes you realize that this collection, as much as it evokes the fist-held-high militancy of the movement era, is not simply a throwback to the past, and that Phi will not cleave to formulaic expressions of ethnic pride. Sông I Sing focuses on Asian Americans who are for the most part absent from the movement years—Vietnamese, Laotian, Hmong, Himalayan, Tibetan, Korean, South Asian, Arab Americans—and whose stories unfold in what would have been unimaginable places to those movement writers (the hardscrabble multiethnic Phillips neighborhood in Minneapolis and other ethnic epicenters of the Twin Cities, which until recently was noted as one of the most racially segregated metropolitan regions in the nation). The opening poem, "For Us," extends the book's dedication into a paean for those characters who fill, or will turn, the pages that follow:
This is for you, Celestial, Oriental, Asian, Asian Pacific American, 
Woman, Man, Queer, broke, collegiate, young old gook, spitting chink,
 Dog-eating dothead, faggot bitch slope. . . (1)

My people, we are a song that we can never stop singing against the silence
. My people, we are a song that we can never stop singing against the silence (4)
Songs, indeed, but not à la Whitman's celebrations of the Self or the Open Road. These are counter-narratives from the streets that arise long after Whitman's Democratic Vista has been overtaken and commandeered by rapacious institutions bent on global capital and exploitation and racial hierarchies that have been naturalized into a national lexicon: "haunting mouths taunting gook, chink bitch, butch, dyke, communist,/ feminazi,/ how people can call you by so many names/ yet see so little of you" ("Cleats Crowned by Soil"). Phi gives voice to the disenfranchised and displaced in his "refugeography," to those who battle quotidian racism and who fight to keep from internalizing it to the point at which they cannot see themselves beyond those words: "They called us gook, chink, blanket ass, spic, nigger, coon—/(and what was really sad is, we called each other that, too)" ("Called, An Open Letter to Myself"). These slurs recur throughout the collection and there is no inuring oneself to them the more one reads them. Their sting is always fresh and there is no intent to reclaim or to reaccommodate them.
Indeed, they are terms that mark and illuminate processes of disenfranchisement that continue on both micro and macro levels. His speaker in "Fusion," one of a series of character poems from the section entitled "The Nguyens," serves up, with trenchant wit, the hypocrisies of white hipsters at a chic multiculti Asian/Latino fusion restaurant in Minneapolis where customers and proprietors gainfully deny "any allegations/ that a white restaurant cooking fake Asian Latino food/ could be racist" (25), while in a poetic missive, re-worked from an earlier version, ["and"] entitled "Dear Senator McCain," Phi's speaker continues to call out the senator for his shameful plying of the slur "gook" to garner presidential votes: "Senator/ what's the difference/ between an Asian/ and a gook/ to you." A decade since the earlier version was written, the senator, like the restaurant schmoozers, still seems not to know or care if there is a difference.
A clipped, smiling, stoic façade describes the quaint and unthreatening nature of "Minnesota Nice," a passive-aggressiveness stereotypical of a non-confrontational demeanor, and a quirk of pride among many Minnesota residents. It's an image that was momentarily shattered by the racist and statewide broadcasts of KQRS morning show DJ Tom Barnard, who, in 1998, admonished the Hmong community to "assimilate or hit the goddamn road," a warning he also issued by way of complaint about the growing Somali community, and for which amongst other casually racist, sexist, and homophobic banter—alternating with the beat of seventies rock—the radio station garnered the largest audience of listeners in the state. The "American dream" of the subjects who occupy Phi's poems, cornered in urban pockets of middle America, quickly transmogrifies into the existential panic of constantly being seen before they are seen, of being marked as easy scapegoats who shoulder the blame for high crime rates, low performing schools, challenged economies, and a receding quality of life for White middle Americans who are seeing their job opportunities shipped overseas. These cultural and racial markers quickly harden to become the borders that Phi's personae are expected not to transgress and to which they themselves are expected never to call attention: "Minnesota Nice: this city hides its scars well" (95).
In his poem "8 (9)," Phi recounts and contemplates the questionable police shooting of a Hmong teenager named Fong Lee. Despite the valid objections raised by the marginal community of concerned voices outside the investigation, the authorities refused to see anything questionable about the incident; the verdict seemed firmly resolved in their eyes before the trial began:
4.

An all-white jury found Officer Anderson not guilty of using excessive
 force.

Put a blindfold on me

tell me who you fear

and I will tell you

your skin. (94)
For the speaker, it becomes all too predictable, an unpalatable cycle of history that unwinds painfully, a tragic and familiar story heard over and over:
8.

All our lives, men with guns.

Chased, in the womb, in the arms

Of our parents.

Our parents

Chased, all our lives,

By men with guns.

In the womb, in our parents' arms

We've run

Chased by men with guns.

(9).

Michael Cho. Cau Thi Bich Tran. John T. Wiliams

Tycel Nelson. Oscar Grant. Fong Lee.

May your names be the hymn

wind that sways

police bullets to miss. (95)
The people in verse (9) are all victims of police shootings—a Korean American man in Orange County; a Vietnamese American woman in San Jose; a Native American man in Seattle; an African American man in Minneapolis; an African American man in Oakland; a Hmong man in Minneapolis—and Phi has made their names into chronotopes, correlatives of time and space, where each singularly and arguably wrongful death becomes yet another iteration of what it is to live with the ramifications of being chased by men with guns. Indeed, it is only a partial list.
Sông I Sing also rings with poems of love and unforgotten friendship, tributes to otherwise invisible immigrant parents, humanizing portraits of those who have lost or are losing but nonetheless growing up wiser in the face of existential despair. Phi gives voice to those who live beneath the radar of the American creed, but who have internalized that creed as much as the quotidian racism they endure. His people struggle and laugh, fight, dance, sing and, in the last poem, like a Springsteen finale, go "race-ing" in the street.
As Phi has commented, Sông has more than one interpretation. It is Vietnamese for "river." These poems wind through the heart of two cities like the river that borders them. Like the fabled Mississippi River that originates in upstate Minnesota, these poems are also origin stories of souls grown deep like the river, lives cast against a backdrop of often implacable whiteness. Phi's poems emanate a sense of place. The recurring racist and sexist slurs provide the backdrop of intolerance against which those identities take shape. Minnesota is an overwhelmingly white state, and though the Twin Cities offers a modicum of relative diversity, the fact that well over half the state's population lives within the seven counties that comprise the Twin Cities dilutes that diversity to a staggeringly small, even if continually growing, demographic. Yet within the last decade Minnesota Asian American writers and artists have reached national audiences—poets Ed Bok Lee and Sun Yung Shin, memoirist Jane Jeong Trenka, playwright Rick Shiomi, Hmong writer and editor Mai Neng Moua, photographer Wing Young Huie to name but a few. Many of the writers from Seeds From A Silent Tree, a seminal anthology of writing by and about Korean adoptees, were raised and reside in Minnesota. The Twin Cities is (or in some cases was) not without its artistic venues of expression for Asian American artists—Paj Ntaub Voice, Korean Quarterly, Asian American Renaissance, Theater Mu. All of these artists write with unique vibes that resonate with Phi's, with each other's. They are artists whose humanity was forged in the same unique crucible of place.
So what would any of those artists have had to say at that Asian American Poetry panel a decade ago? Even David Mura, a national literary luminary and de facto poet laureate of Minnesota Asian American poetry (who was not in attendance at that poetry panel a decade ago), feels the pinch of the binary. "We need then," Mura has written, "to recognize a real diversity in our reading practices, a reading which acknowledges our living within a multicultural and postmodern world, where the centers are illusory—though occasionally useful—fictions, and where margins exist everywhere we look." Conditions, more so than evasive definitions, of "Asian American Poetry," are as much constructed upon its reading as its writing. Perhaps the best we can do is to "dance an attitude," to use Kenneth Burke's phrase, of Asian Americanness before the work, instead of opting to sit out the dance altogether. Or perhaps Eleanor Telemaque Wong summed it up best back in 1978: "It's Crazy to Stay Chinese in Minnesota." But if you do, imagine the songs you'll sing.
* * *
Since 2004, Greg Choy has been a faculty lecturer in the Department of Ethnic Studies at UC Berkeley. From 1998-2002, he was an assistant professor of humanities at the University of Minnesota, General College, and from 2002-2004 he was an assistant professor of English at the University of St. Thomas in St. Paul , MN.