The Lantern Review editorial board is pleased to announce that we have selected two poems to nominate for Sundress Publications' 2011 Best of the Net Anthology. They are, in order of appearance in our magazine:
"Northwest Poem" by W. Todd Kaneko
"Vestige" by Michelle Peñaloza
Both poems originally appeared in Lantern Review Issue 2 (Winter 2011).
* * *
About the Nominated Poets

W. Todd Kaneko is not cool enough to be a rock star, not tall enough to be a professional wrestler, and not virtuous enough to be a super-hero.* His stories and poems can be seen in Puerto Del Sol, Crab Creek Review, Fairy Tale Review, Portland Review, Southeast Review, Blackbird, The Huffington Post, and elsewhere. He has received fellowships from Kundiman and the Kenyon Review Writer's Workshop. He teaches in the Department of Writing at Grand Valley State University. He lives in Grand Rapids, Michigan with the writer Caitlin Horrocks.
*Editorial Disclaimer: Todd's appraisal of himself; not ours.  We think he's a lot cooler than he admits.
* * *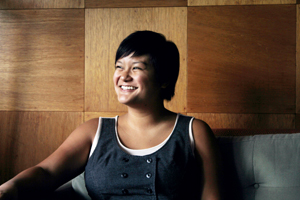 Michelle Peñaloza grew up in Nashville, Tennessee and earned her M.F.A. in Creative Writing from the University of Oregon. Her poetry has appeared or is forthcoming in Nashville Review, Lantern Review, Birmingham Poetry Review and Bellingham Review, among others. She received the 2011 Women Writers' Literary Fellowship, awarded by Oregon Literary Arts, and currently serves as director of the Kidd Tutorials at the University of Oregon.
* * *
Congratulations to Todd and Michelle.  We are honored to be represented by such fine work, and wish each of you the best of luck in the judging process!