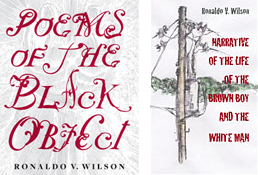 A Guest Post by Stephen Hong Sohn, Assistant Professor of English at Stanford University
Narrative of the Life of the Brown Boy and the White Manby Ronaldo V. Wilson | U of Pittsburgh Press 2008 | $14
Poems of the Black Objectby Ronaldo V. Wilson | FuturePoem Books 2009 | $15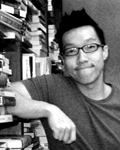 In this review, I discuss Ronaldo V. Wilson's Narrative of the Life of the Brown Boy and the White Man (University of Pittsburgh Press 2008) and Poems of the Black Object (FuturePoem Books 2009). Wilson's first full-length poetry collection might be more specifically described as prose poetry, as implied by its title. There are really no formal line breaks throughout the collection, so one is forced to consider what makes such a work poetry as opposed to prose. This genre-defying work's title also clearly derives inspiration from two canonical African American literary texts: Harriet Jacobs's Incidents in the Life of a Slave Girl and Frederick Douglass's Narrative of the Life of Frederick Douglass, An American Slave. In Wilson's title, there isn't any mention of the word "slave," but the impulse to explore the conditions of subjection and domination are still very much there. Wilson's work thus seems to enact a neo-slave "poetic" as derived through the queer racial minority's subjectivity. The reference to the "brown boy" and the "white man" in the title also helps situate what actually occurs in the prose poetry blocks throughout the collection. "Brown boy" suggests that the lyric "I" is a mixed-race subject and likely an adult, but clearly one who does not have much access to economic resources. He is engaged in a homosexual relationship with "White Man," someone likely older and with clearly far more money than the "Brown Boy." Racial difference, class difference, and age difference, among other such distinctions, generate the rubrics of power and domination that mark the tension between "white man" and the "brown boy."   Wilson's work is raw, dense, and does not shy away from difficult topics, as demonstrated by the following excerpt, which is fairly indicative of the stylistic impulses of the collection:
"Go Shower. This command reveals [the brown boy's] relationship to the white man. He follows his lover's orders like a slave without anything but the promise of being fed and shown a movie" (64).
Poems of the Black Object continues the project that Wilson starts in Narrative of the Life of the Brown Boy and the White Man. Again, the central issue at stake is a kind of enslavement, mediated by the intersections of race, sexuality, and late capitalism. One stylistic approach that Wilson employs masterfully is the juxtaposition of "high" and "low" cultures: references to Shakespeare appear alongside references to Little House on the Prairie. Wilson also continues to use the "prose poetic" aesthetic that appears in his first collection, but also branches out and explores a variety of different styles, some more avant-garde in approach and others with a more traditional lyric quality. Yet the signature rawness of Wilson's lyrics, which never shy away from the awkward or potentially vulnerable moments faced by the lyric speaker, remains constant throughout the text. In "Construction of a Black Poetic Self in Four Narratives," for instance, the lyric speaker explores the complications of a mixed-race heritage through the bodies of his parents:
In a box, my father's torso is
in a white thermal rib top
(my
own face leaning in to find
my face
in his black shiny skin)
between my mother,
a then fattish Filipino girl,
with a cinched waist is
the speed
at which she trained
to run off
excess flesh (58).
What I find especially interesting here is Wilson's use of abrupt breaks. Does the shortness of these lines sonically and metrically augment the sense of rupture suggested here? Wilson's focus on skin is particularly instructive in teasing out his exploration of race, but the racial identifications at work in this excerpt seem to operate asymmetrically. The lyric speaker finds the father's body more tangible, something that can be explored, but the mother's body is something in flight, running away.
A poetic of mixed-race seems to emerge here alongside the asymmetrics of parental lineage.
One of my favorite excerpts in this entire collection comes from "The Lesson":
"Side B: aesthetic theory—Your skin is pink,
then opaque, caramelized then burned
if you are one of the drumsticks
stuffed in a bowl, as in a holocaust.

NY Times, East Timor. A blown-apart leg unskinned,
a shoe's sole ripped back to bone, synonym
for torso in a soccer shirt.

This is ours. We are pickled,
you with me this strange leg.
Should I turn the chicken over?

See your life as screenic,
think collage,
ethnograph—He is your brown body.
Eve
the bone and scrape out the marrow
for marinade" (94).
As always, Wilson is able to engage provocative juxtapositions—in this case, generating a kind of poetics of the grotesque. The reference again to skin reminds us of the thread of race and racial formation that moves throughout the collection. What I appreciate most about this passage is the way in which global politics infests and infiltrates everyday activities such as cooking and consumption. The lyric speaker is aware of his unique privilege, one that does not let him prepare foods without thinking about how the act engages him in a type of metaphorically-inflected cannibalism.
I will definitely be teaching either or both of these collections in the future. I appreciate their inventive formal aesthetics and their dense, politically complex lyricism. And I always, always appreciate any collection that stretches the bounds of Asian American poetics.
* * *
Stephen Hong Sohn is an Assistant Professor of English at Stanford University.