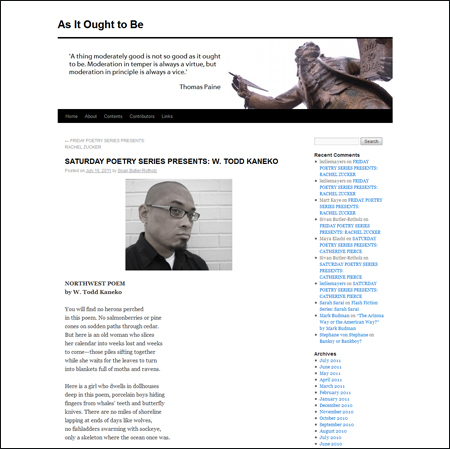 We've received word that W. Todd Kaneko's "Northwest Poem," which opens our second issue, was honored as last week's Saturday featured poem on the blog "As It Ought to Be."
Here's an excerpt that showcases the poem's masterful imagery—which is razor-sharp, tender, and resonant, yet just a touch fleeting and strange:
"Extinction begins as absence, ends gaping
like a surgery, a hole in my chest
marking that mythology we call home.
Mount Rainier does not drift phantomlike
in this poem, but here is that old woman,
crooked under the weight of a century.
She waves off that flock of dark birds
thronging overhead, threatening to pluck
eyes from sockets, tongues from mouths,
until all we can discern is the tide washing
over bare feet, the sound of wings."
We love this poem (clearly) and are elated to see that others are enjoying it as much as we do.  The "As It Ought to Be" editor writes of this poem, "Here's to W. Todd Kaneko's muse . . .  She is a creature to be awed and honored."  We heartily agree.
Click here to read the full post at "As It Ought to Be."
Congrats, Todd!
– The Editors
"Northwest Poem" by W. Todd Kaneko was first published in Issue 2 of Lantern Review.