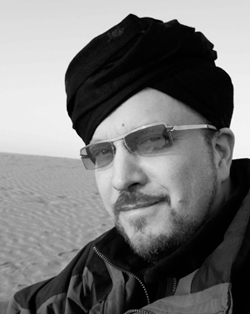 Marc Vincenz was born in Hong Kong to Swiss-British parents during the height of the Cultural Revolution. Later, he lived and worked in Shanghai for many years running an industrial design company. More recently, he moved to Iceland where he now works as a freelance journalist, poet, translator and literary critic. He is Poetry and Non-Fiction Editor for the international webzine Mad Hatters' Review, Managing Editor of MadHat Press, and a member of the editorial board of the Boston-based Open Letters Monthly.
Marc's recent poems have appeared in, or are forthcoming in Spillway, Poetry Salzburg Review, Poets/Artists, Nth Position, Möbius The Poetry Magazine, MiPOesias, Cha: An Asian Literary Journal, FRiGG, the nervous breakdown, elimae and Inertia. A chapbook, Upholding Half the Sky, was published as part of the MiPOesias Chapbook Series by GOSS183: Casa Menendez (2010). A new chapbook, The Propaganda Factory, is forthcoming from Argotist ebooks later this year.
His poems are featured weekly on October Babies.
In this year's May Process Profile series, we've been asking several Lantern Review contributors whose work gestures back toward history or legacy to discuss their process for composing a poem of theirs that we've published. In this installment,  Marc Vincenz discusses his poem "Taishan Mountain," which appeared in Issue 2.

* * *
It happens sometimes, particularly if I am sitting up late at night attacking a blank sheaf of paper, I'll suddenly hit upon a line, probably something totally unrelated to the piece I'm attempting, but a line that seems to ring true of its own volition. In "Taishan Mountain," the particular line that arrived was: "It's here, hovering on China's precipice, / the Chairman proclaims the East is Red, / deems himself ruler of all he beholds." When I've captured what I think may be at the heart of a poem, or narrative, I leave it for a day or two. I let it sit there, all alone on the page, occasionally going back to it, staring at it, meditating upon it. Quite often what I consider my better lines "arrive" when I'm dozing—not quite in sleep—but falling towards it; to quote my own poem, "hovering on the precipice."
In this fashion, while considering the event on Taishan Mountain, this shadow appeared. At first I thought it might be a woman—perhaps Jiang Qing (Mao's last wife and leader of the so-called Gang of Four)—standing beside the little-big man as he conquered the world atop China's fabled Taishan Mountain. I soon realized that this persona, and consequently the narrator, was actually an unknown man. I'm not sure how; perhaps it had something to do with his posture. And this man was not even Chinese. (Actually, during the course of the Communist accession to power, numerous foreigners advised Mao). I wondered, of course: what if Mao's most trusted advisor had been an unknown da bizi, and what if this person had been his secret lover? Now, it's a fact that Mao liked the ladies, and had innumerable affairs during the course of his reign; but much of his cult of personality is still steeped in mystery—as it is, of course, with many fated or fateful leaders. There is this incessant need to expose something as yet undiscovered, that one might better grasp his actions. On Taishan Mountain, a foreign man with a moustache changes our perception of everything we've held true until now.
Finally, "Taishan Mountain" is a poem within a collection based on my own real and imagined experiences in China: an attempt at a deeper conversation with a country where I spent much of my life. At some stage I realized that you can only start to "understand" the Middle Kingdom by breaking down Western notions of its foreignness. In reality, love in China is as any love affair might be: passionate probably, heartbreaking maybe, but surely as potentially hard—or fertile—as any red earth anywhere in the known universe. And, of course, it too has the potential to change our perceptions of the world.
* * *
Excerpt from "Taishan Mountain"
On Revolution: You must not move with excessive haste, nor use excessive
ruthlessness against the people.
– the I-Ching, The Book of Changes
On Taishan Mountain behind the fog
we wait for first glimpses of dawn.
It's here, hovering on China's precipice,
the Chairman proclaims the East is Red,
deems himself ruler of all he beholds.
I'm standing right beside him.
We've just fought a war, he's so thin,
and he has this steely glint
as if he's stumbled across some great illumination.
It's a moment of connection with the universe,
a revelation beyond normal human comprehension,
something to make history, like Einstein
unravelling the universal laws
of energy and mass and motion.
From "Taishan Mountain" | Marc Vincenz | Issue 2, Lantern Review | pp 45-46.
Click here to read the poem in its entirety.