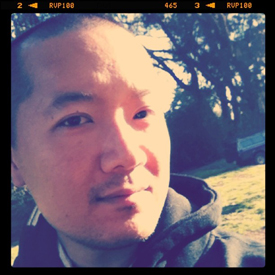 Kenji is a 1.5-generation immigrant from New Jersey. His poetry chapbook You Left Without Your Shoes (Finishing Line Press, 2009) was nominated for a 2009 California Book Award. His writing has appeared in or is forthcoming from Tea Party Magazine (not related to the conservative movement), Kartika Review, Flick of My Tongue (KSW, 2009), and Kweli Journal. He has received a Pushcart nomination and is working on a multi-genre full-length collection of poetry, prose and visual art. Kenji is currently the poetry editor at Kartika Review.

For APIA Heritage Month 2011, we are revisiting our Process Profile series, in which contemporary Asian American poets discuss their craft, focusing on their process for a single poem from inception to publication. This year, we've asked several Lantern Review contributors whose work gestures back toward history or legacy to discuss pieces of theirs that we have published.  In this installment,  Kenji C. Liu discusses his poem "A Son Writes Back," which appeared in Lantern Review Issue 2.
* * *
Somebody's calligraphy hung on the wall in the house I grew up in. I saw it every day. In my late twenties, on a visit back home, I asked my father about it. It was a poem written by my ancestor Guang-Chuon Gong almost eight centuries ago—advice to the Liu family.
The qilu is a classic Chinese form consisting of eight lines of seven characters each. I took my father's translation and adjusted it to eight lines of seven syllables each. My responses to Gong follow this adjusted form.
"A Son Writes Back" is one of several poems that has developed out of a challenge I put to myself years ago—to write about gender, specifically male privilege and patriarchy. This grew out of my community activism and graduate studies.
In this poem I am attempting to dig into some of what I have learned and internalized about gender. The original qilu speaks to, among other things, the importance of filial piety, and encourages the males in our family to prosper together. (I also find it fascinating that the original qilu implicitly acknowledges that our family would make foreign lands home.) In my responses, I am attempting to juxtapose eight hundred years of differences in perspective about gender roles.
For example, Gong tells us "foreign lands will become home", and later, "young men, prosper together." In my response, I bring up the story of our family's migration from China to Taiwan, engraved in stone at our ancestor temple. It reveals who is apparently important in this crossing. The generational count on the altar starts with the sons, not the mother who carried them over. This is why I use the pinyin for both mother and horse.
As an Asian American man, I can not assume that Confucian patriarchy is something left behind in Asia, because I see it at work in my own family and communities. I wonder how it influences my life, and so I write.
* * *
Excerpt from "A Son Writes Back"

Stay on course crossing borders.
Uphold ethics where you dwell;
foreign lands will become home.
Recall your parents' teachings;
every day burn fragrance to
venerate your ancestors.
Heaven bless the Liu household.
Young men, prosper together.
After you, we crossed many
borders. Eight hundred sun turns.
At one point, a pegasus
landed two boys in Taiwan.
Mā/mǎ carried babies but
boys carried our name, the first
compass. This bypass is our
family, is our paddle.
From "A Son Writes Back" | Kenji C. Liu | Issue 2, Lantern Review | pp 3-4.
Click here to read the poem in its entirety.