We were recently given a heads' up about this fascinating interview in Retort Magazine that Singaporean poet Desmond Kon conducted with Fiona Sze-Lorrain (whose book, Water the Moon, we reviewed earlier this year).  [Thanks, D.K., for the link!]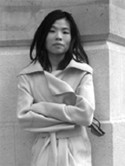 Here's an excerpt (Sze-Lorrain on place and geography in her work):
Places permeate my writing since you may say that I am someone of travels — in exile and displacement, so-called. I've traveled, yes, and at times, without a choice, but I am never a tourist. Pierre Nora sees places as sites of memories; I see places as moments and years. I thought that writing about places as memories risks falling into the trap of flat sentimentalism, or a re-invention of the past. Unlike most artists in exile who eschew geographical precision, I look towards the porosity of borders — both physical and temporal — for inspiration. Otherwise, places are no different from identities, and any kind of identity will never fail to imprison souls.
To read the rest of the interview, click here.   Also worth checking out is the latest issue of Cerise Press, a magazine that Sze-Lorrain creates and edits with Karen Rigby and Sally Molini. It's an intriguing space that beautifully mixes translation, art, and lyric — and is well worth the read.