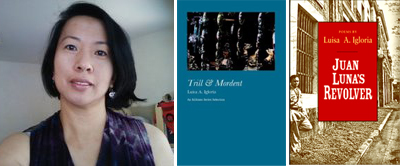 LUISA A. IGLORIA is the author of Juan Luna's Revolver, recipient of the 2009 Ernest Sandeen Prize (University of Notre Dame, 2009 ); Trill & Mordent, recipient of the 2006 Global Filipino Award for Poetry (WordTech Editions, 2005); and 8 other books. Luisa has degrees from the University of the Philippines (B.A.), Ateneo de Manila University (M.A.), and the University of Illinois at Chicago (Ph.D.), where she was a Fulbright Fellow from 1992-1995. Other awards include Finalist in the 2009 Narrative Poetry Contest, the 2007 49th Parallel Prize from Bellingham Review, the 2007 James Hearst Poetry Prize (North American Review), the 2006 National Writers Union Poetry Prize, the 2006 Stephen Dunn Award for Poetry; and 11 Palanca Awards and the Palanca Hall of Fame Distinction in the Philippines. Originally from Baguio City, she lives in Norfolk, Virginia and is an associate professor on the faculty of Old Dominion University, where she directs the MFA Creative Writing Program. She keeps her radar tuned for cool lizard sightings. Visit her online at her web site or at her blog The Lizard Meanders.
* * *
LR: When did you first decide that you wanted to become a writer, or have you always known?
LI: I've always had a love for words, perhaps because my parents taught me to read early ( by age 3 ). I was also raised as an only child by parents who were twenty years apart in age (my dad was 20 years older than my mom)—perhaps this had some bearing on the way I was raised, perhaps not; in any case I remember that they took me with them a lot when they went out or to other friends' homes to socialize, and would invariably bring a book or two for me so I could occupy myself safely in a corner and not be bored. They loved going to art events, concerts, the movies—we weren't wealthy but my father would sometimes be able to get complimentary tickets because of work connections, and he would always be sure to include me. They took me to see a group from the Bolshoi ballet with Dame Margot Fonteyn dancing excerpts from "Swan Lake" when I was a second grader and let me stay up past bedtime to do so; but they were also just as excited by musicals like "Showboat" and in fact took me out of school early so we could watch the first run. I always knew that whatever it was I wanted to do, it would involve the work of the imagination. They'd wanted me to be a concert pianist (in fact, I'm named after a Filipina pianist popular back in their day), or a lawyer, like my father.