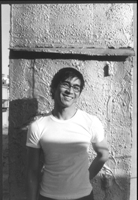 Joseph O. Legaspi is the author of Imago (CavanKerry Press), winner of a Global Filipino Literary Award. He lives in New York City and works at Columbia University. A graduate of New York University's Creative Writing Program, his poems appeared and/or are forthcoming in American Life in Poetry, World Literature Today, PEN International, North American Review, Callaloo, Bloomsbury Review, Poets & Writers, Gulf Coast, Gay & Lesbian Review, and the anthologies Language for a New Century (W.W. Norton) and Tilting the Continent (New Rivers Press). A recipient of a poetry fellowship from the New York Foundation for the Arts, he co-founded Kundiman (www.kundiman.org), a non-profit organization serving Asian American poets.  Visit him at www.josepholegaspi.com.
* * *
LR: So where did the idea for Kundiman come from, and what unique purpose does it have in the Asian American writing community?
JL: It really started off as kind of the infamous BBQ story. [Co-founder] Sara Gambito had invited me to an aunt's place—the term of endearment, no blood relation—and we were sitting on hammocks, eating charred meat, amazed how this group of people was so comfortable together, like family. It just hit us. We had both struggled upon graduating from MFAs: we had tried finding communities but were both at a loss. I told her about Cave Canem, which is a home for African American writers. We thought, why not do this for ourselves, for Asian American poets?
Unlike umbrella organizations for a lot of different writing, Kundiman is more focused towards poetry. Because the Asian American umbrella is very complicated, we try to vary the retreat ethnically, by age, and stylistically: we've had Myung Mi Kim, who is a very experimental poet; Rick Barot, who is a formalist and narrative poet; and Staceyann Chin, who is a spoken word poet. We don't want to shun anyone. Remember that Sarah and my initial experience was that we felt excluded. So that's what we try to do–create a space.