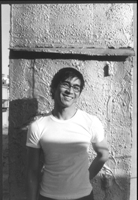 Joseph O. Legaspi is the author of Imago (CavanKerry Press), winner of a Global Filipino Literary Award. He lives in New York City and works at Columbia University. A graduate of New York University's Creative Writing Program, his poems appeared and/or are forthcoming in American Life in Poetry, World Literature Today, PEN International, North American Review, Callaloo, Bloomsbury Review, Poets & Writers, Gulf Coast, Gay & Lesbian Review, and the anthologies Language for a New Century (W.W. Norton) and Tilting the Continent (New Rivers Press). A recipient of a poetry fellowship from the New York Foundation for the Arts, he co-founded Kundiman (www.kundiman.org), a non-profit organization serving Asian American poets.  Visit him at www.josepholegaspi.com.
* * *
LR: So where did the idea for Kundiman come from, and what unique purpose does it have in the Asian American writing community?
JL: It really started off as kind of the infamous BBQ story. [Co-founder] Sara Gambito had invited me to an aunt's place—the term of endearment, no blood relation—and we were sitting on hammocks, eating charred meat, amazed how this group of people was so comfortable together, like family. It just hit us. We had both struggled upon graduating from MFAs: we had tried finding communities but were both at a loss. I told her about Cave Canem, which is a home for African American writers. We thought, why not do this for ourselves, for Asian American poets?
Unlike umbrella organizations for a lot of different writing, Kundiman is more focused towards poetry. Because the Asian American umbrella is very complicated, we try to vary the retreat ethnically, by age, and stylistically: we've had Myung Mi Kim, who is a very experimental poet; Rick Barot, who is a formalist and narrative poet; and Staceyann Chin, who is a spoken word poet. We don't want to shun anyone. Remember that Sarah and my initial experience was that we felt excluded. So that's what we try to do–create a space.
LR: Kundiman's main event is its workshop, to which fellows apply, and where they meet other Asian American writers. What effect have you seen on the writers who go through it?
JL: From the six years we've done the workshop, we've seen our emerging poets not only develop as writers, but become successful at pursuing academic careers. A high percentage of them have been getting into MFA programs. Others are pursuing Ph.D.s.
But we are seeing other kinds of development. We will sometimes have 20-year-old undergraduates, and I think having a community like this, they know that there are people like them, this is not some unicorn, not something mystical: this is something they can do and they can love poetry and it's okay.
LR: Can joining a community tangibly change someone's writing style?
JL: I have one person in mind, whose work was very unstructured. When we review applications, we look not only at craft, but process and potential. This person came to the retreat and was just how we imagined—great person, but very out there. By the end of the retreat, this person's work was much more reflective, just in those four or five days. Not only did this person manage to make use of form, but for the first time, used images that hearkened from his background as a Filipino American, which I didn't see before. There were a couple of other Filipino Americans there, and seeing how those other Filipino poets handled and carried themselves I think caused this person to tone down.
LR: So there is a tangible change–it does have an effect to be around other Asian American poets.
JL: It really does have an effect. A lot of people will say, "When I'm here, I don't have to explain myself." I think that speaks volumes.
LR: It seems at this point in time there have been many Asian American poets that have been successful—you bring many of them into your workshop. Even with these role models, are there more ways to go for Asian American writers?
JL: I think we're at this juncture where there are Asian American poets that are second or third generation, and willing to take a risk and pursue something creatively–something marginalized, like poetry. But I also think a lot of Asian Americans are writing, and we're so thankful for those individuals who led the way. There are those who have struggled in ways probably far more complicated than I myself can even really understand, establishing identity. For example, for [former Kundiman faculty] Lawson Inada, just being visible was such a struggle: being of Japanese American descent, a young lad interned with his family. I feel Kundiman creates a space where young emerging American Asian poets can have access to these amazing individuals who have a lot to give.
LR: Earlier you talked about the diversity of the Asian American community. Is there anything unifying it? Is there a way to define Asian American poetics?
JL: Poetry with a capital "P" is definitely what unifies us. Is there any unifying style? No. We're not writing about our grandmother's anymore, or not solely that.
LR: Moving a little into your own work. In your book Imago, you wrote about your childhood. Why did you decide to start there for your first book?
JL: I don't think I did. I feel it was kind of inevitable that I would write about my childhood. I came to America when I was twelve, and I think the transition—I can even call it the shock—of immigrating from the motherland was really character building, I think. I was also the first person in my household to have left home for college. I felt I lost some part of me, so it was an active reclaiming. I felt that I needed to chronicle what happened.
I also feel like every life is worthy of being mythologized, and so this was an active self-mythologizing. I think poetry is just such a great medium for that.
LR: What do you mean by mythologizing?
JL: I've always been fascinated by creationist myths. It was my childhood literature; I loved Genesis. In a way, I'm poking fun at myself. But in a way every life is important. Now, once its transferred to paper, it is your life but its not your life anymore. Its art now, or so you hope.
LR: Or you're hoping other people will access it and relate to it.
JL: Exactly. When it's published, its out of your hands, and you're hoping people can get something out of what you've done. The whole self-mythologizing is how I can make my life, in a way, "better"–more magical than it really is. In a way that makes it literature and not journalism.
LR: Do you think that writing about the past and our personal histories is in any way more important to Asian Americans, immigrants or minorities?
JL: Yes and no. I'm leaning towards yes, because I feel like at this point, Asian American writers are still very much underrepresented in the media, in literature, in publishing. Publishing is hard for Asian American poets: once you have the Jhumpa Lahiris, publishers don't want to go beyond the Jhumpa Lahiris. In a way there is still plenty of room to be filled by our stories, by the Asian American diaspora.
But then again, why do we always have to write about Asian American issues? We don't.
LR: Do you have advice for young Asian American writers, how they can promote Asian American community?
JL: Just persist on writing. I know so many talented writers across cultural lines who just stop writing. In a way, it becomes an endurance game. So just continue writing our stories.
Support other Asian American writers. Buy their books, go to their readings, teach Asian American literature. Be community leaders, be in academia, be community activists. The more of us out there, the better.
But definitely, the root of it is, just keep writing. Sit down at that desk, and tackle that blank page.
LR: Any upcoming Kundiman events to mention?
JL: The only thing brewing is the Kundiman Prize. It is such an amazing opportunity for an Asian American writer. It's the first one, and we want to make it a success. We need to mobilize and support one another in this venture.