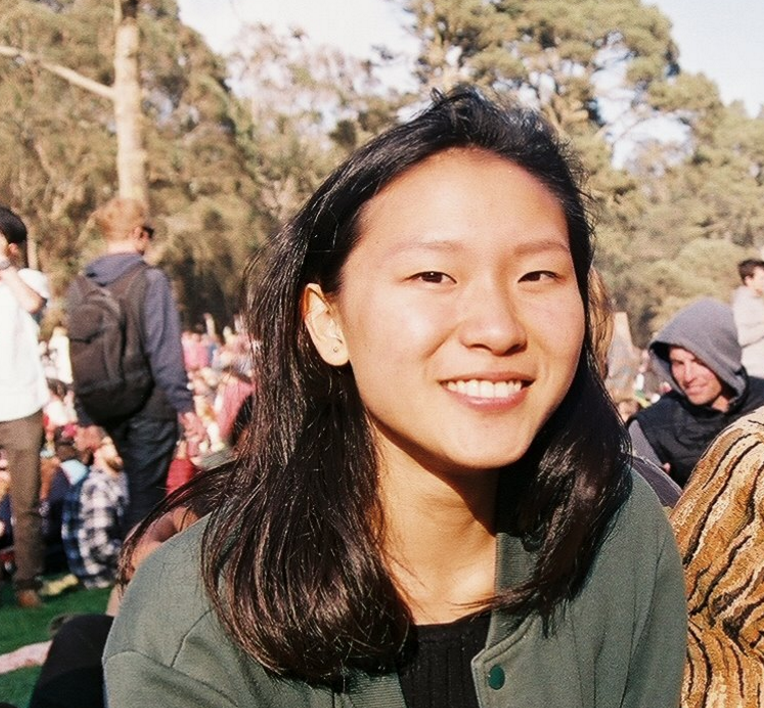 This fall, for the first time ever, we've been privileged to welcome an editorial intern onto the Lantern Review team. Irene Hsu is an emerging Bay Area poet with an impressive resumé, including an English degree from Stanford, past internships at Graywolf and the Loft Literary Center, reporting experience for The New Republic, and publication credits in AAWW's The Margins and on the Loft's blog, Writers' Block. In addition to her editorial duties in helping to run the magazine, Irene has been managing our Twitter account, and she'll also be contributing to our blog from time to time. (You might have seen her first blog post for us—a roundup of fall APA poetry collections—last week.) We feel extremely blessed to have Irene's talent, passion, and sense of vision on board, and because you'll likely be hearing a lot from her over the course of the next several months, we thought that it would be fun to help you get to know her with a little Q&A. Read on to find out how a Gabrielle Calvocoressi collection shaped her earliest forays into poetry, the name of the song that she'd love to perform in an "Aggretsuko-style" karaoke showdown—and more.
* * *
LANTERN REVIEW: Tell us a little bit about yourself. How did you come to poetry?
IRENE HSU: I thank the stars for one generous and intelligent mentor, Teresa Kim, who sent off my high school self with Gabrielle Calvocoressi's The Last Time I Saw Amelia Earhart. This collection forever shaped my understanding of poetry as a place for observation and a vehicle for time travel. Like many high-functioning kids, I grew up with a misguided sense that I was constantly running out of time to get from point A to B—without quite knowing where I was going, where I was coming from, and what I was allowing myself to fall into. In a significant way, poetry rescued me. Reading and writing poetry gave me a space to be more thoughtful, critical, and imaginative. It gave me permission to return and refashion. In college, Solmaz Sharif, Essy Stone, NoViolet Bulawayo, and Kai Carlson-Wee introduced me to other writers like Tracy K. Smith, Sharon Olds, Aracelis Girmay, Terrance Hayes, among others, who reconfigure sight, breath, and meaning to slow down and interrogate drawn boundaries. When I understood there was this literary ecosystem, I wanted to be a part of it, to learn how it ticked, and to tend to the corners that made transformative reading and profound writing possible.
LR: What obsessions drive your writing?
IH: Right now, this quote from Jenny Zhang: "Why doesn't anyone consider the fact that when you are a second-generation immigrant and you speak this very specific mixture of Chinese and English, that's also a dying language? After I die, my children, if I have children, they won't speak that blend of Chinese and English." I've been thinking about what it means to document and celebrate this fleeting and unstable space of bilingualism. It's not simply a question of vocabulary, but also of grammatical nuance and non-standard accent that disappear because they are eradicated and, if not, looked down upon. I've been trying to cherish the fact that, long before I myself knew, my tongue and my mouth knew that they were not beholden to any one dialect or place.
LR: What are your favorite poets, poems, or poetry collections of the moment?
IH: I find myself returning to poems that also double as stories vignettes, essays, and even films. Sally Wen Mao's [short story] "Beasts of the Chase," Claudia Rankine's Citizen, Yanyi's poems from The Year of Blue Water, Danez Smith's "Dinosaurs in the Hood," Richard Siken's "You Are Jeff"—poems that aren't afraid to challenge narrative. Poems that use rhythm, word choice, image, and timing to rewrite and overwrite the dominant logics that shape the most intimate of moments.
LR: Go-to karaoke song?
IH: At the moment, Rina Sawayama's entire album RINA. But I especially would be down for an Aggretsuko-style showdown with the daredevil power pop anthem "Take Me As I Am."
LR: In an ideal world, where do you envision the future of Asian American poetry ten years from now?
IH: I imagine Asian American poetry not just as an ever-growing field of profound, creative works, but also as a robust system of support and cycle of mentorship for growing writers and readers. I've been incredibly lucky to have mentors who, at crucial times in my life, have willingly taken me under their wings, coached my writing, and encouraged a diverse reading diet. I want this for anyone who even remotely considers making writing and reading a significant chunk of their life. I want there to be a space for everyone who wants to be a part of this, wherever they are—in a city, in a suburb, in a small town.
* * *
We hope you'll join us in warmly welcoming Irene to the LR team. We are so excited to be working with her this season and can't wait for you to read more from her in the months to come. For more about Irene and to read some of her writing, visit her website, irnhs.squarespace.com.